HOW WE RAISE OUR PUPPIES AT ASHLAND.....There IS a Difference!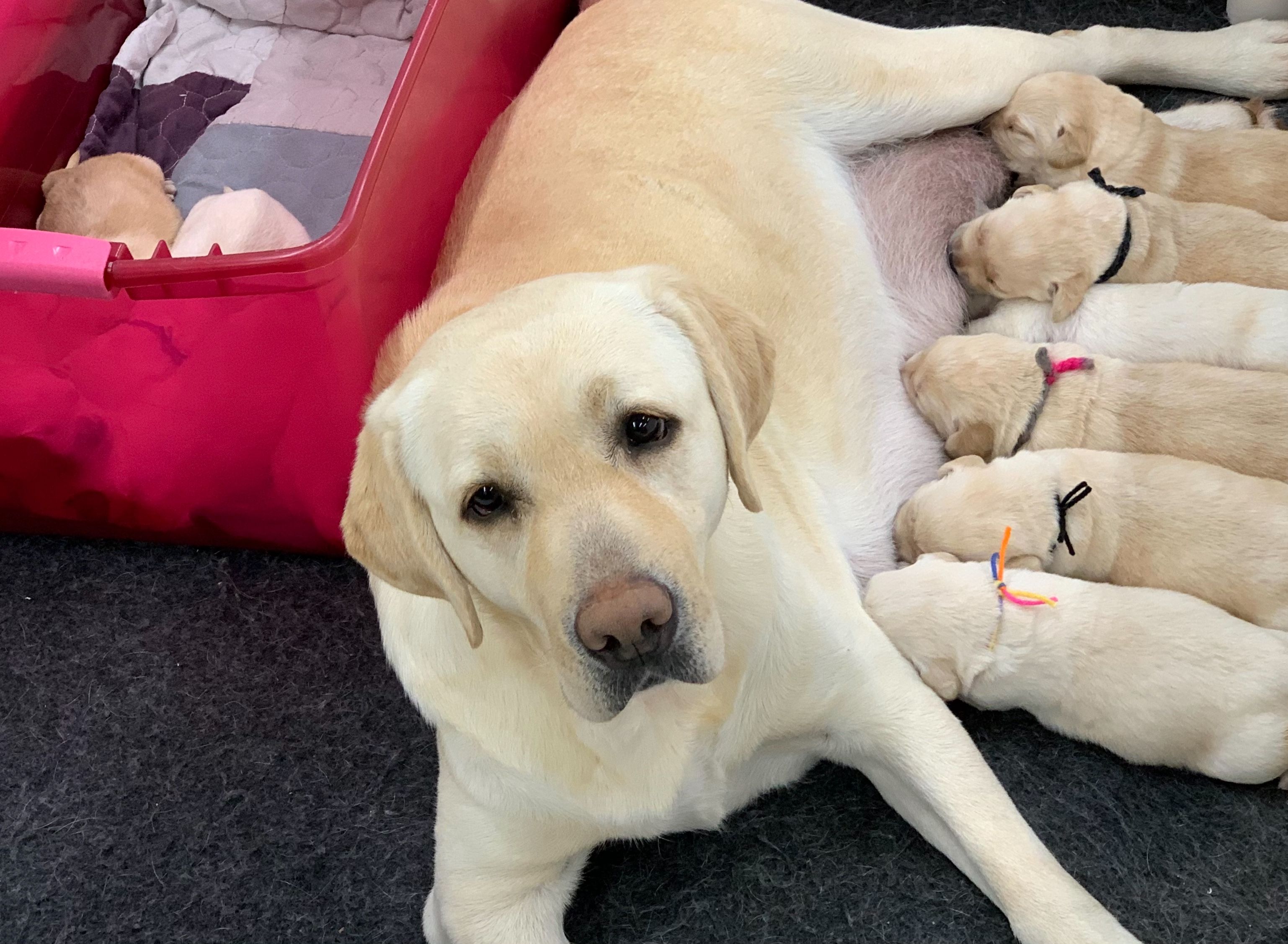 Not all breeders do things the same.  We have been breeding Labrador Retrievers for over 30 years. This is not a business...it is a PASSION.  All of our Labradors are trained, are our companions FIRST and are also either show champions, obedience titled, hunting partners, etc. They have acres to run and play each day. Ponds to swim in and trails to run on. They are NOT kept in kennel runs. Every dog comes back inside our home (they have their own dog room) at the end of the day. Plus WE are HOME everyday.
So Let's start with how WE raise our puppies.....
Our pups are born and raised in our home. Not a garage, shed, barn or other "away place".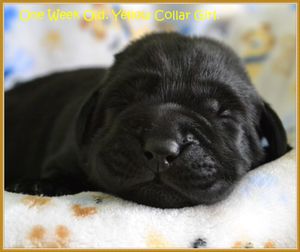 Pups are handled and cared for daily and raised in a CLEAN environment.   They are groomed weekly, are very used to being handled and introduced to all kinds of new things so by the time they are 8 weeks old, are very well socialized and ready for new adventures with their awaiting families.  We acclimate them to crate training early on. They are exposed to children, our other pets and different people as well.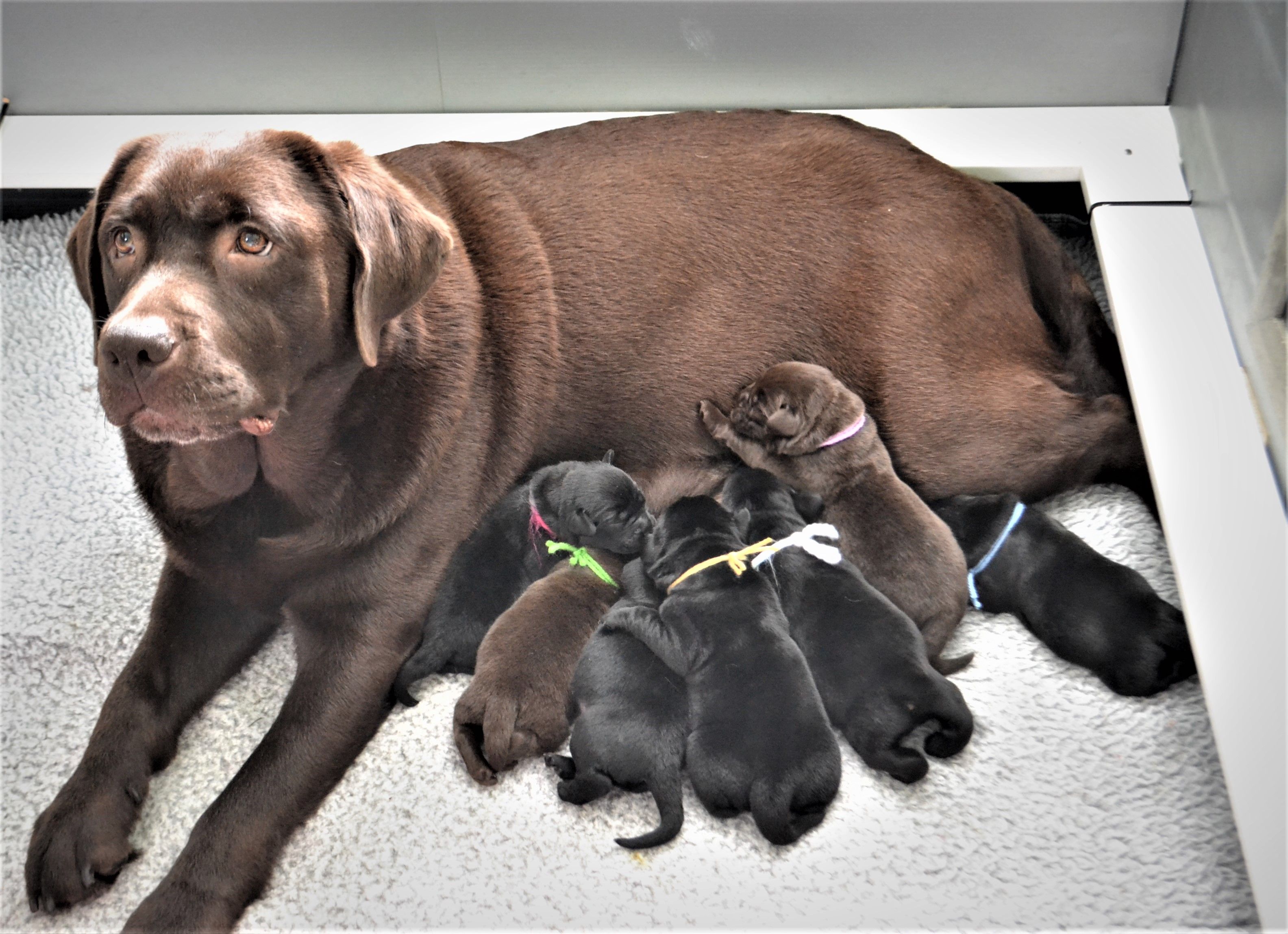 Our puppies are available to pre-screened/approved NON breeding homes that are looking for a life-long companion who wants a Labrador to become a member of their immediate family. 
We do not place puppies with just ANYONE. We are very sincere and devoted to giving our pups 110 percent from the day they are born. We want to make sure that when the day comes for our puppies to leave that WE have made the RIGHT CHOICE in choosing a new "forever family" for them.  With that said, it is responsibility to throughly evaluate our pups and select which awaiting home is best suited for that individual puppy. Never do we allow persons to "Pick" a puppy or do we do "first come, first serve". Please read our FAQs page for more details on our polices and process in selecting pups.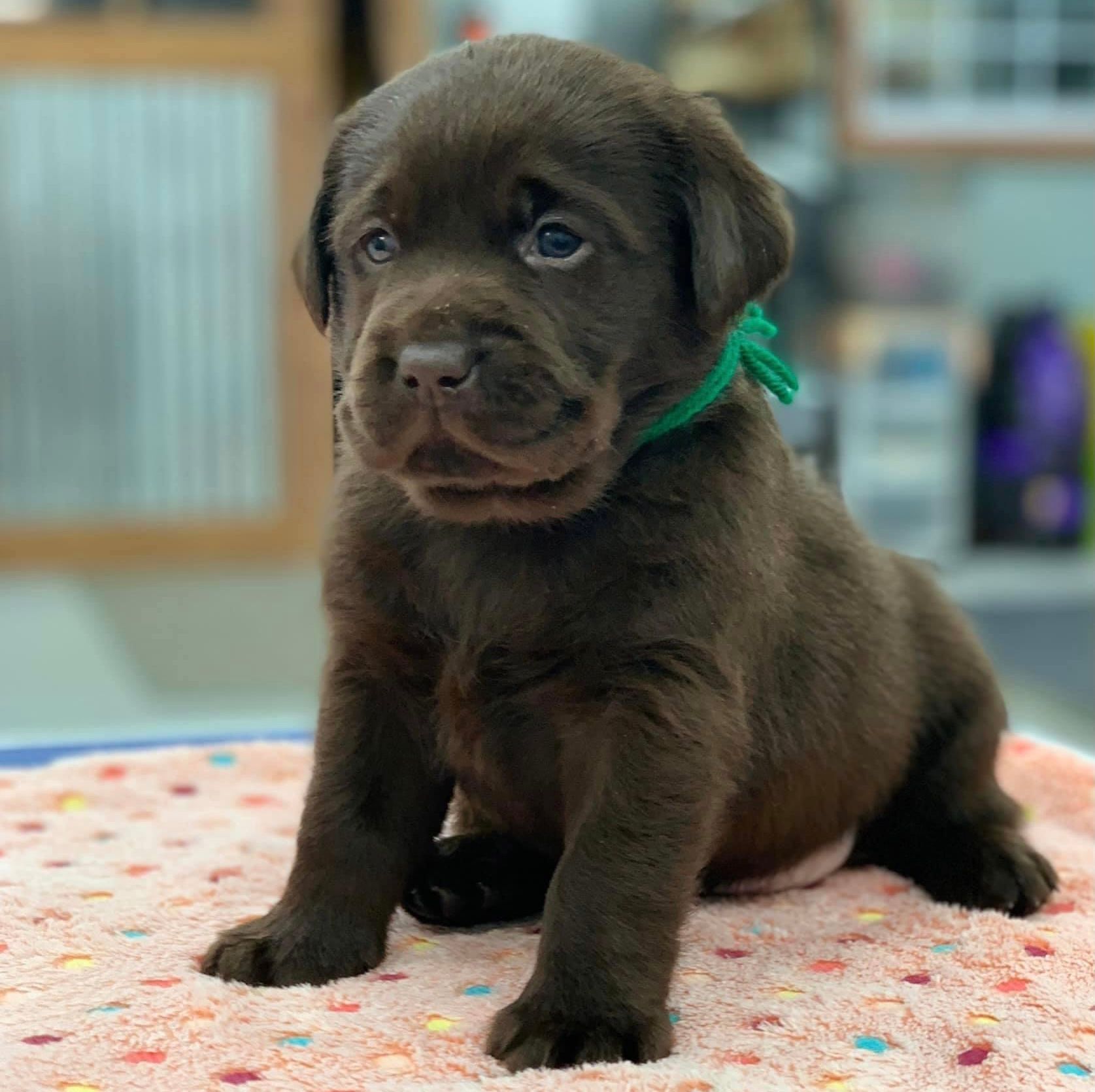 Before releasing puppies to new owners......
*Pups are always Clean and free of internal and external parasites.
*Will have had their first puppy inoculations started.
*Will be microchipped for his/her and new owners protection if ever lost or stolen at NO additional cost.
*Crate training will have been started. 
*We will send out a Puppy Supply List of recommended items you need on hand before bringing the puppy home.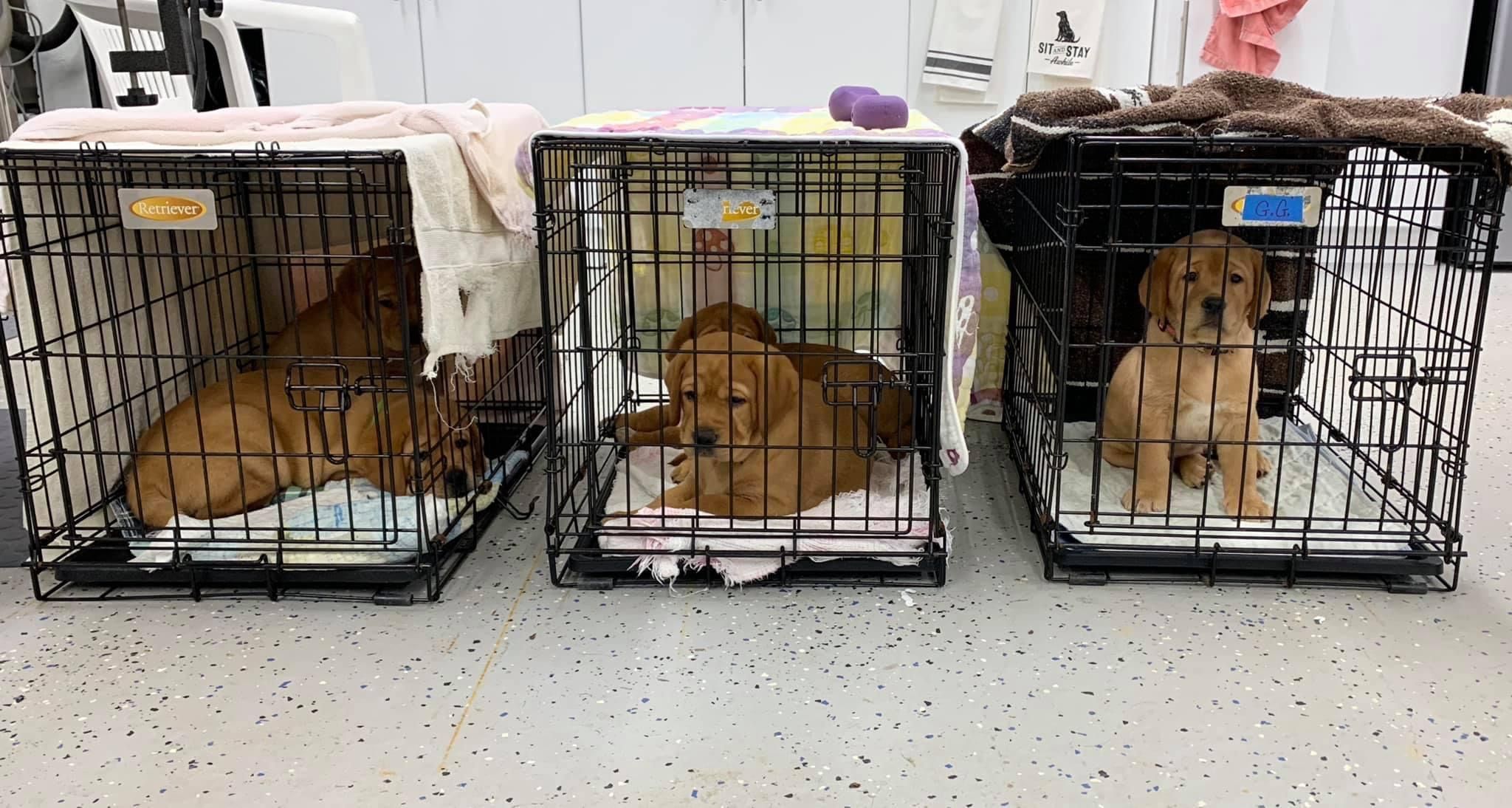 WE
DO NOT
RELEASE PUPPIES BEFORE 8 WEEKS OF AGE AND WE
DO NOT
SHIP PUPPIES VIA CARGO. 
New Owners will be Expected to provide.......
*A loving, lifelong & responsible home for their puppy.
*To provide continued socialization and training.
*To make sure puppy receives regular Veterinary care as needed: Example: to keep all inoculations, heartworm prevention current and agrees to SPAY or NEUTER after maturity (no earlier than 15 months).
If you feel that early spay or neuter is mandatory or if you think you cannot handle an intact Labrador until the 15 month age, then please pass on one of our puppies and be sure to check out our "Links page" for detailed studies on the effects of early spay/neuter.
*New owners will be required to sign an agreement of sale detailing spay/neuter, health care and take back policy which allows us to get first right of refusal if something should happen and you cannot keep the Labrador we have placed with you.
Ashland Labradors Puppies will go home with......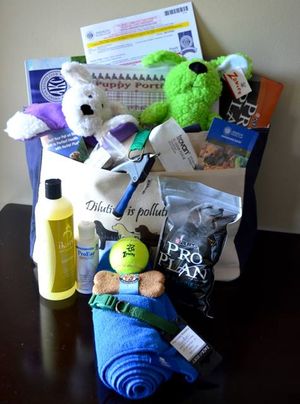 *Current Medical Records and a schedule of when next shots, heartworm prevention, etc will be due.
*Pups will be AKC registered and application transferred into new owners name at no charge.
*Microchip Will be transferred into new owners name at no charge.
*Each puppy is accompanied with a personalized portfolio that will include:
Family History (Pictures & Pedigree).
Detailed articles pertaining to Labradors.
Our Written Health Warranties.
Breeder Recommendations and much more.
We supply at no charge:
*Small take home bag of puppy kibble and feeding instructions.
*Puppy Slip lead.
*Puppy Toys (Plush and Teething type).
*Blanket
*Treats
&
Various other items to get you started at home.
Labrador Health & Genetics
We have an open health & pedigree policy here at Ashland. We disclose to the public all available health certifications, DNA screening and Pedigree information on all of our dogs. You are free to view these documents by clicking on any dog we have listed in the menu, once on their individual page, just scroll down to the link that say's (click here for health clearances & other documents).  We do this in an effort to help educate people in what to look for when searching for a puppy. After all, many may find puppies available, yet no information is available on the parents regarding their pedigrees or if health testing has been performed and documented. 
----------------------------------------
Litters are statistically planned by combining pedigrees on sires and dams to produce offspring that adhere to the written breed standard, have correct conformation and proper temperaments along with producing sound offspring that will not be affected with many of the already preventable, heritable disorders.
There is more info on our
FAQ's
page regarding the disorders below.
Adult dogs in our program are certified, prelimed and/or DNA tested for the following:
Canine Hip & Elbow Dysplasia (CHD & ED)
Inherited Ocular Disorders (EYES)
Progressive Retinal Dysplasia (PRCD form of PRA)
Tricuspid Valve Dysplasia (TVD) & other heart defects.
Exercise Induced Collapse (EIC)
Centronuclear Myopathy (CNM)
Narcolepsy (NARC)
Retinal Dysplasia/ Oculoskeletal Dysplasia (RD/OSD)
Hereditary Nasal Parakeratosis (HNPK)
Dilute (D-Locus) & more.