Hi, my name is Teresa Gordy-Brown, owner of Ashland Labradors.  We are located just outside of Nashville, Tennessee on several acres with creeks, waterfalls, pasture and wooded trails for the dogs to enjoy.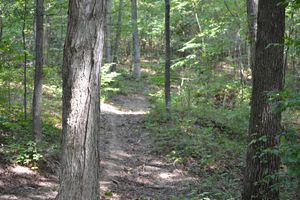 Raised around dogs and horses all my life, our first litter of Labradors to born under the "Ashland" prefix was in 1984.   Over the years I have been active in many different areas of the dog world from hunting test, obedience and agility trials to conformation shows.   I have held dog training classes for the public, worked as a field/hunt test trainer, as a Vet technician and ran a Labrador rescue organization for a number of years here in Middle Tennessee.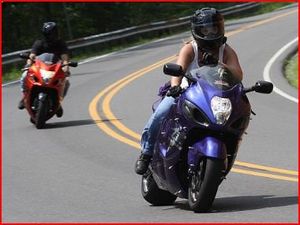 Aside from my Labradors which is a full time job in itself,   I also have enjoyed a number of other activities such as operating our motorcycle and machine shop business M/T Performance along with my husband, Mark Brown.  I have a very large family (seven children and current count of 13 grand babies). So we always have a LOT going on.

My main purpose in breeding is to keep one or two puppies to continue on with my bloodline and breeding program, the remainder of the pups are placed into pre-approved family homes.   I only only breed when I have 100% of my time to commit to raising a litter of pups.  
I have a very strict breeding program. To begin with, I only breed from proven Labradors that are of correct, low-key, easily trainable temperaments,  excellent physical conformation and outstanding retrieving desire for which the breed was originally developed.  I feel that a Labrador being a sporting breed and developed as a  hunting companion should be able to do many task for which it was bred for.   Not all show labs can hunt and not all hunting labs can show.  I think it is imperative to produce a Labrador that can do a little of everything including being first and foremost a great family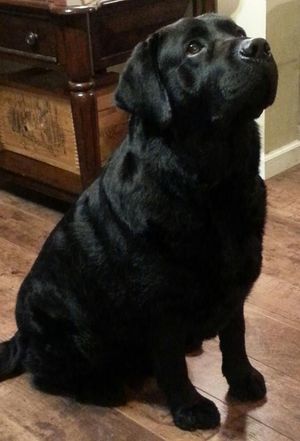 companion.  
  Each Labrador that that I own has or will participate in some venue, either conformation shows, obedience trials, hunting test on top of being personal companions for our family.  Before breeding each one is screened for hereditary problems such as Hip Dysplasia, elbow dysplasia, eye and heart diseases and DNA tested for PRA, EIC and CNM, HNPK and other prevalent and preventable diseases.
Ashland litters are whelped and raised inside my home,  until they leave to their new families and I take great pride in providing our pups with the right start from birth until the day they leave for their new homes. Daily socialization for each pup is mandatory and much enjoyed by both humans and dogs!  Ashland pups are always clean, free of fleas and other parasites.  Our pups are not raised outdoors or away from daily human interaction.
Our adult dogs are all indoor companions, fully trained and have several acres to run and play through each day (unless inclement weather).  

My commitment to this breed is lifelong.    Breeding should be left for those that take it most seriously and not for a market. This is my home, not a 9-5 facility. So when you call and want to visit our dogs, remember you are asking to be a visitor to my home and family life, not a separate commercial "facility". 
I strive to produce the best possible example of the Labrador Retriever in both temperament and conformation with special attention paid to health and longevity.  A correctly bred Labrador should excel in trainability, a truly eager to please and intelligent disposition .  When mature, around 3 years of age, they should have a calm, pleasing and sunny nature about them.  They should never appear shy or aggressive.  A great Labrador will never meet a stranger, in other words, everyone is his best friend, even the neighbor's cat!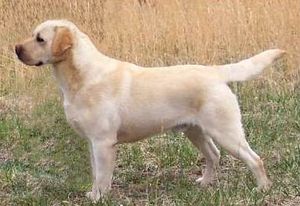 Aside from this, a well bred Labrador will adhere to the breed standard.  The Labrador should be a well developed dog, of medium size, broad head and bodied and well muscled. He should not look long and weedy, and equally objectionable are those Labradors that are fat and have slow, cloddy like movement.  He is a well balanced dog of moderate bone, thick "double coat" and otter-like tail that should come straight off the back and move left to right as if propelling him through the water. 
Most all  pups are placed into family homes. We actually PREFER companion placements for our litters.  Just because I show and breed, does not mean that I only seek to place pups into other show homes, quite the opposite is true. Those pups deemed show prospects usually remain here with us. After all, that is my main reason for producing a litter, for our program and lineage to carry on in the future.  Only on a very limited occasion will I place a show prospect into another show home and only under certain qualifications and ONLY when I know it is another breeder of very high standards.
  For me, the most important thing of all is that our Labradors makes peoples lives full and bring enjoyment not only to myself but to the many families and individuals that own one or several of our Labbies ...that is by far the best accomplishment! Ashland has proven it's quest to breeding the true Labrador as it was originally developed as evident by the titles that carry from show champions, hunting companions, therapy dogs, search & rescue and for the physically impaired.