🐾Meet our Newest Litter🐾
Whelped January 9th, 2022.
ALL PUPPIES FROM THIS LITTER ARE SPOKEN FOR
 *To request an application; First, read our FAQ's and Litter Info pages so you don't ask me something I have already addressed in those pages.🙂. After that, send an email to Teresa at:  Ashlandlabradors@gmail.com
This gorgeous litter of blacks & chocolates we've had planned for a while and they are finally here!  
🎉Four Boys & Five Girls🍾
So excited to watch these beautiful pups grow!
Stay tuned for weekly updates!
---
~SEVEN WEEK OLD UPDATES~
I am over the moon with this litter!
I really may have to contemplate repeating this breeding in a year if these kids turn out as nice as I think they will!  They are stunning!!
Other than that……they are FAT, SASSY, HAPPY and just so fun to watch. 
We haven't had much "outdoor" time due to the horrible rain, flooding and cold.
Pups cannot be on wet ground.  So hoping for a change in weather so we can at least get some good outdoor play pictures.
They are all eating solid food. You can see NO ONE has missed a meal!
They all go home in the next week to two weeks.  Wow…time has just flown by!
Below: PINK COLLAR FEMALE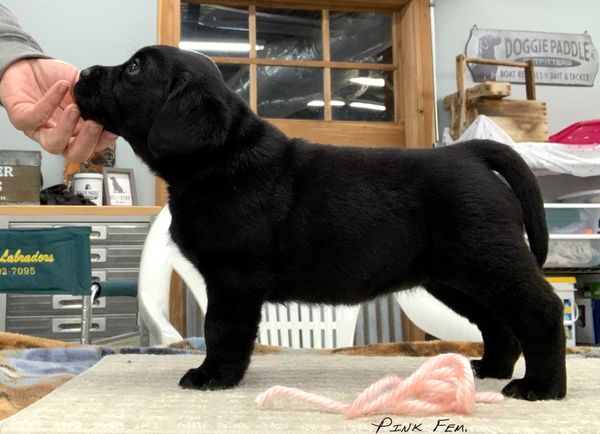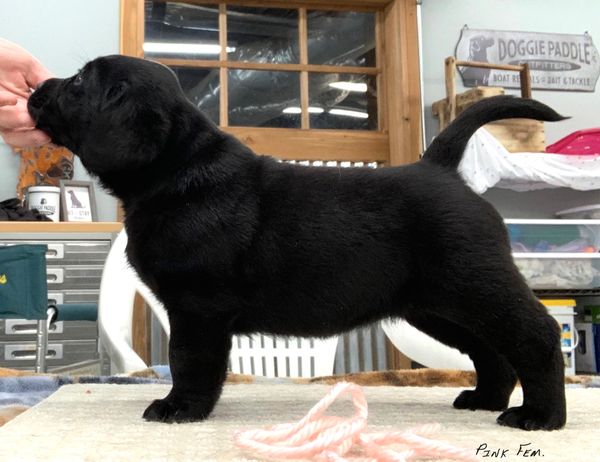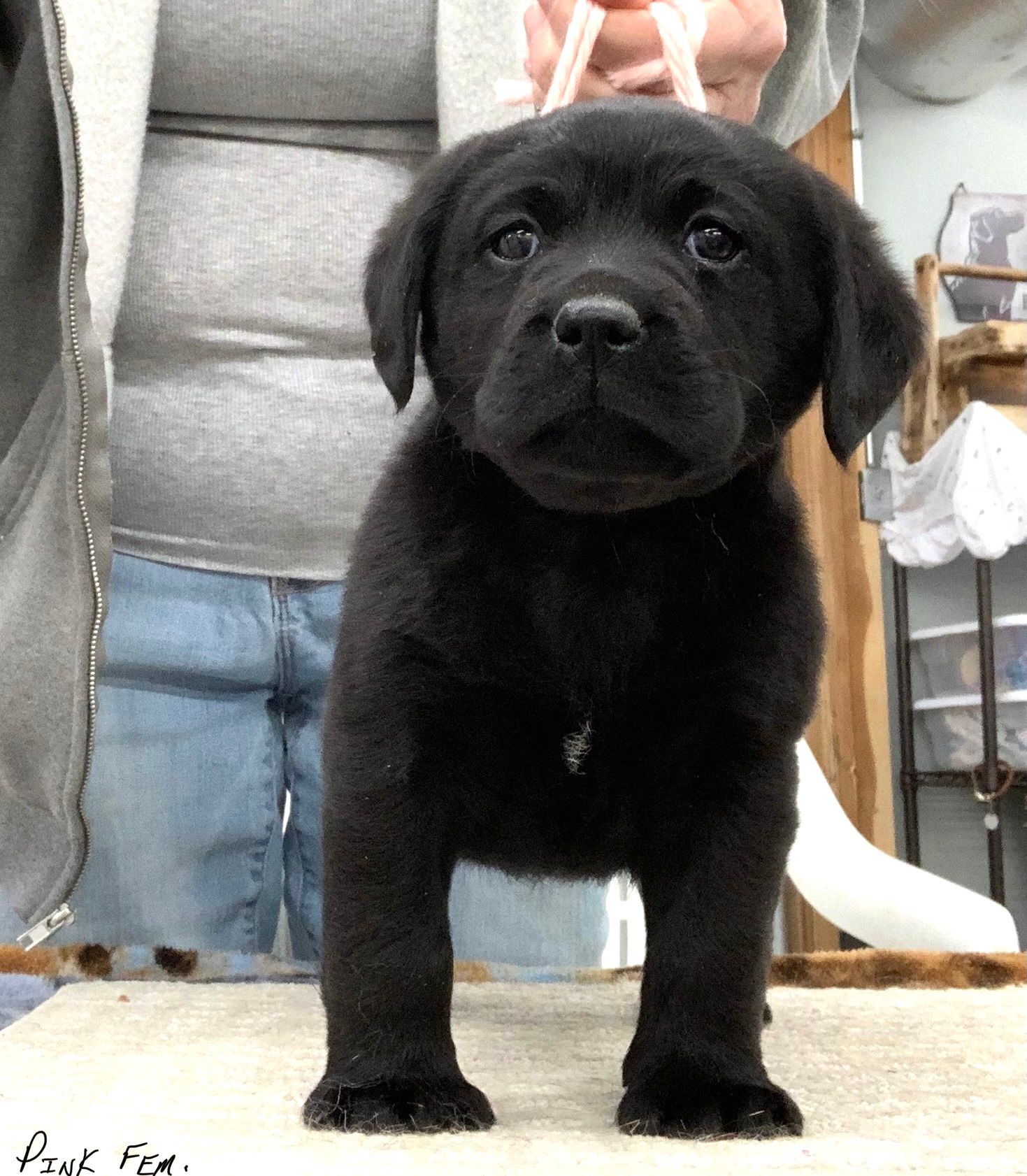 Below: LAVENDER COLLAR FEMALE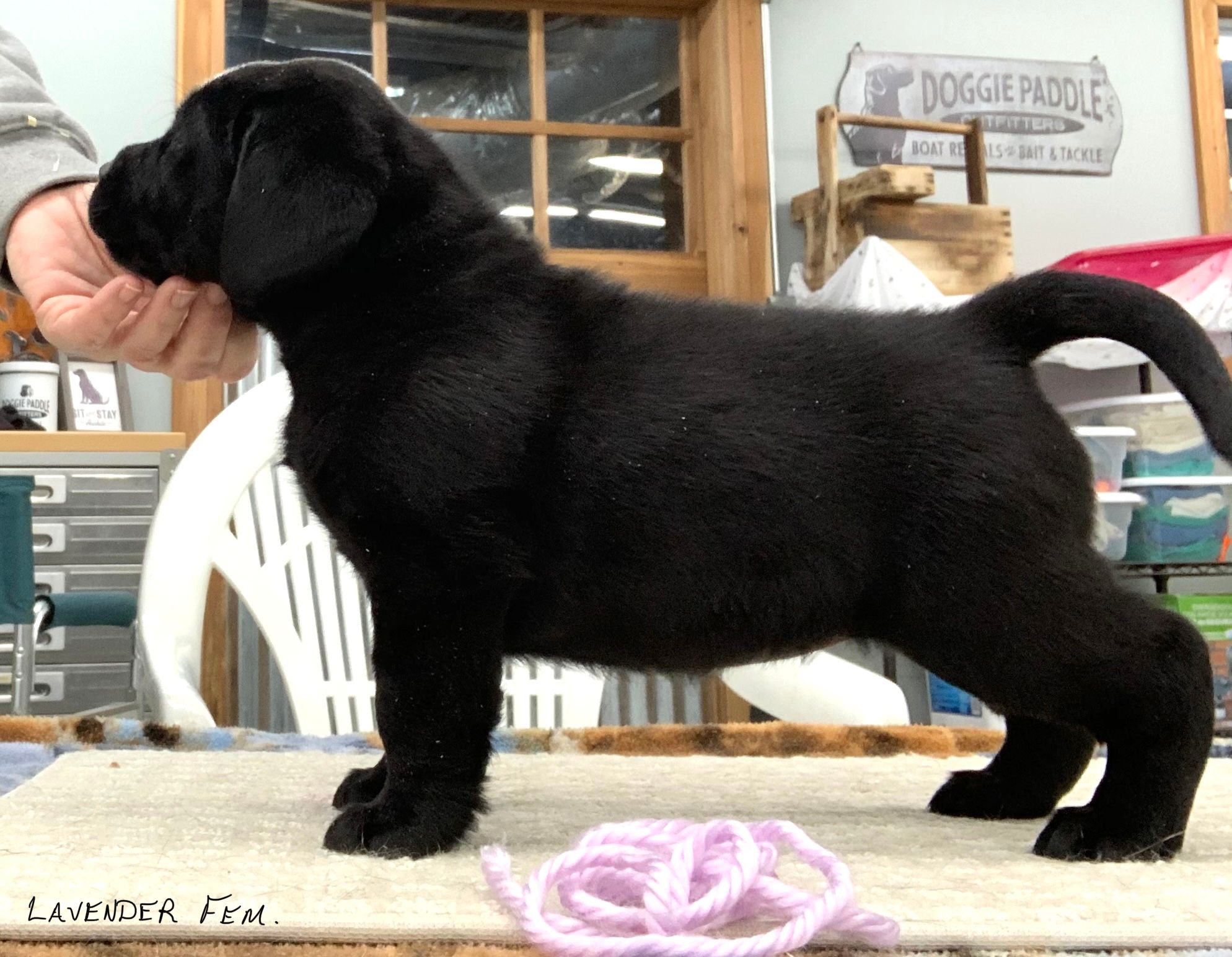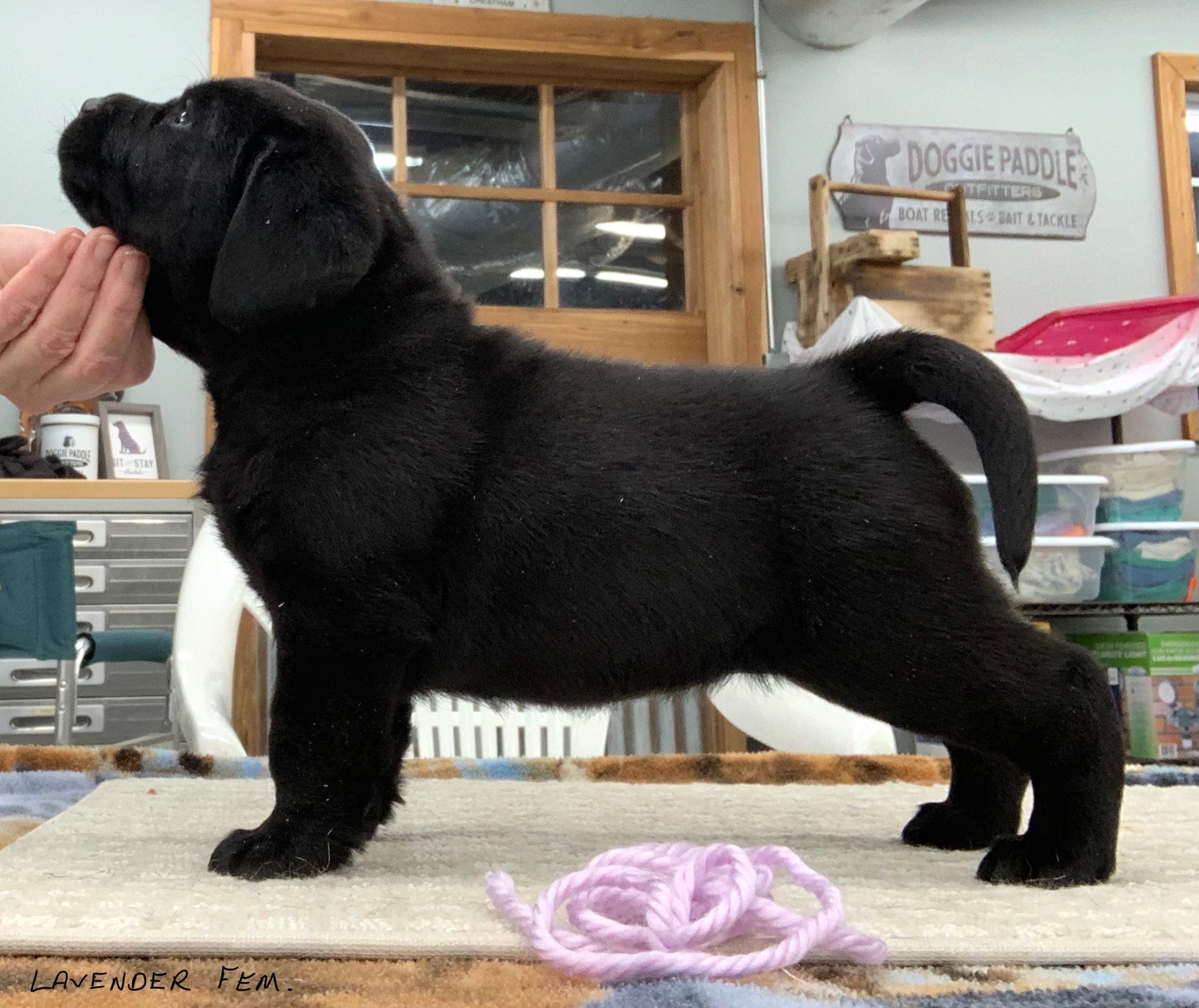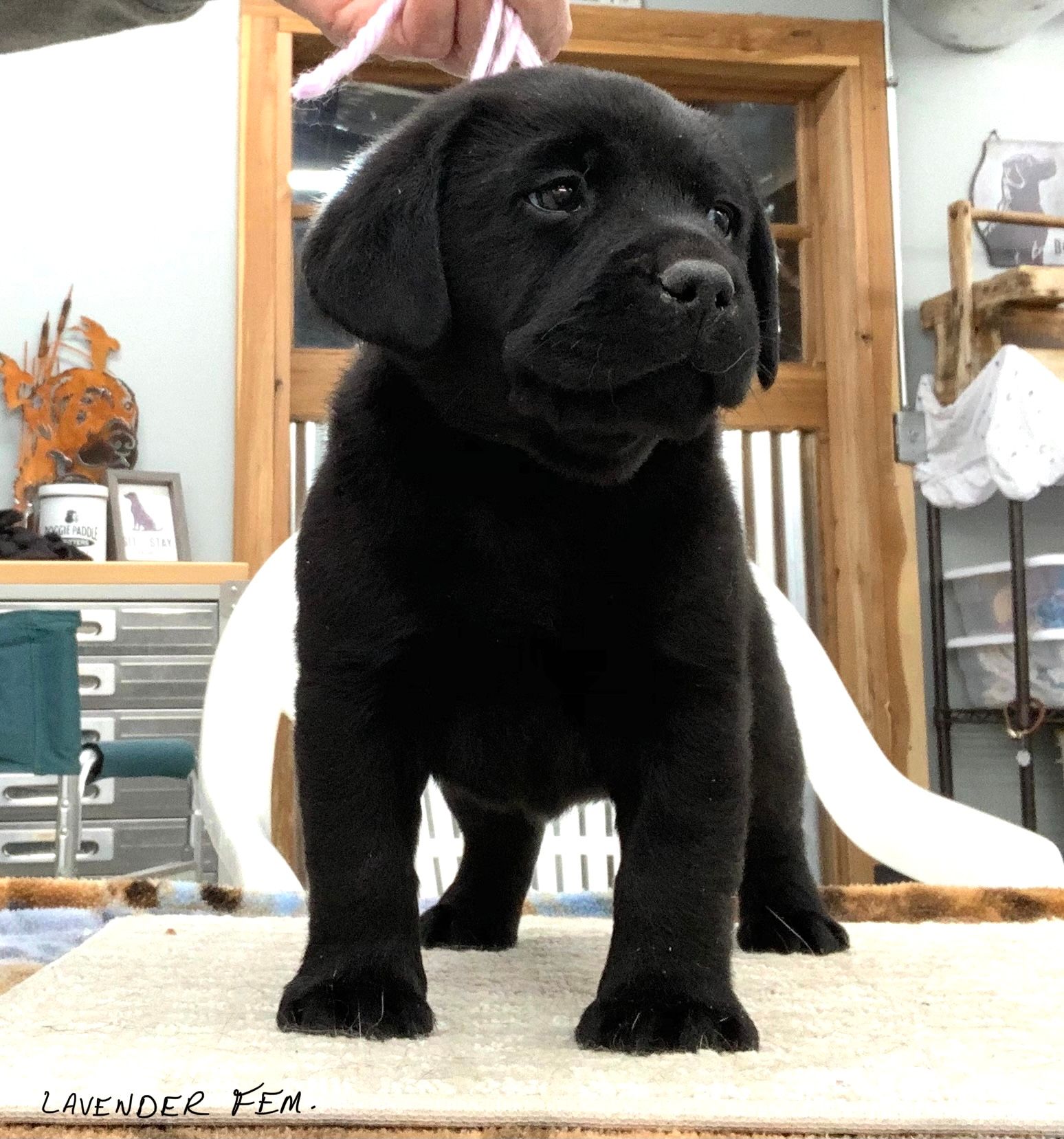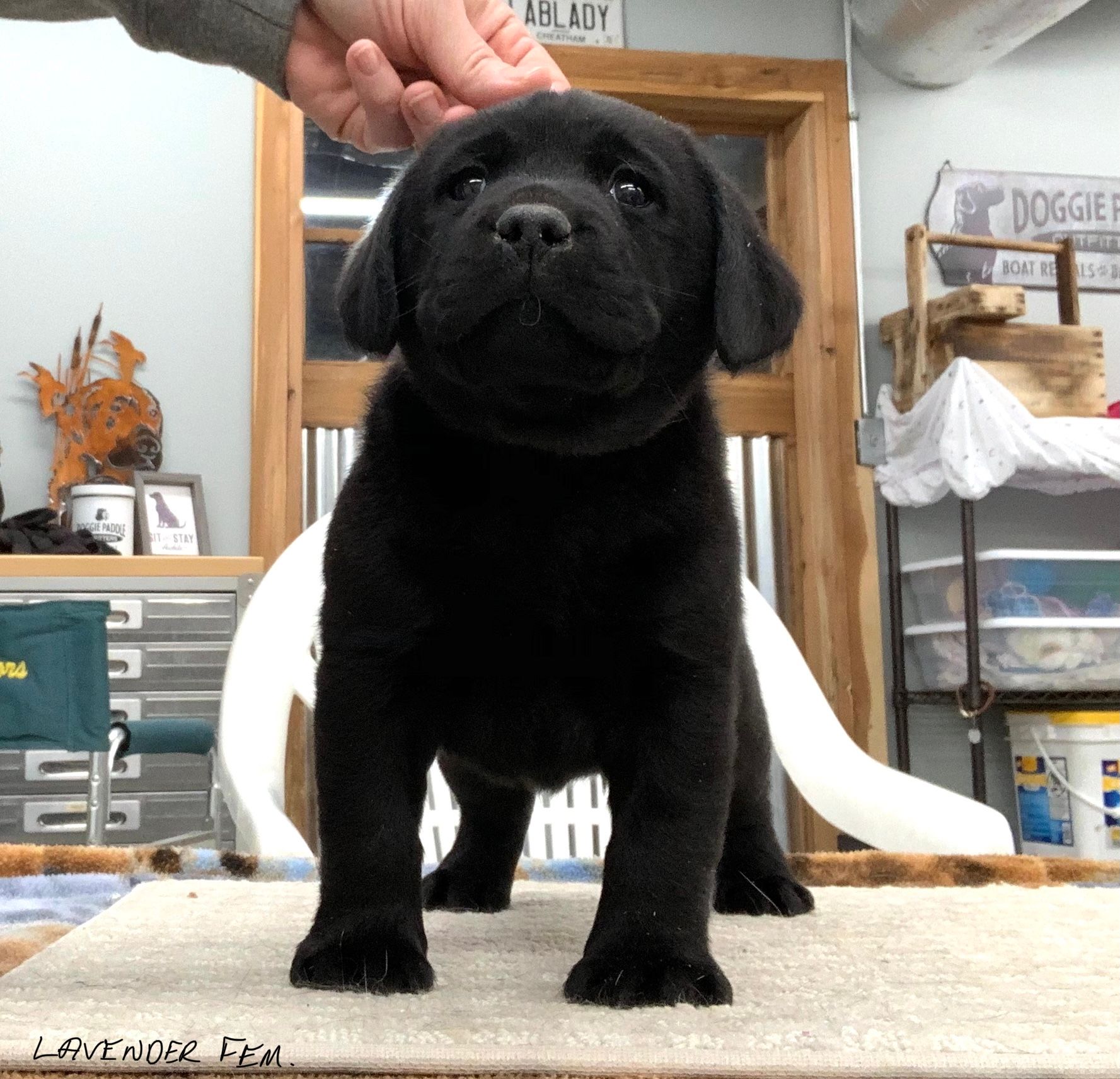 Below: WHITE COLLAR FEMALE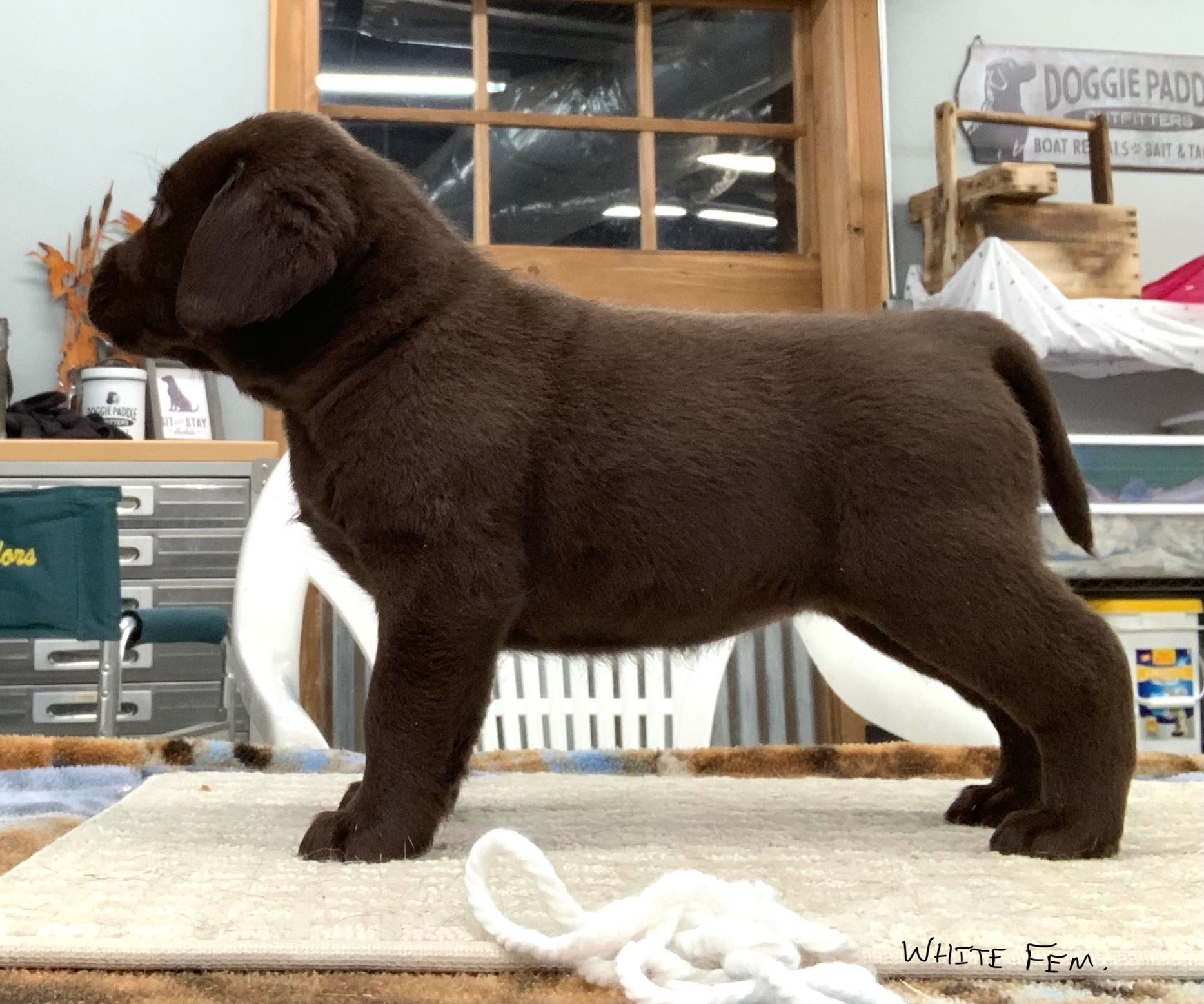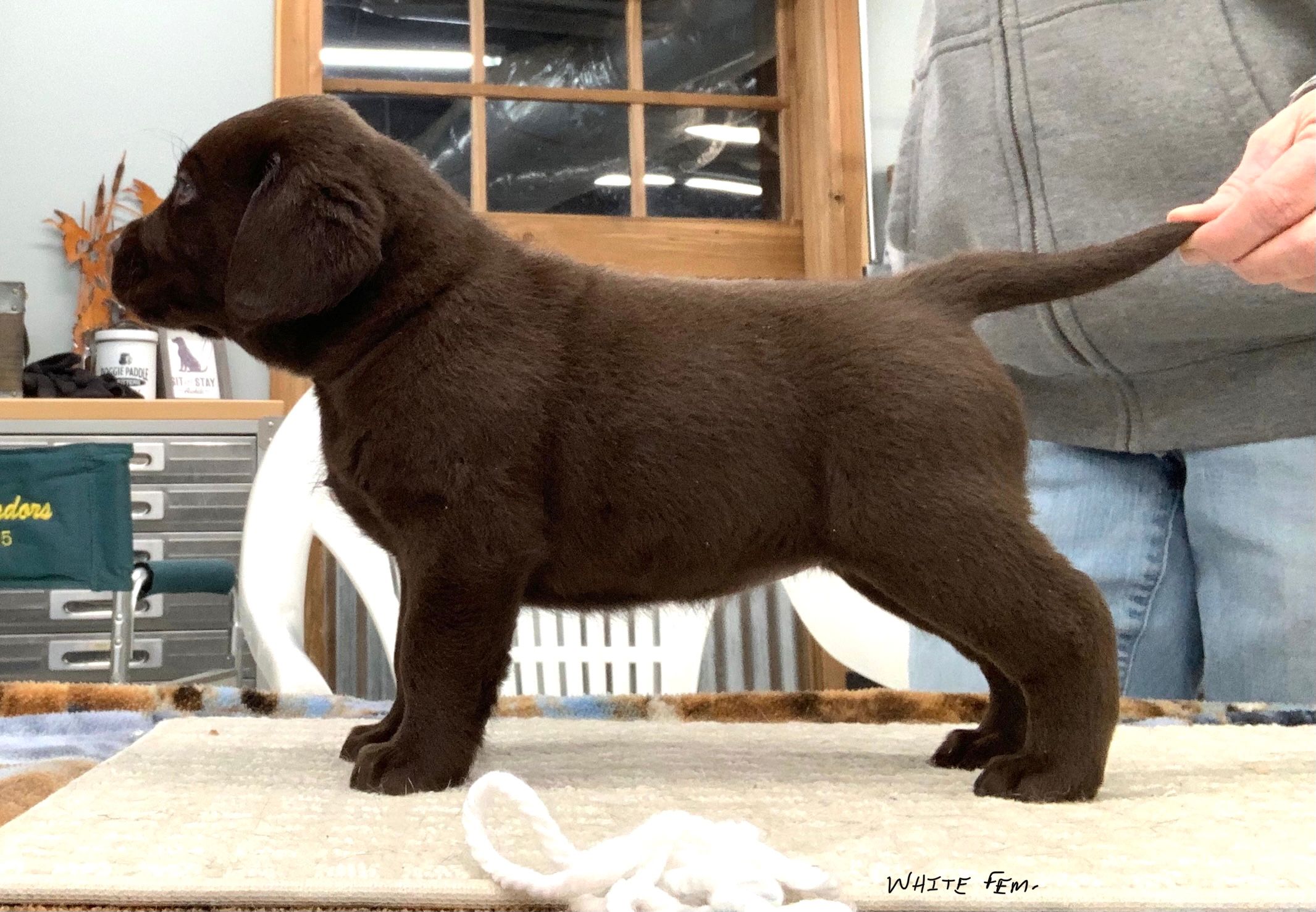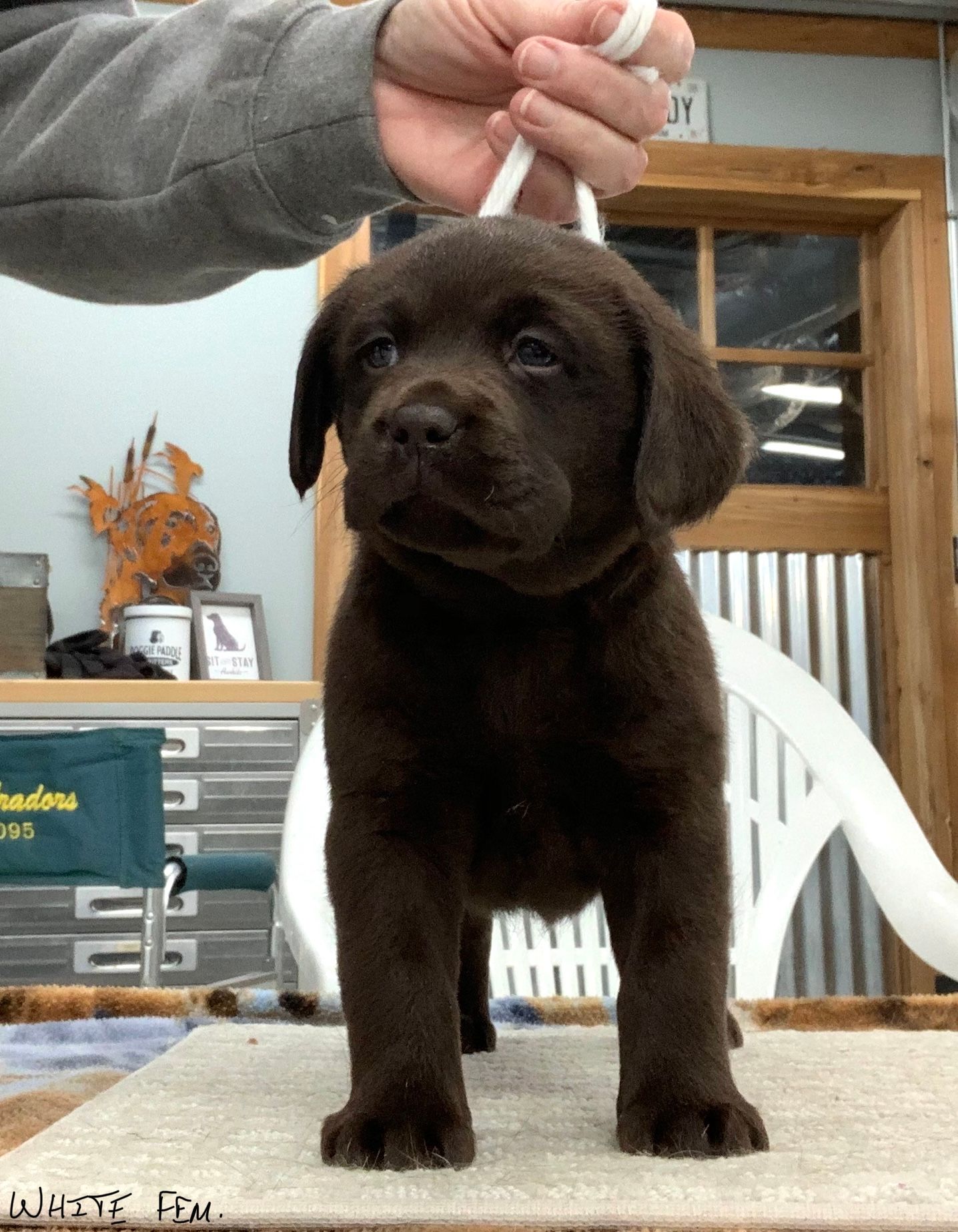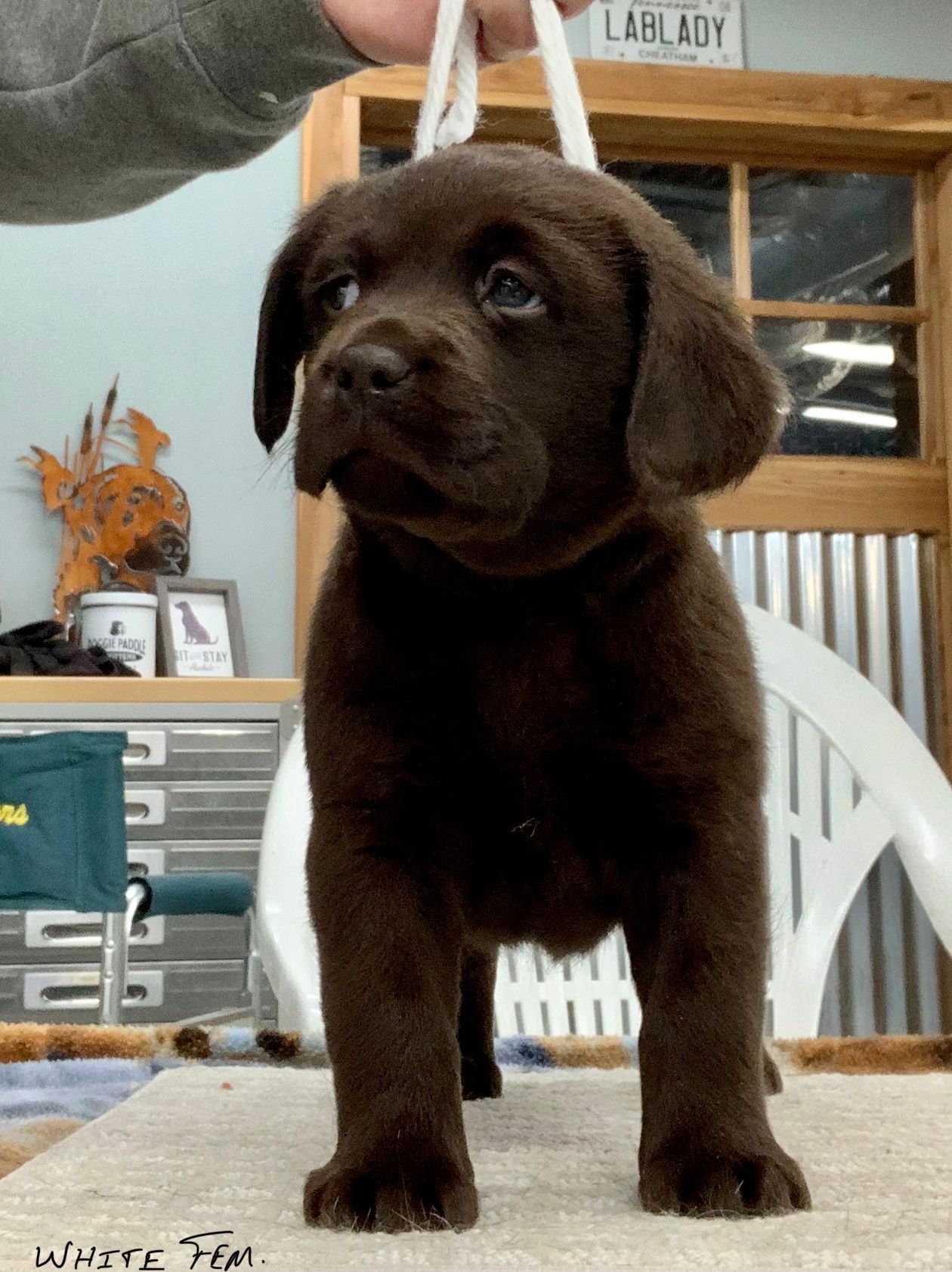 Below: MULTI COLLAR FEMALE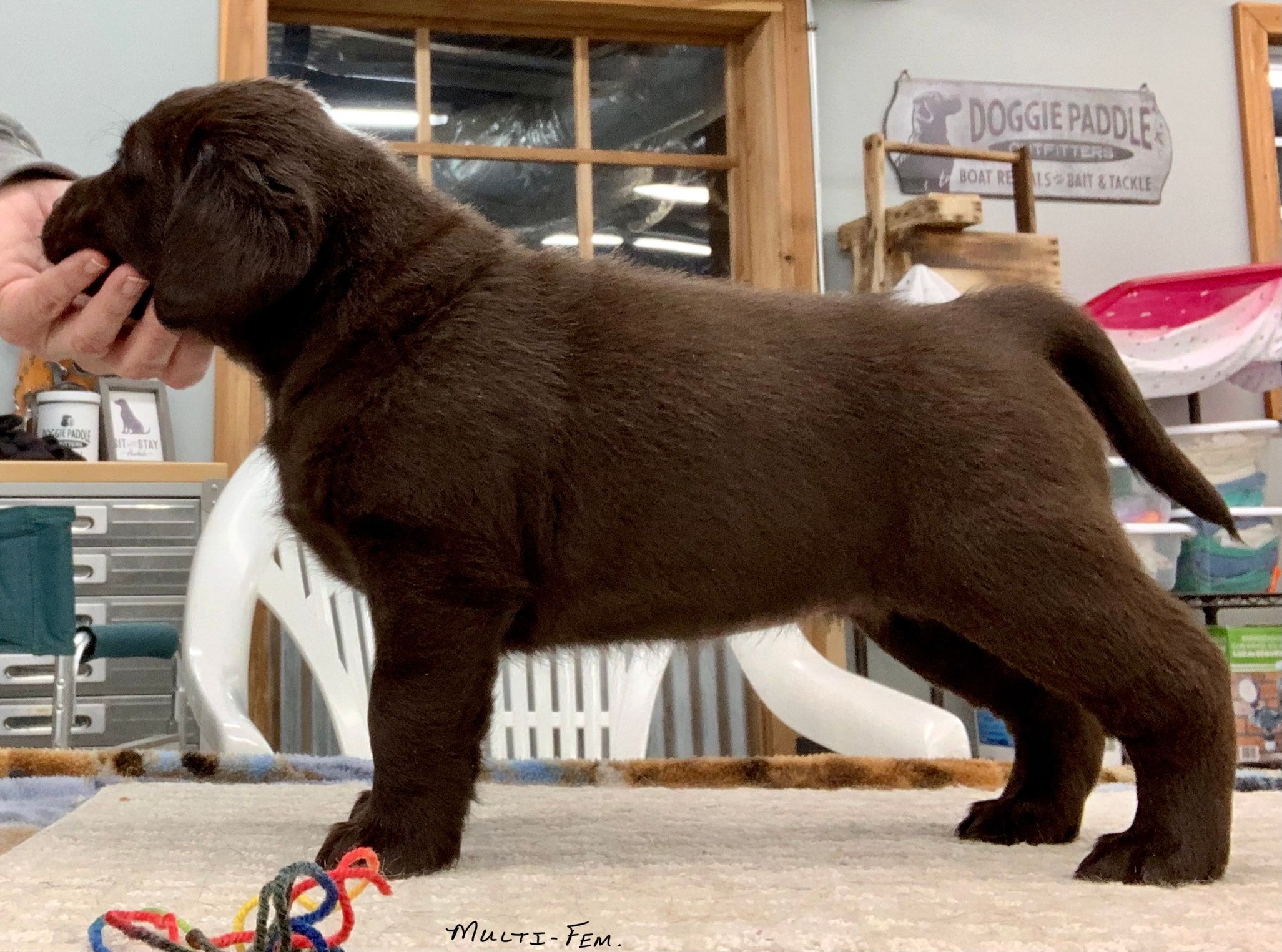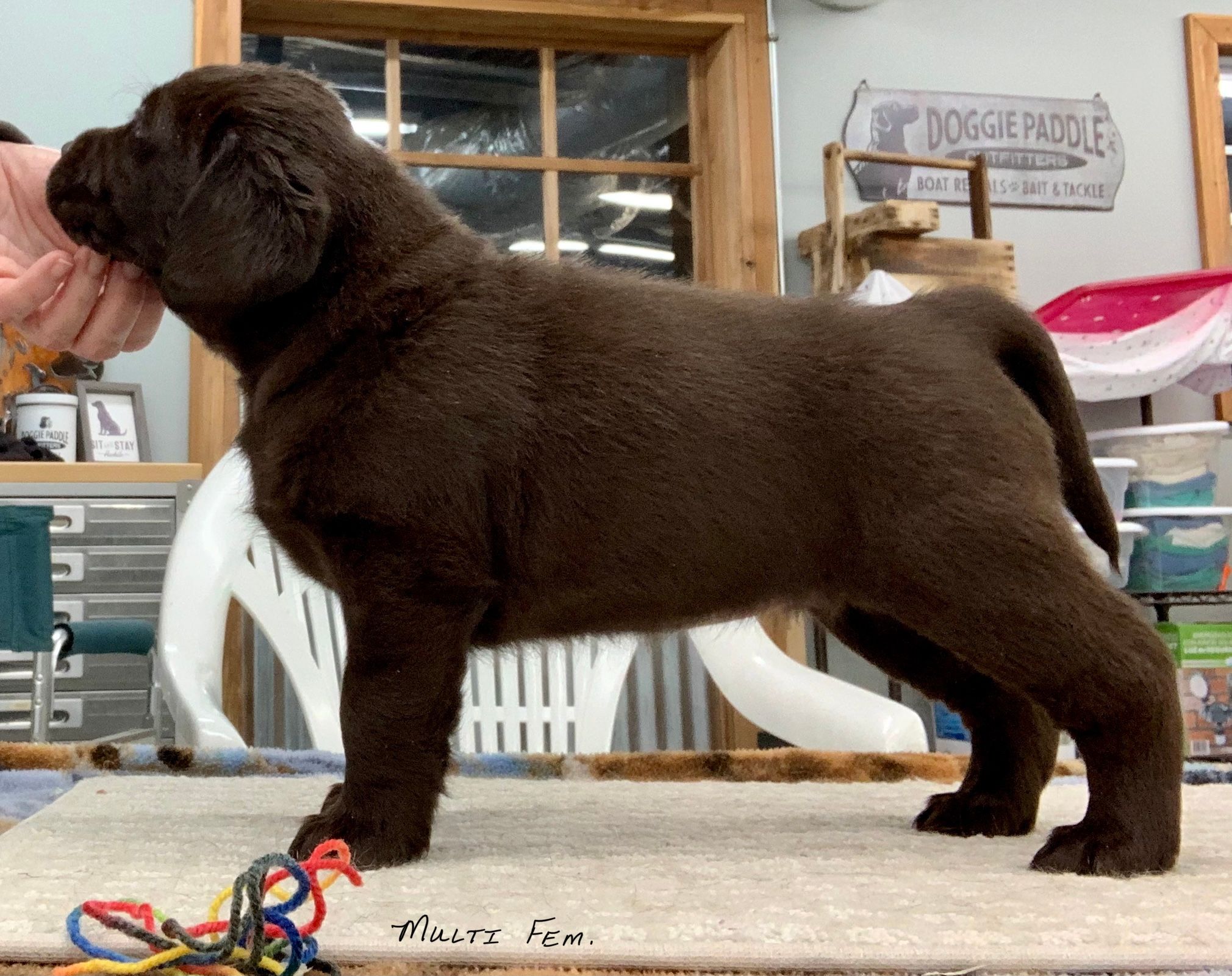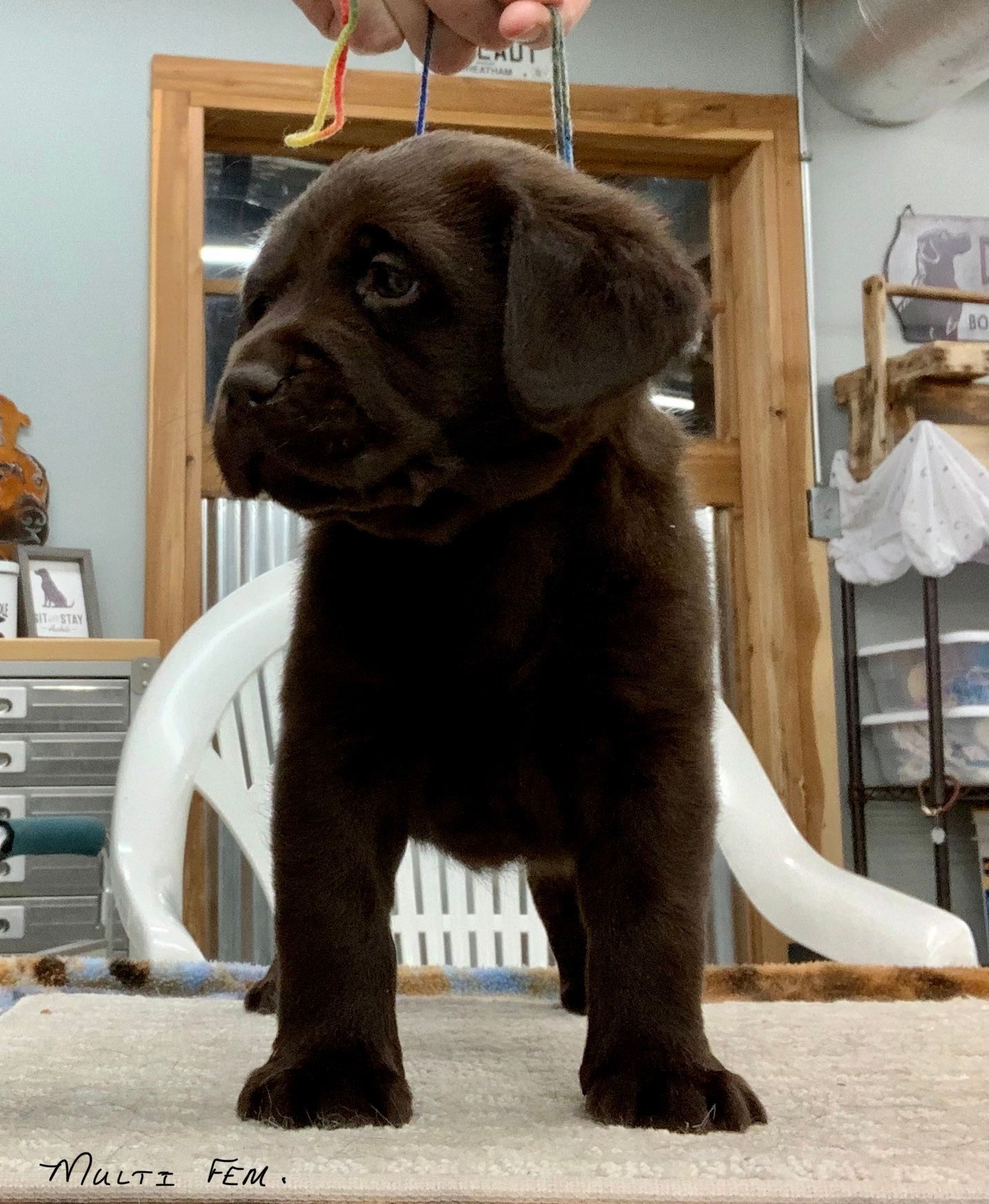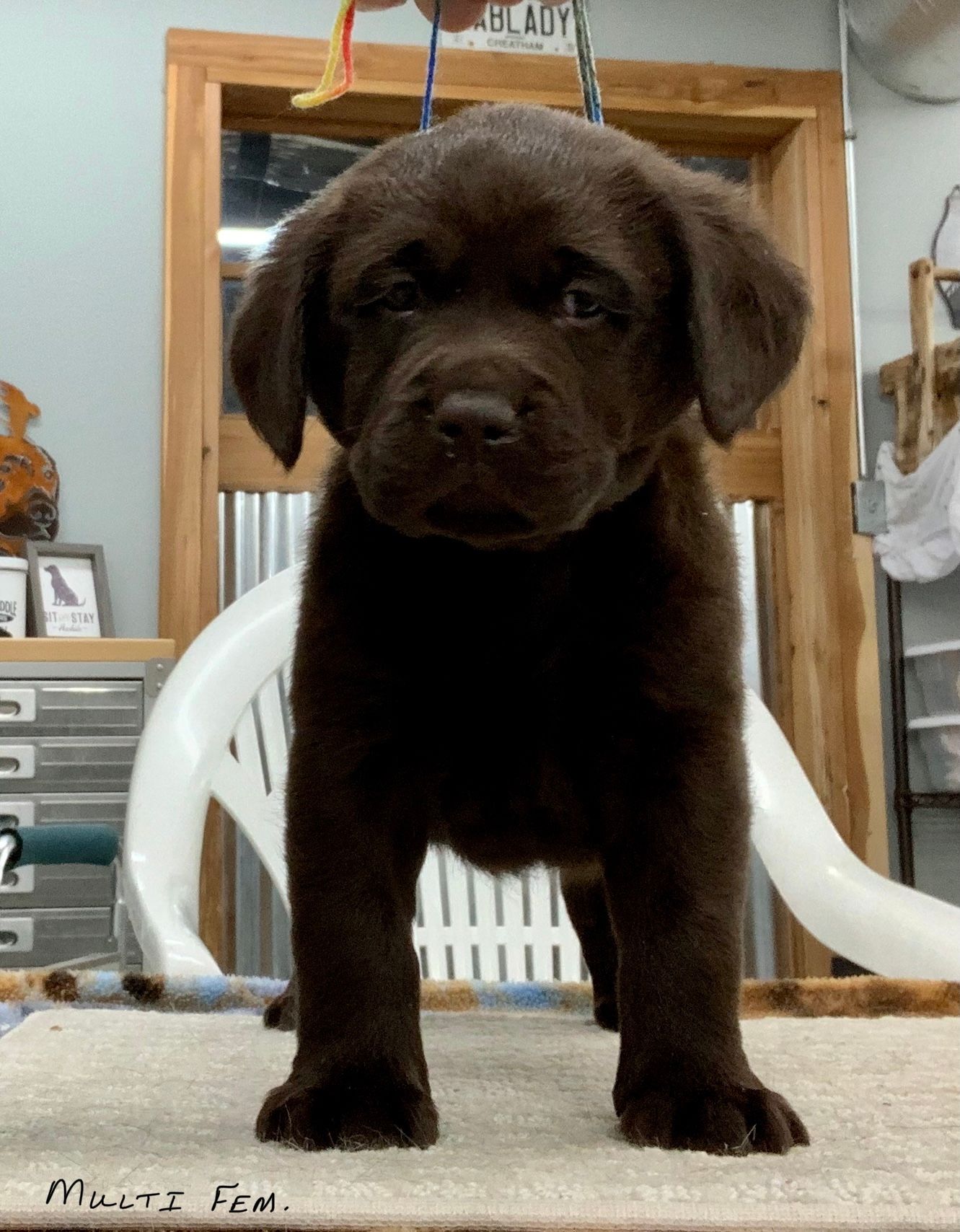 Below: PLUM COLLAR FEMALE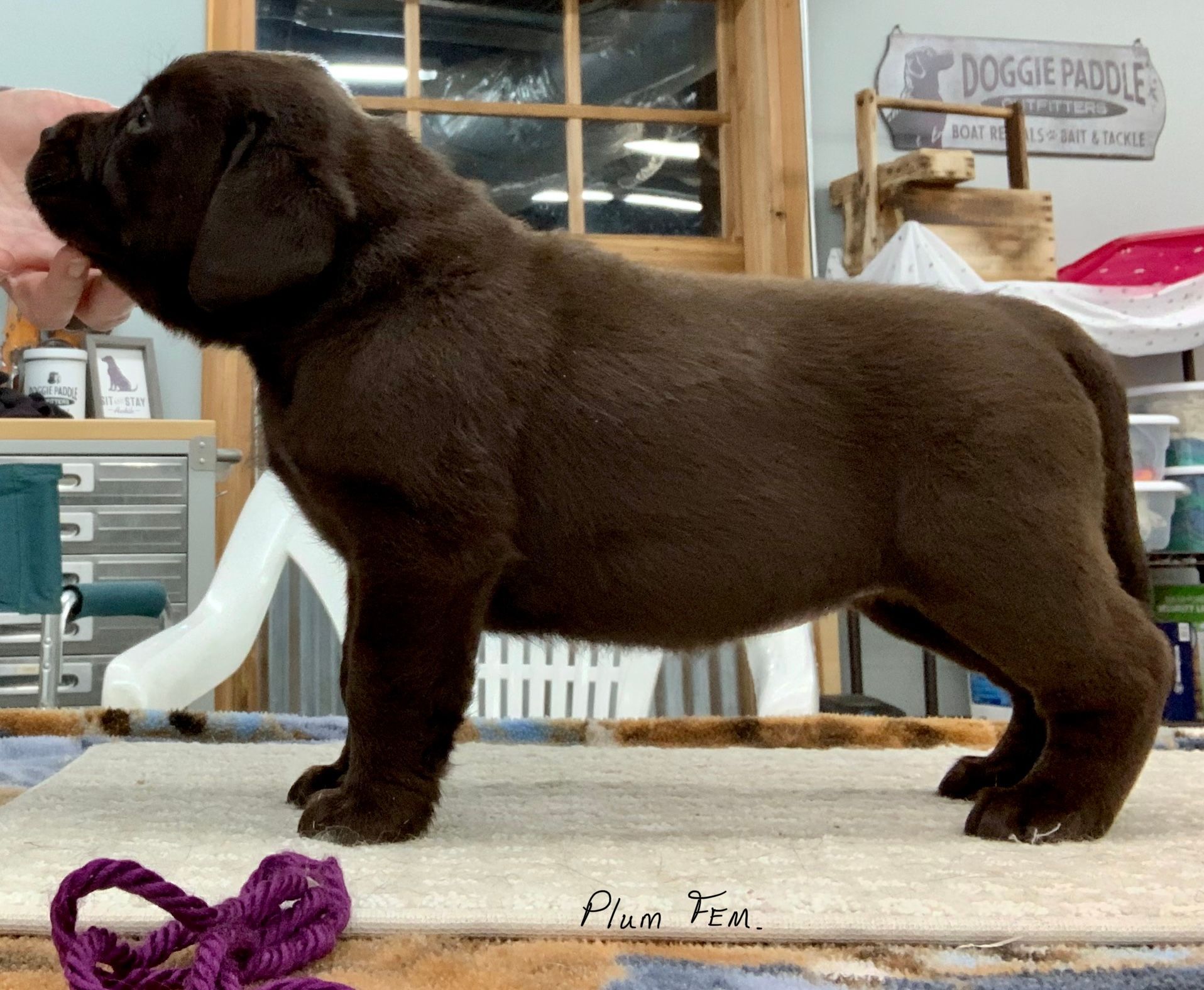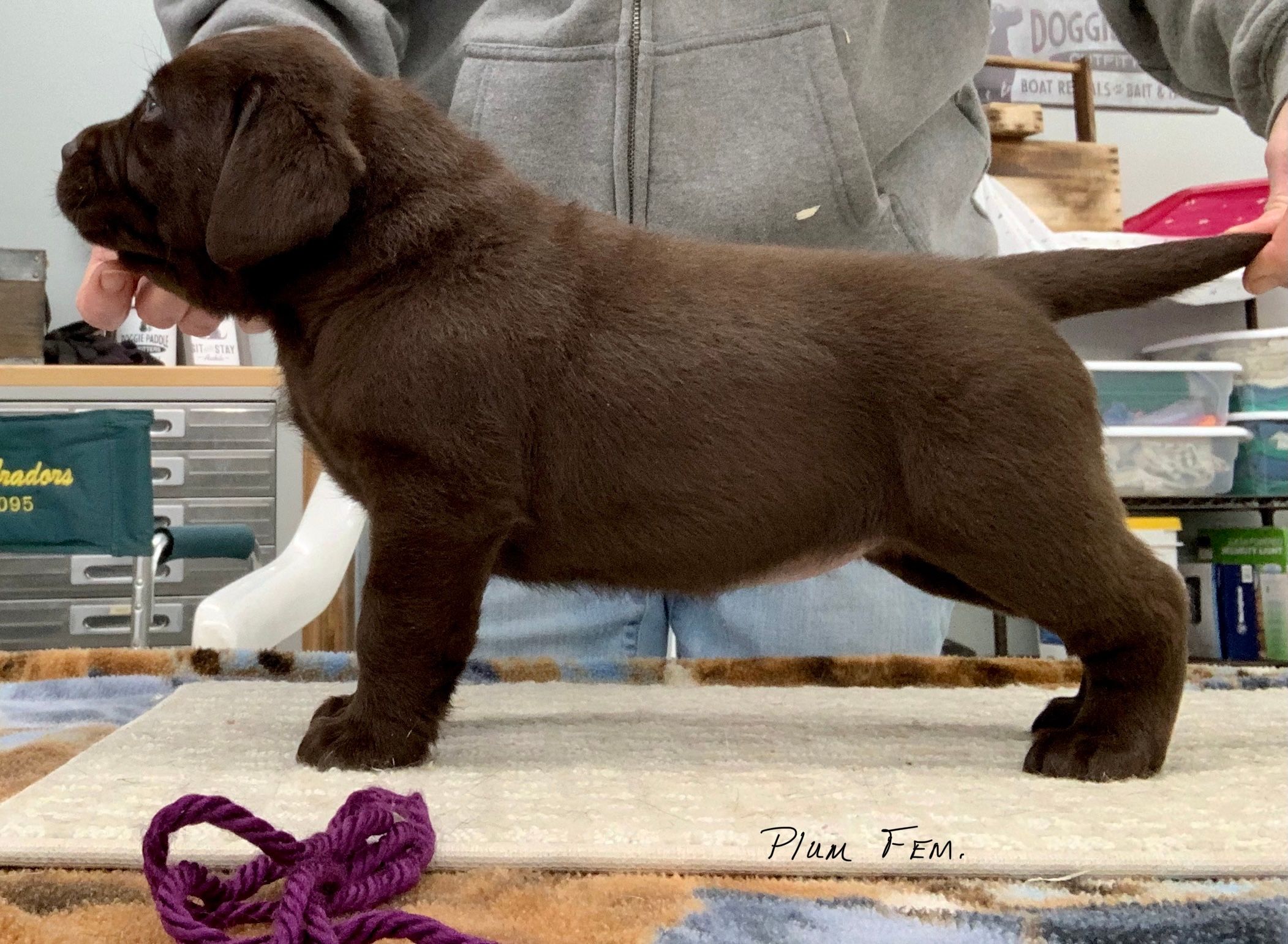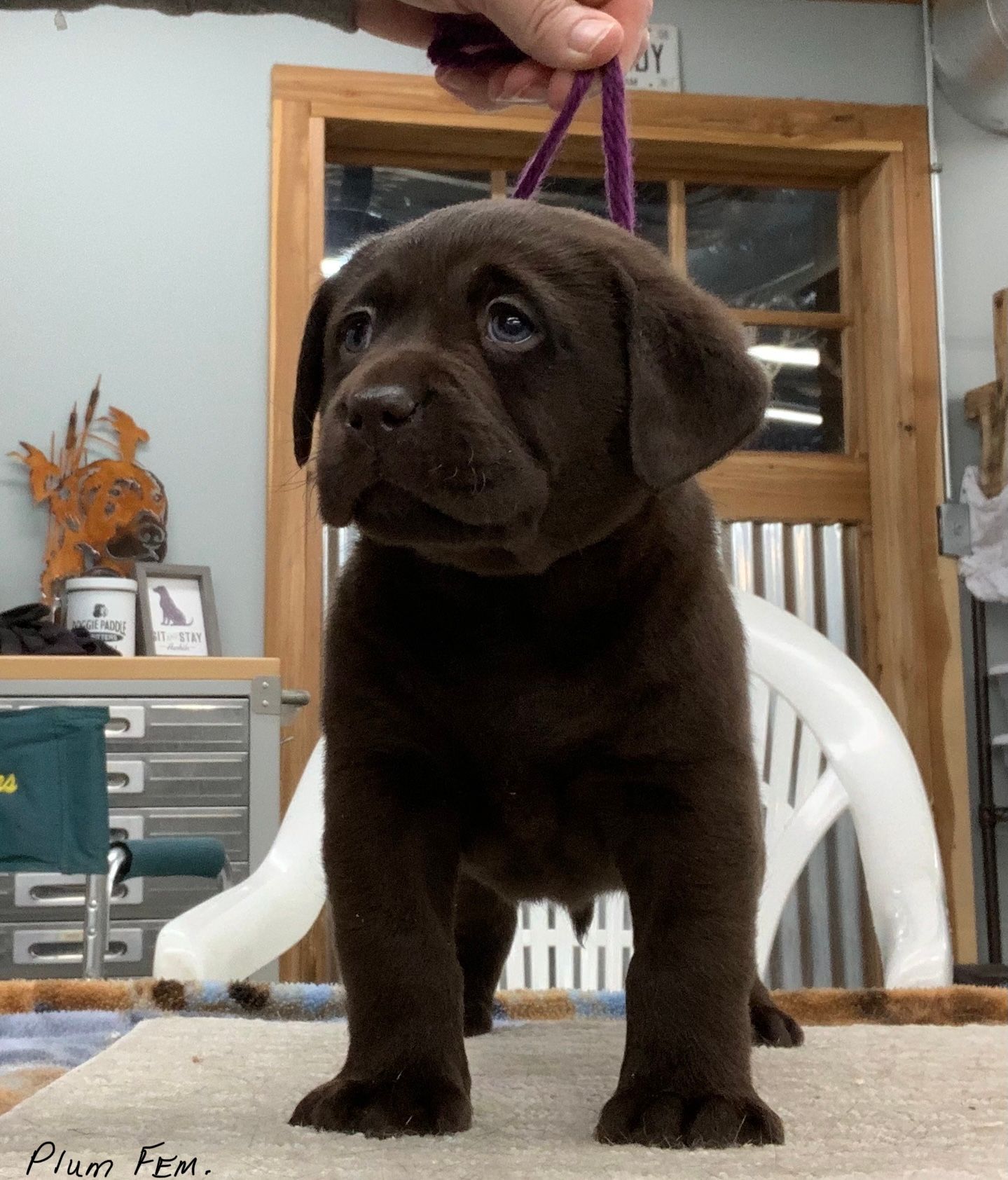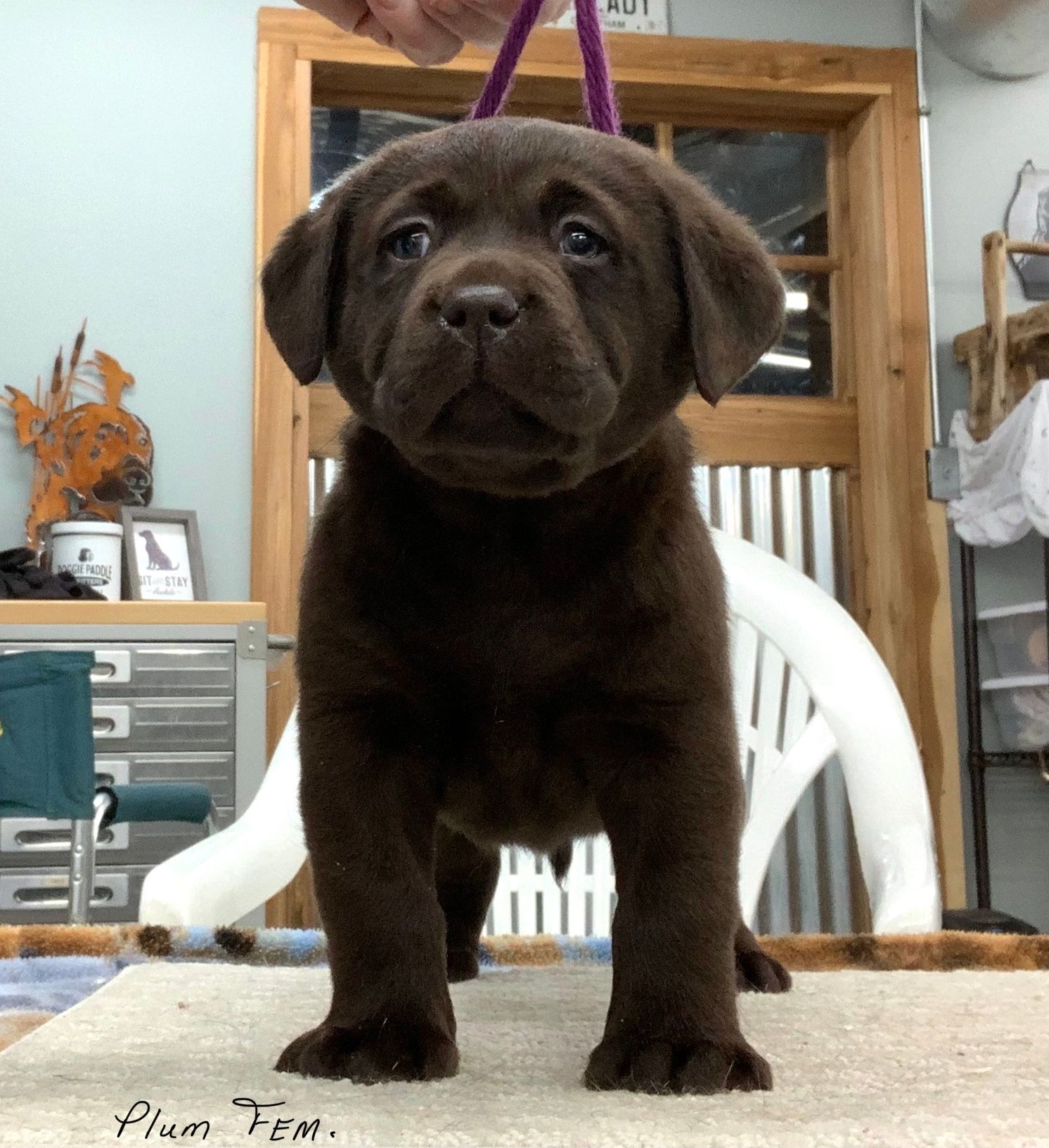 Below: TURQUOISE COLLAR MALE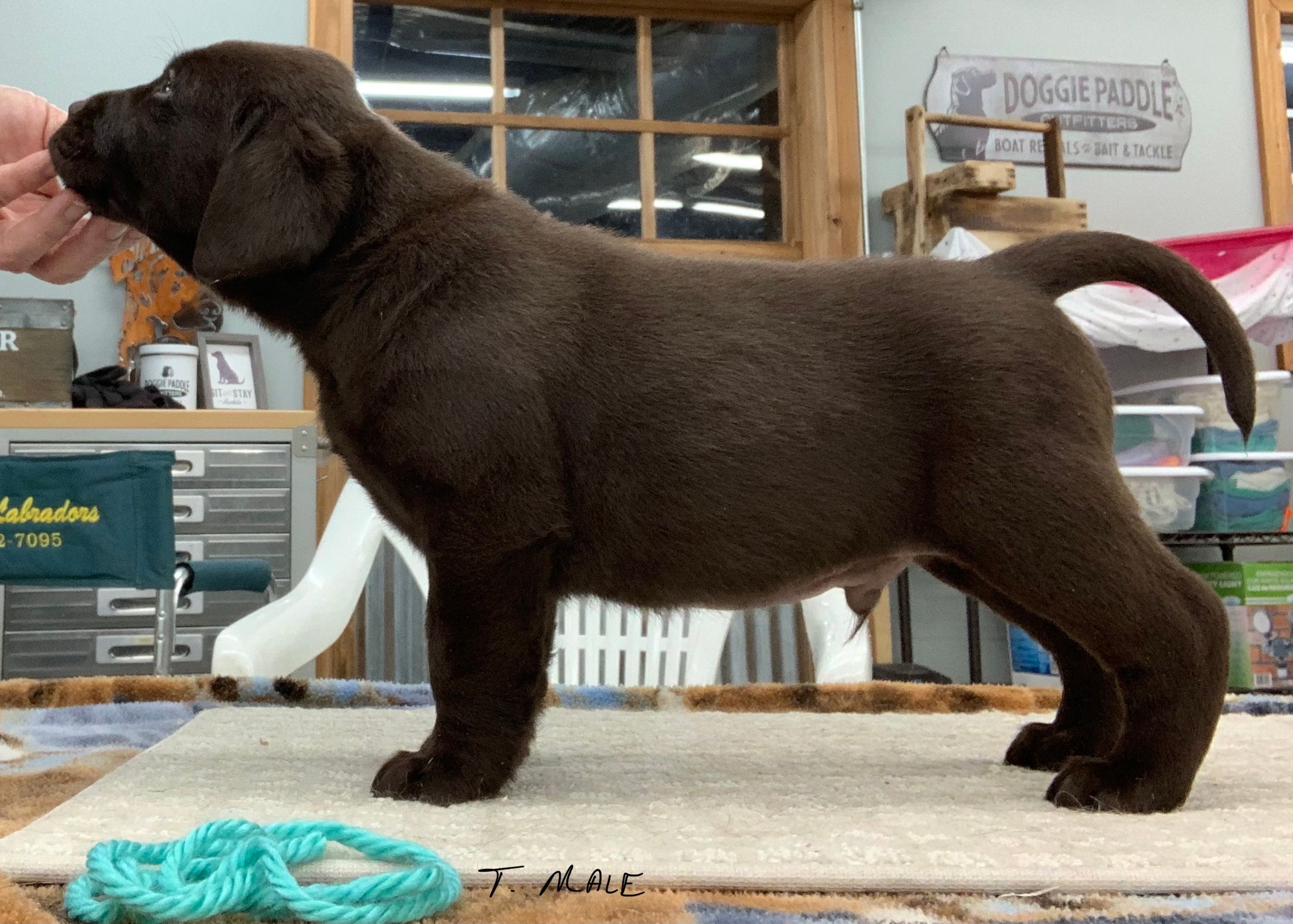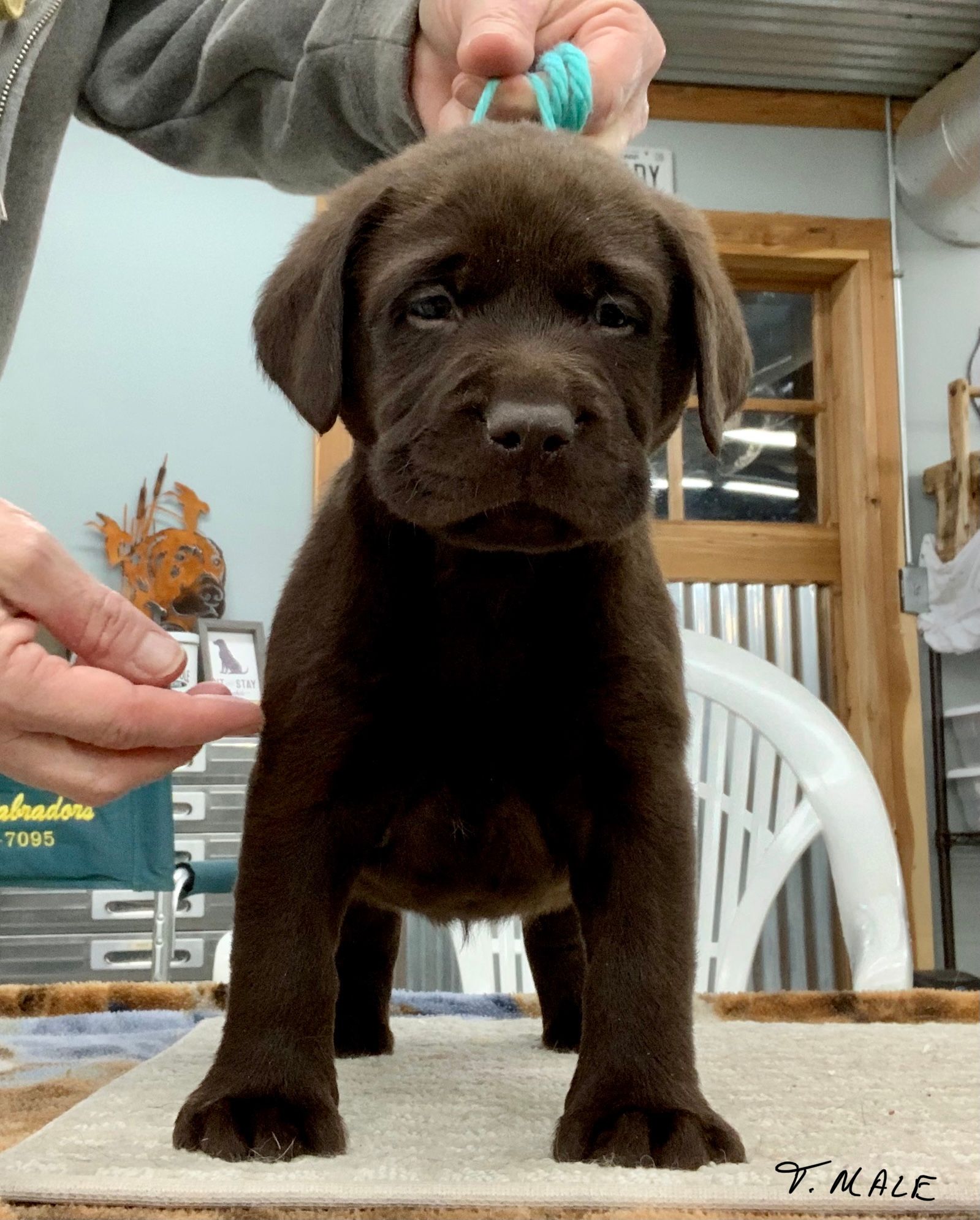 Below: BLACK COLLAR MALE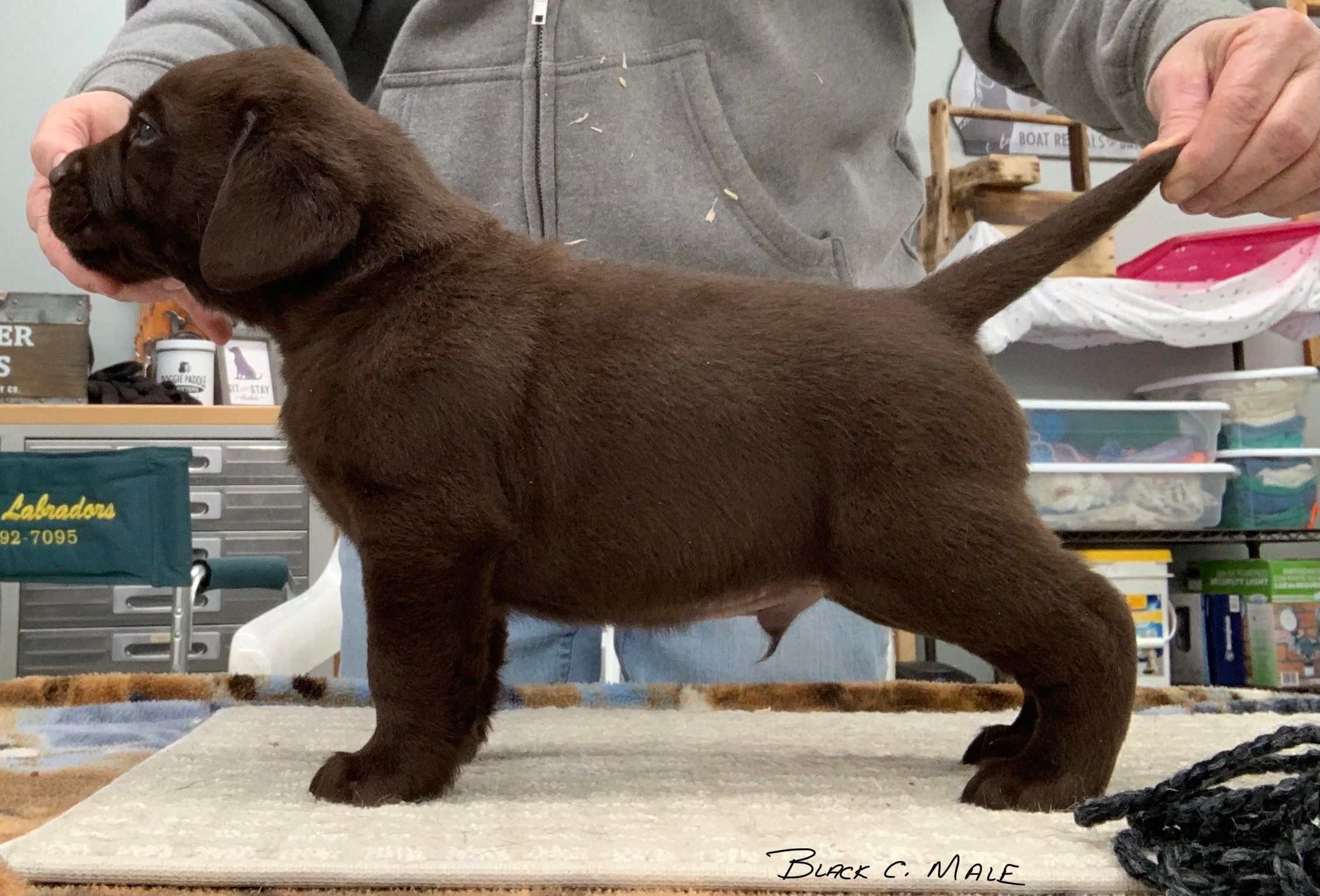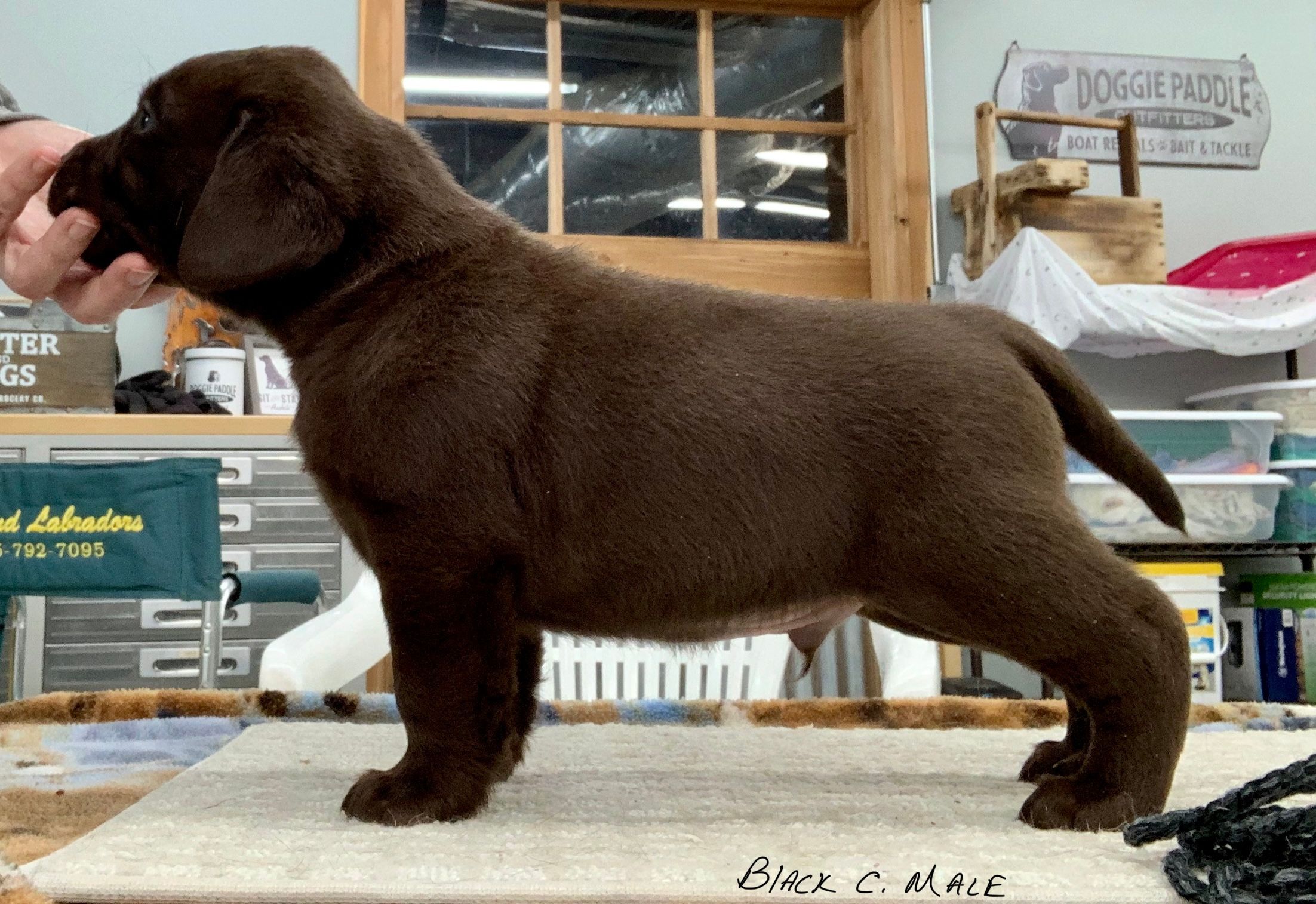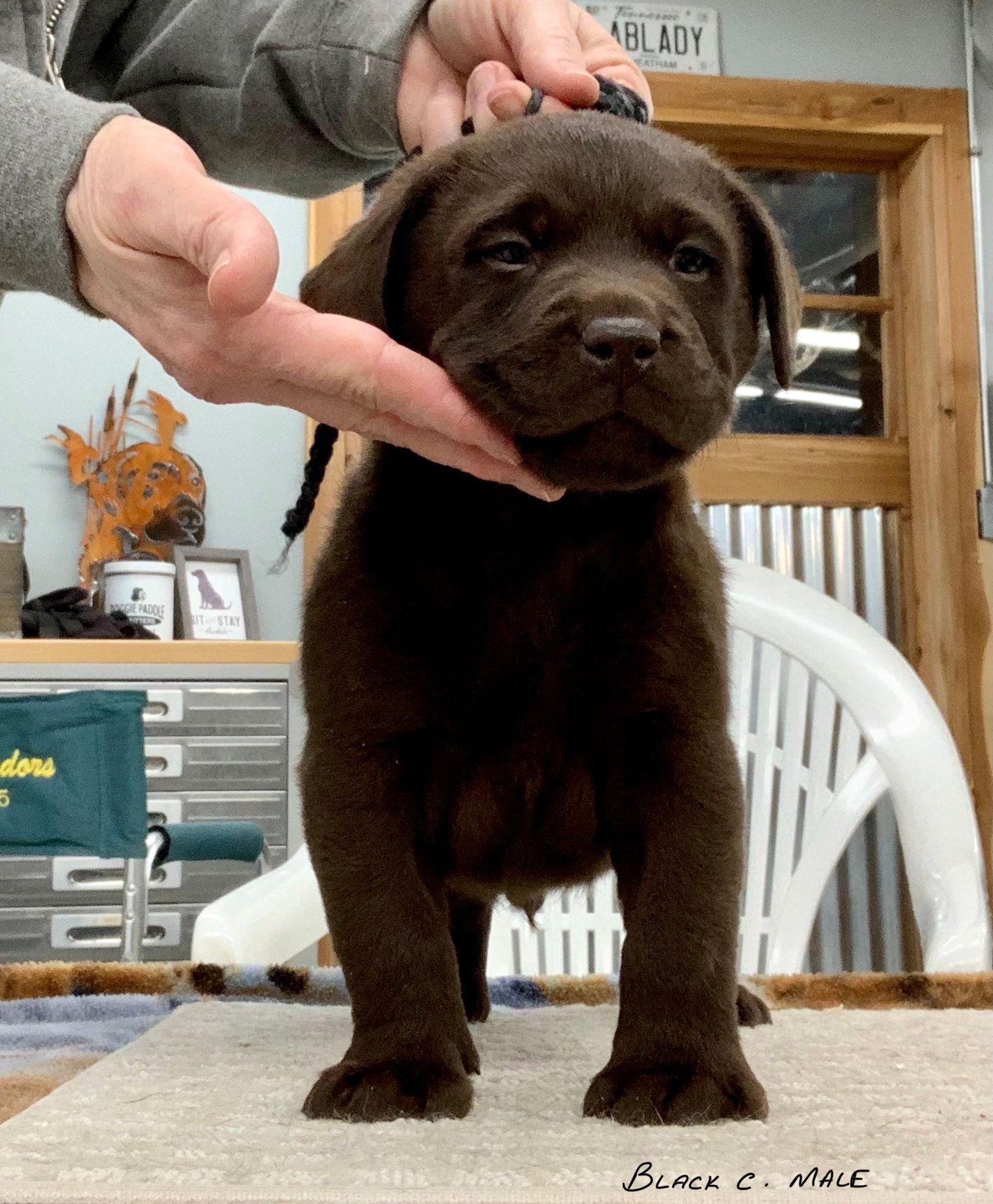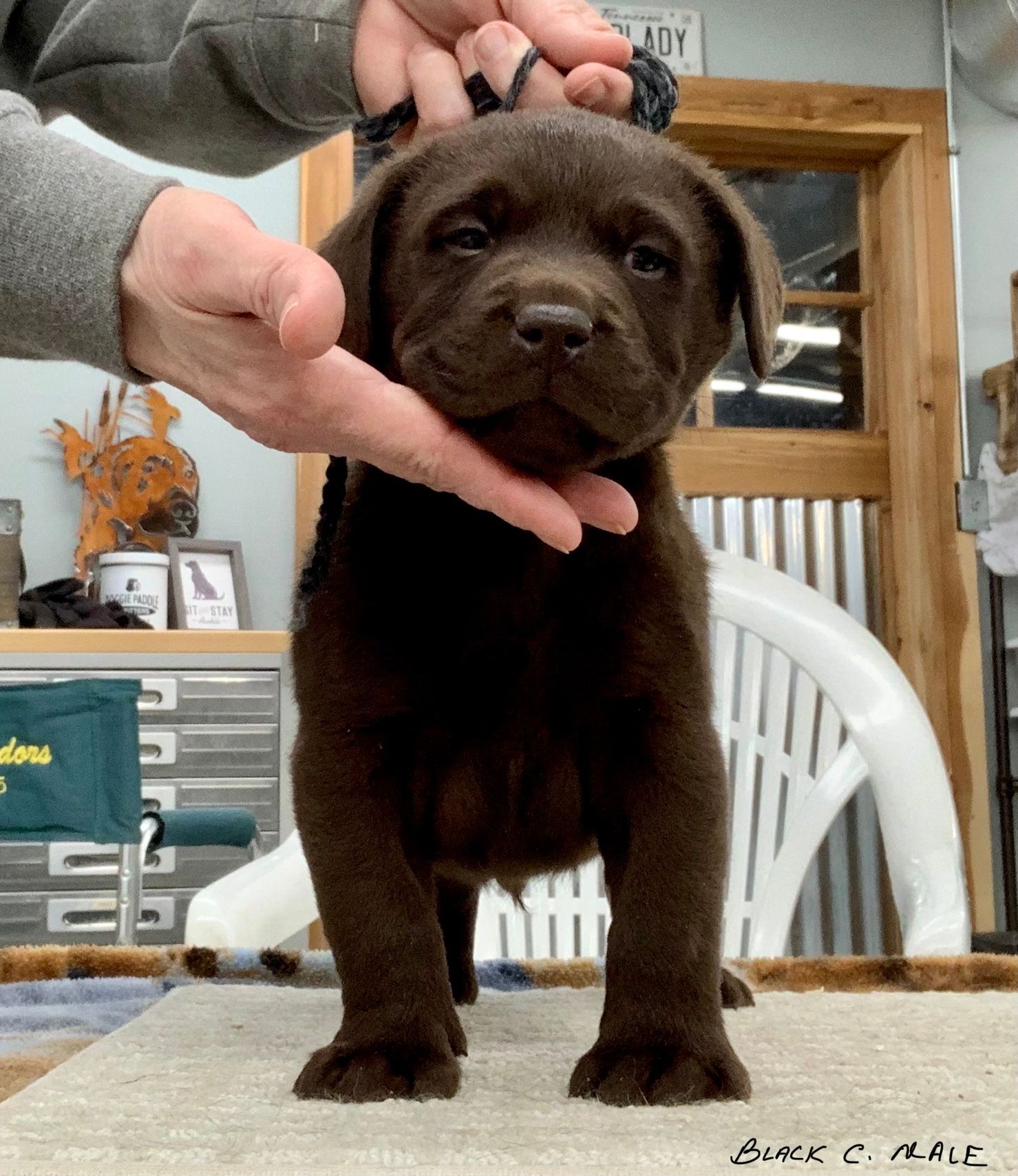 Below: GOLD COLLAR MALE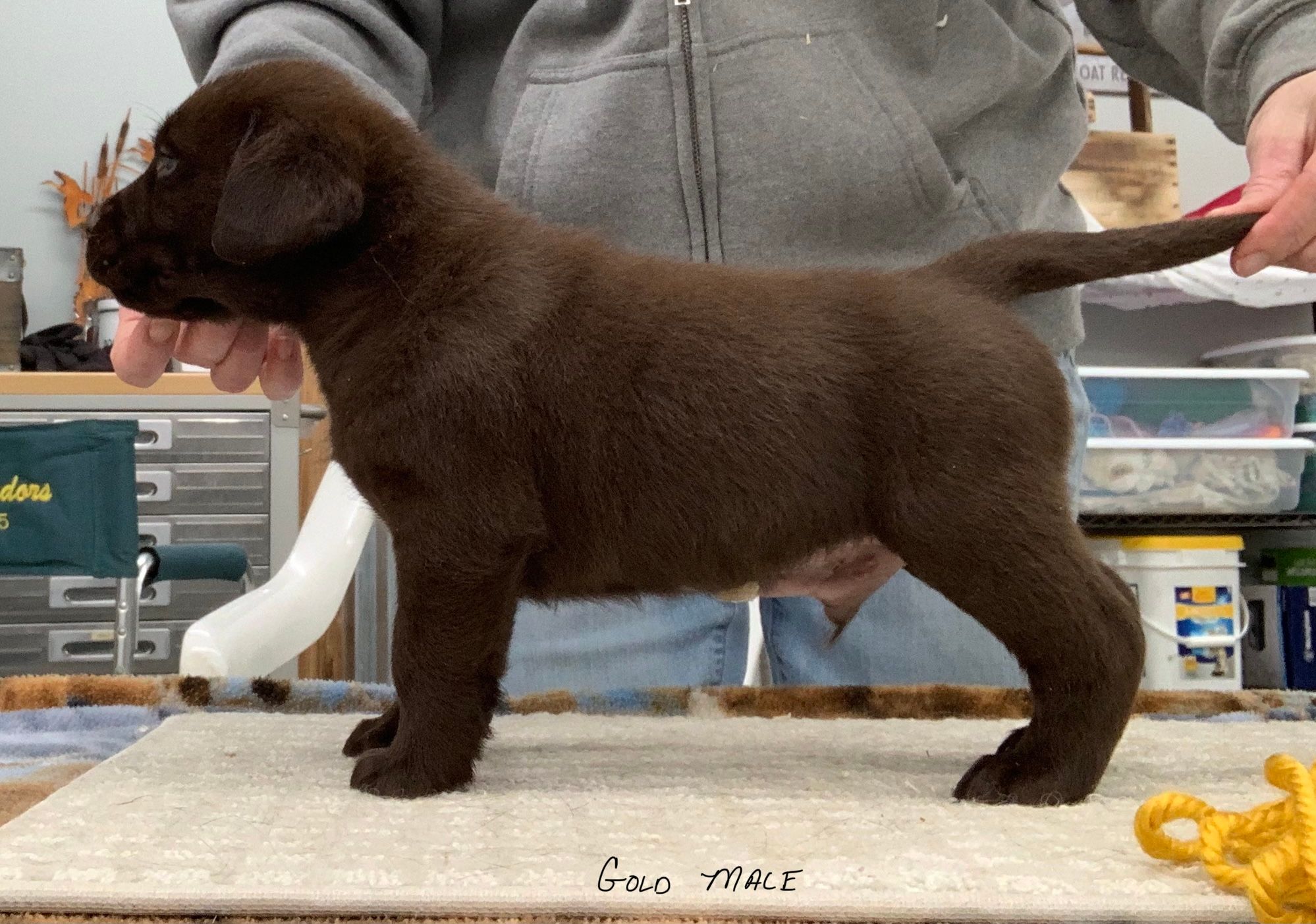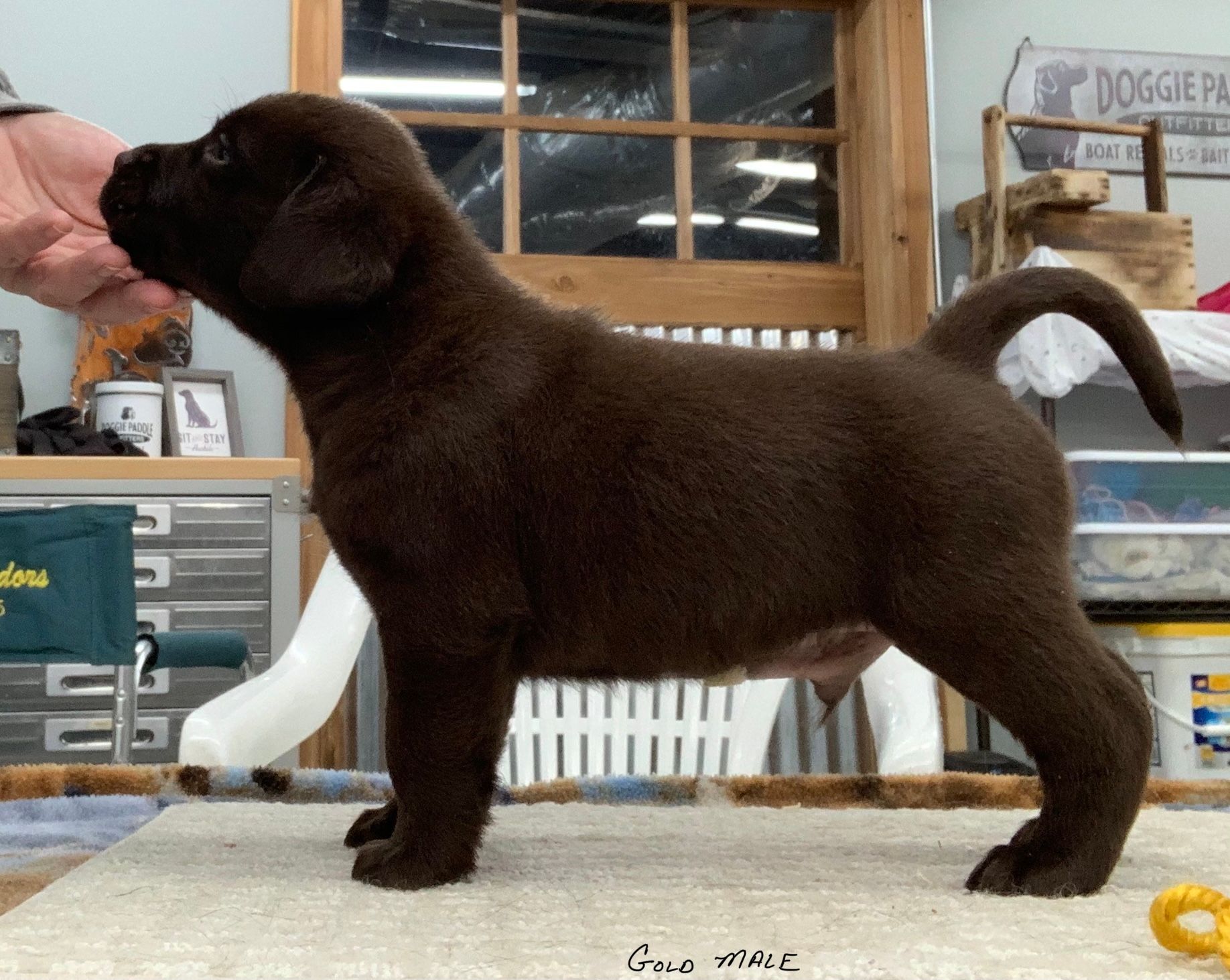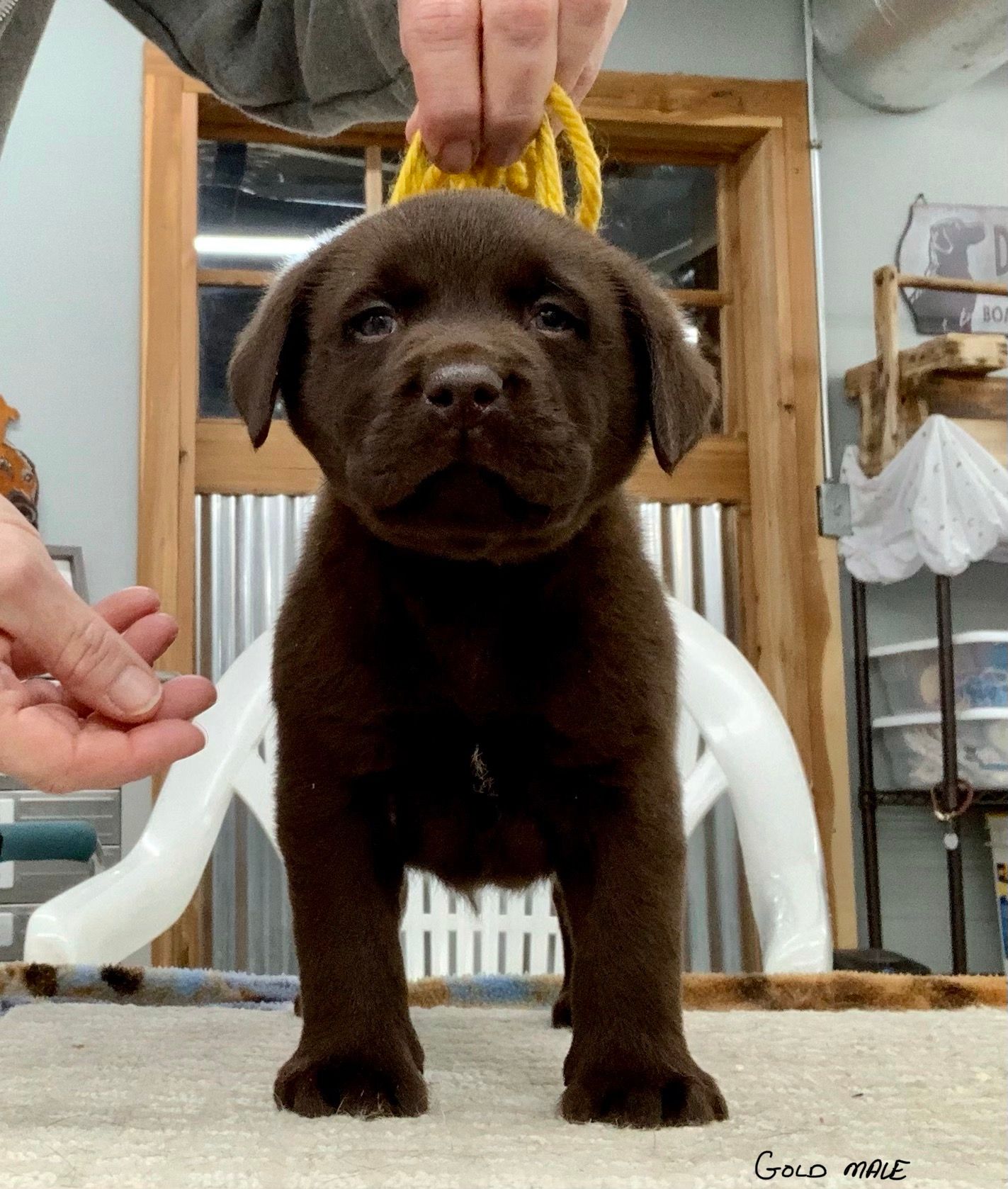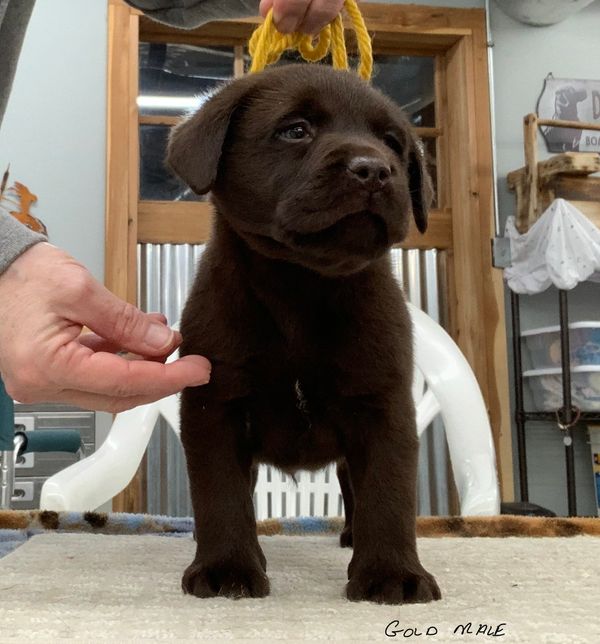 Below: RED COLLAR MALE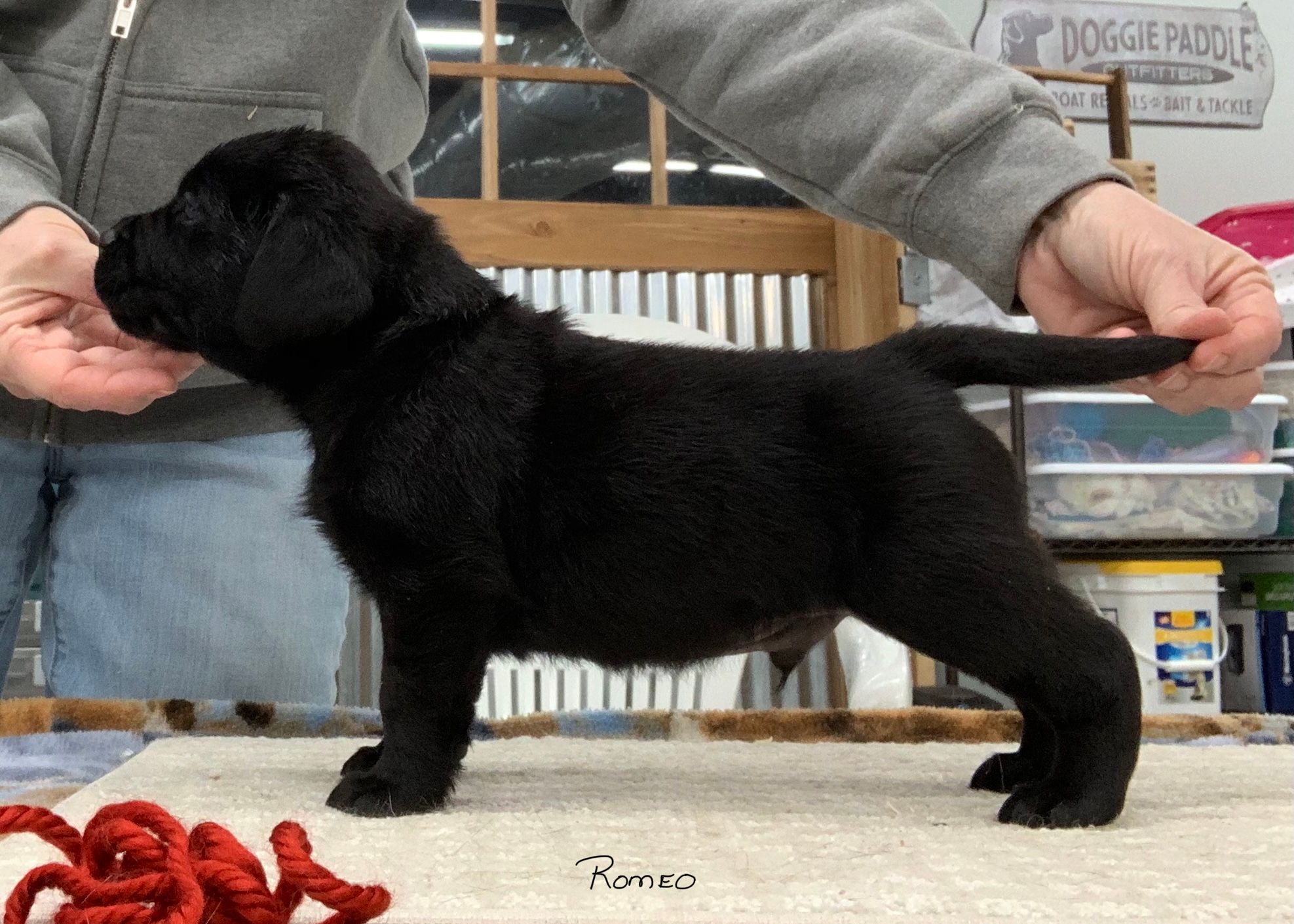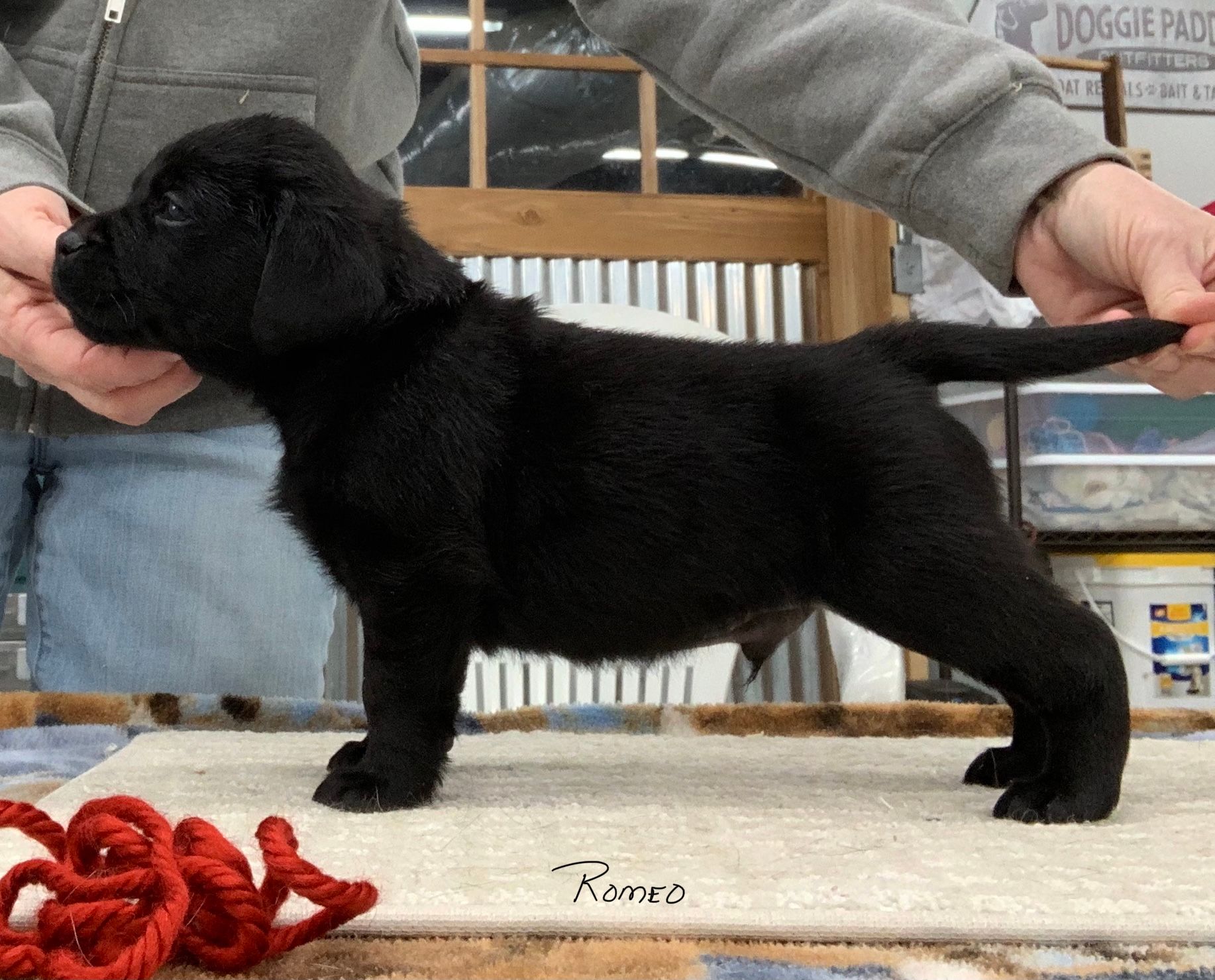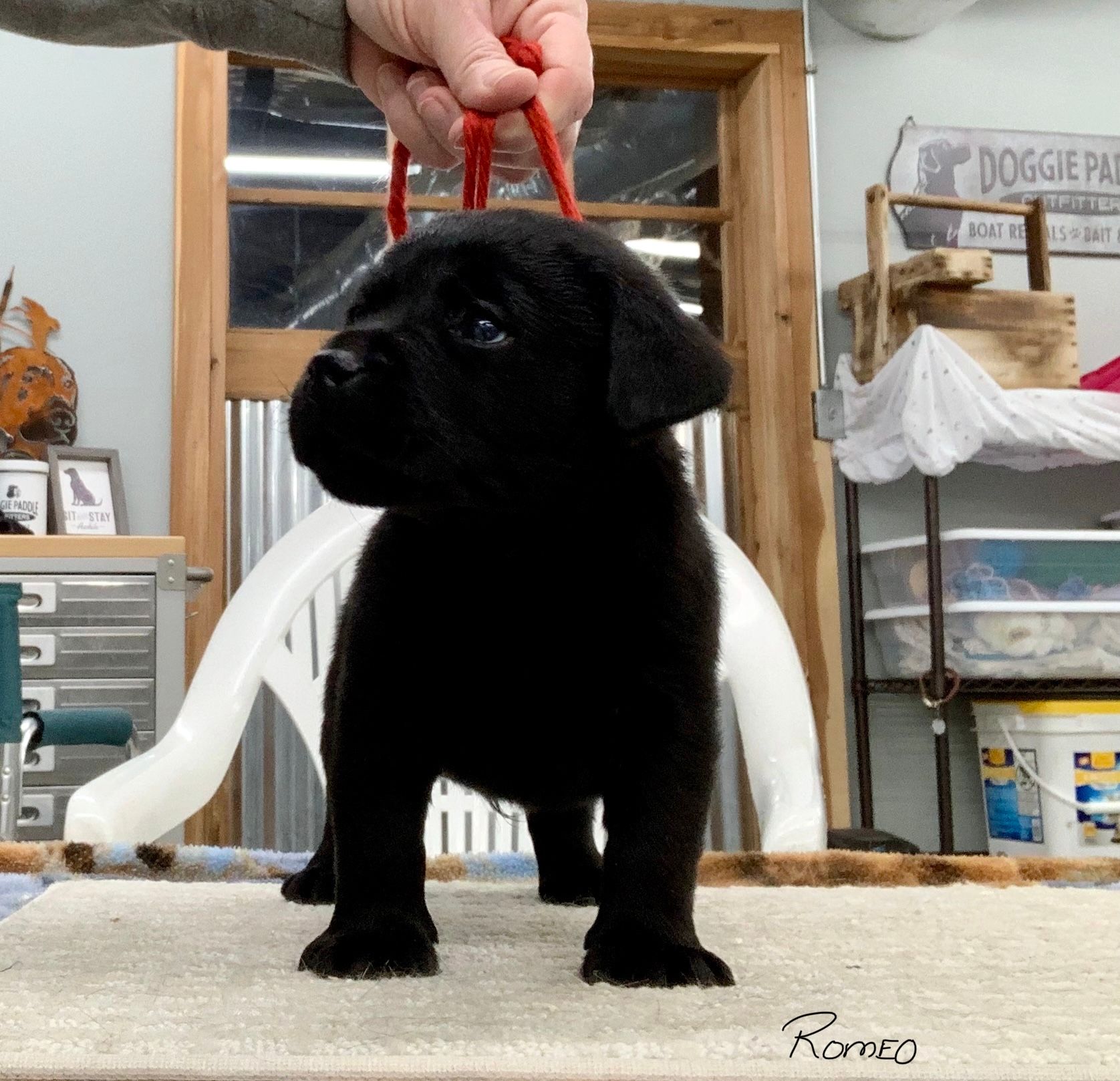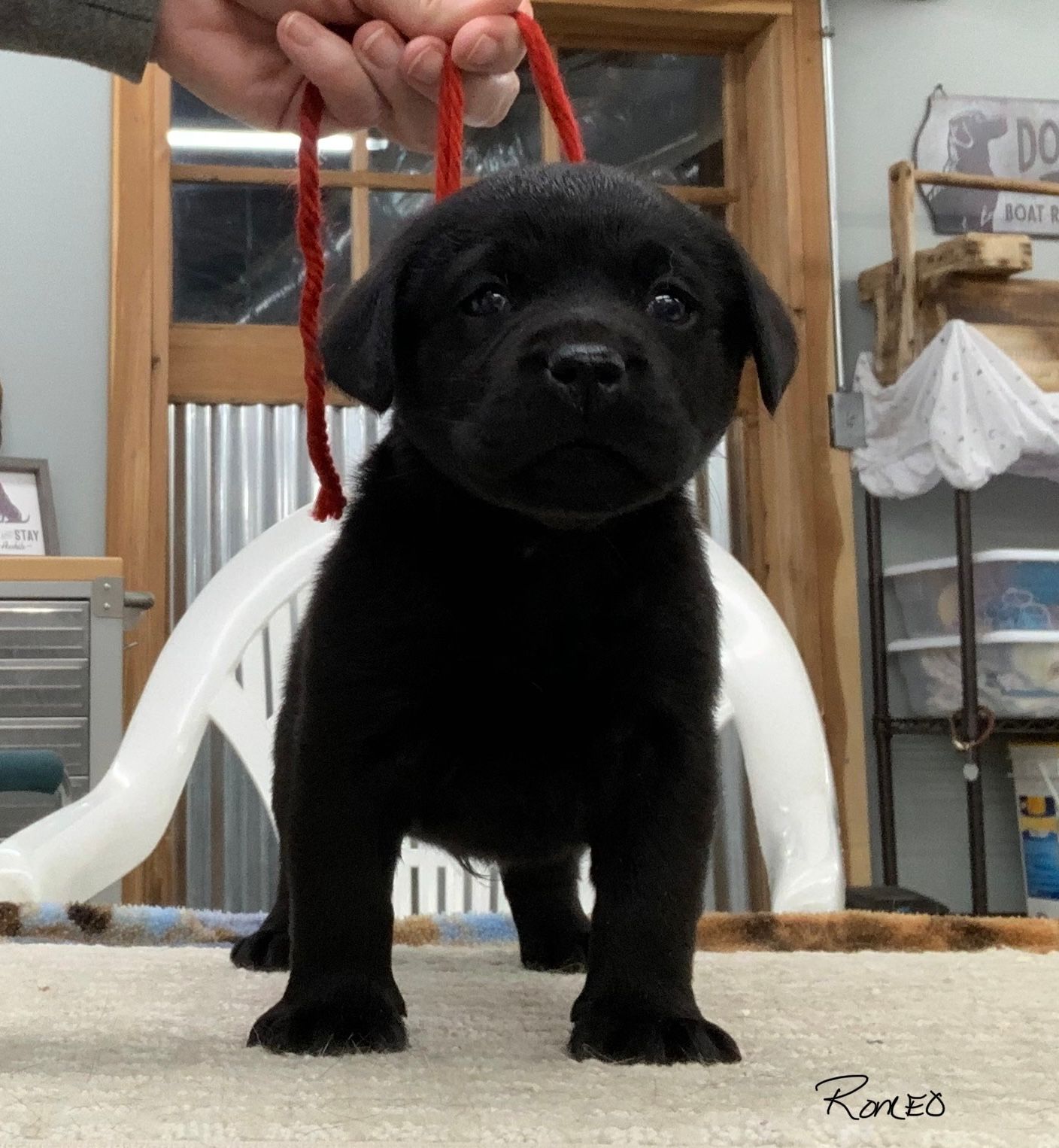 ---
~SIX WEEK OLD UPDATES~
Excuse our absence last week.  We are just now recovering from Covid.
Pups are now 6 weeks old and WOW have they grown!!   We are just absolutely tickled with how this litter is maturing! Personality for days!  Just the chunkiest, fattest little babies.  Ever so happy and full of spunk!  
Pictures below taken today, are their very first time on the table to be stacked for pictures.  They really did a great job despite my lack of photography skills and poor IPhone camera!  Love all these pups!
Below - Pink Girl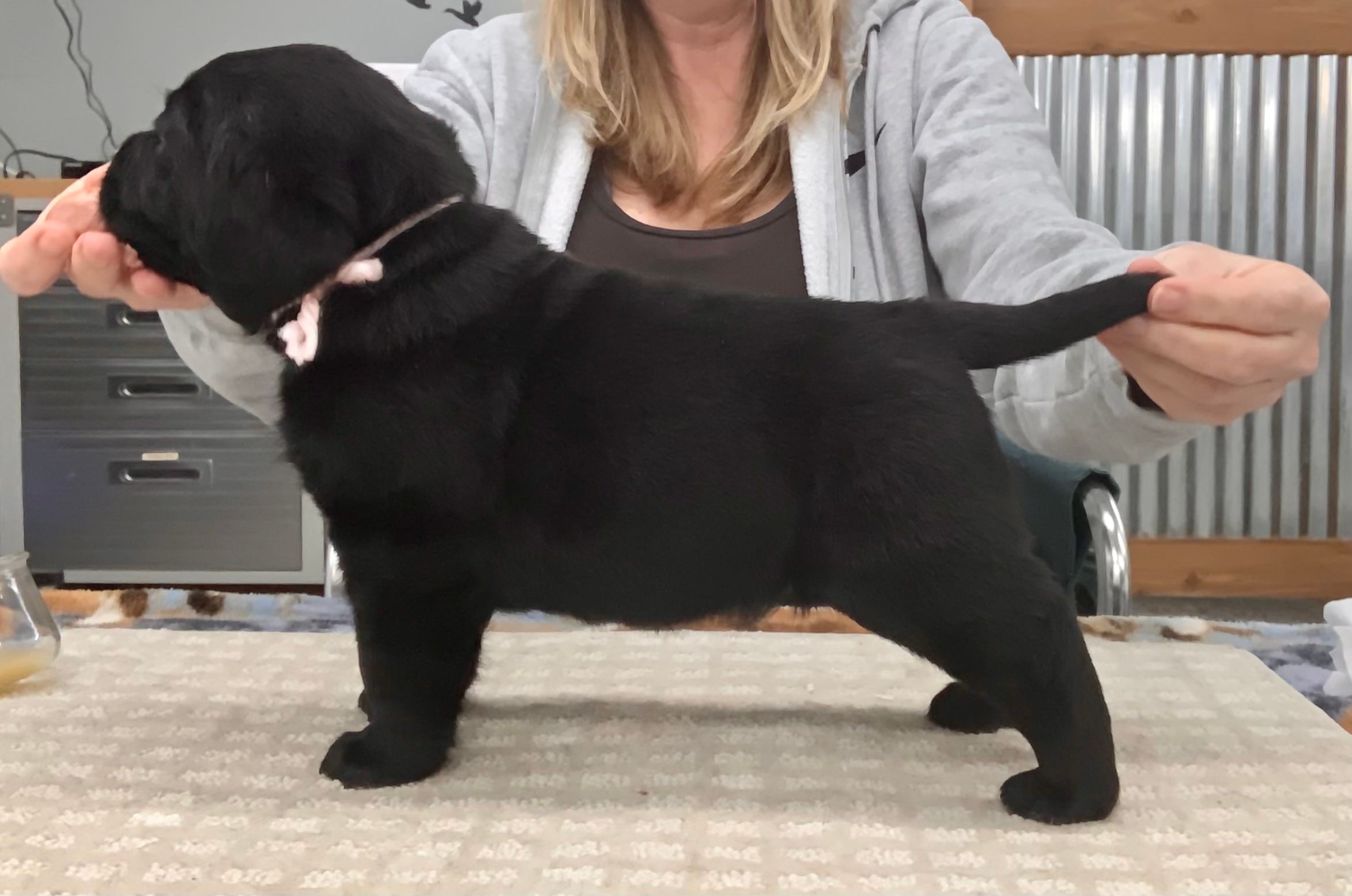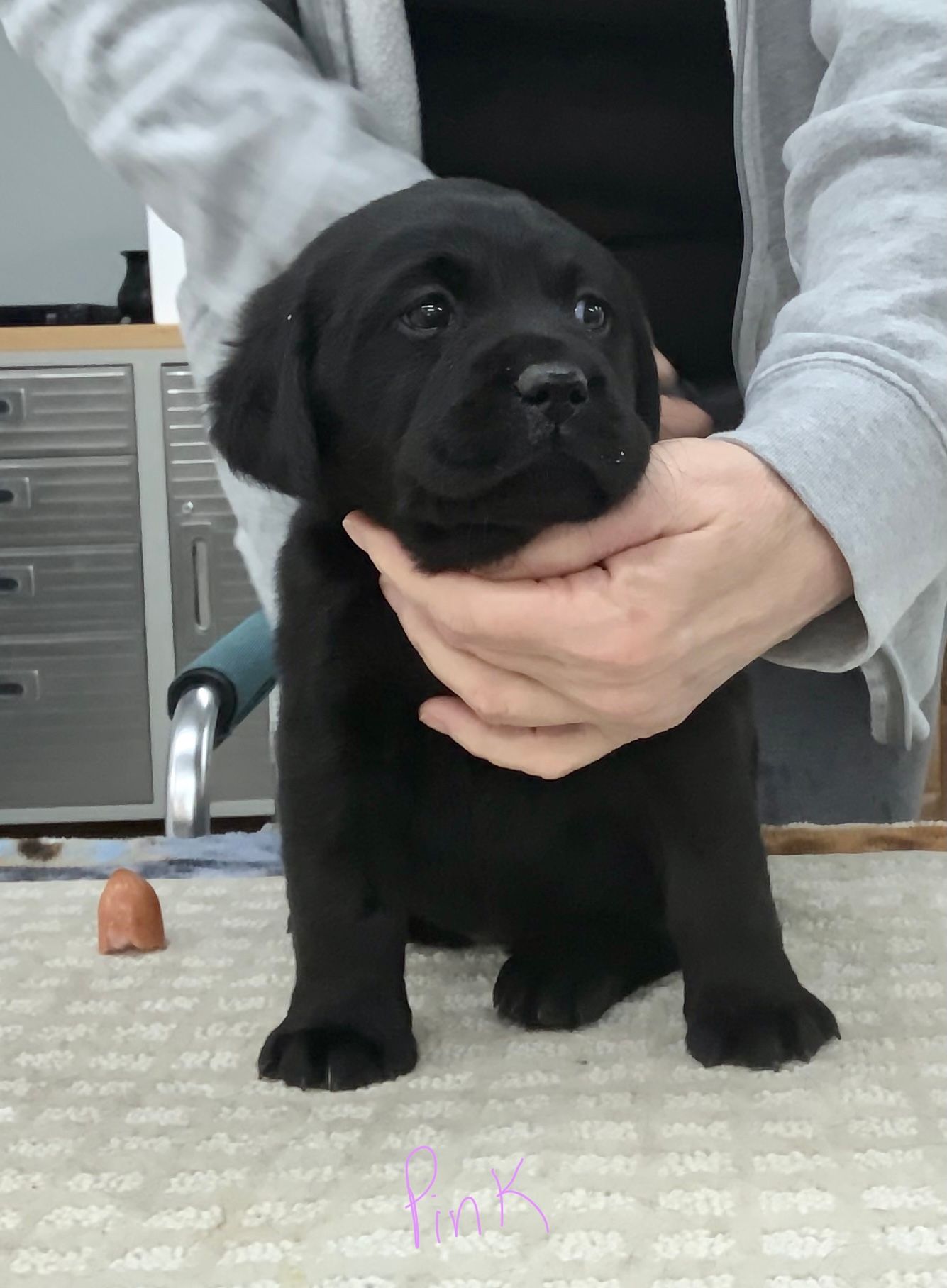 Below- Lavender Girl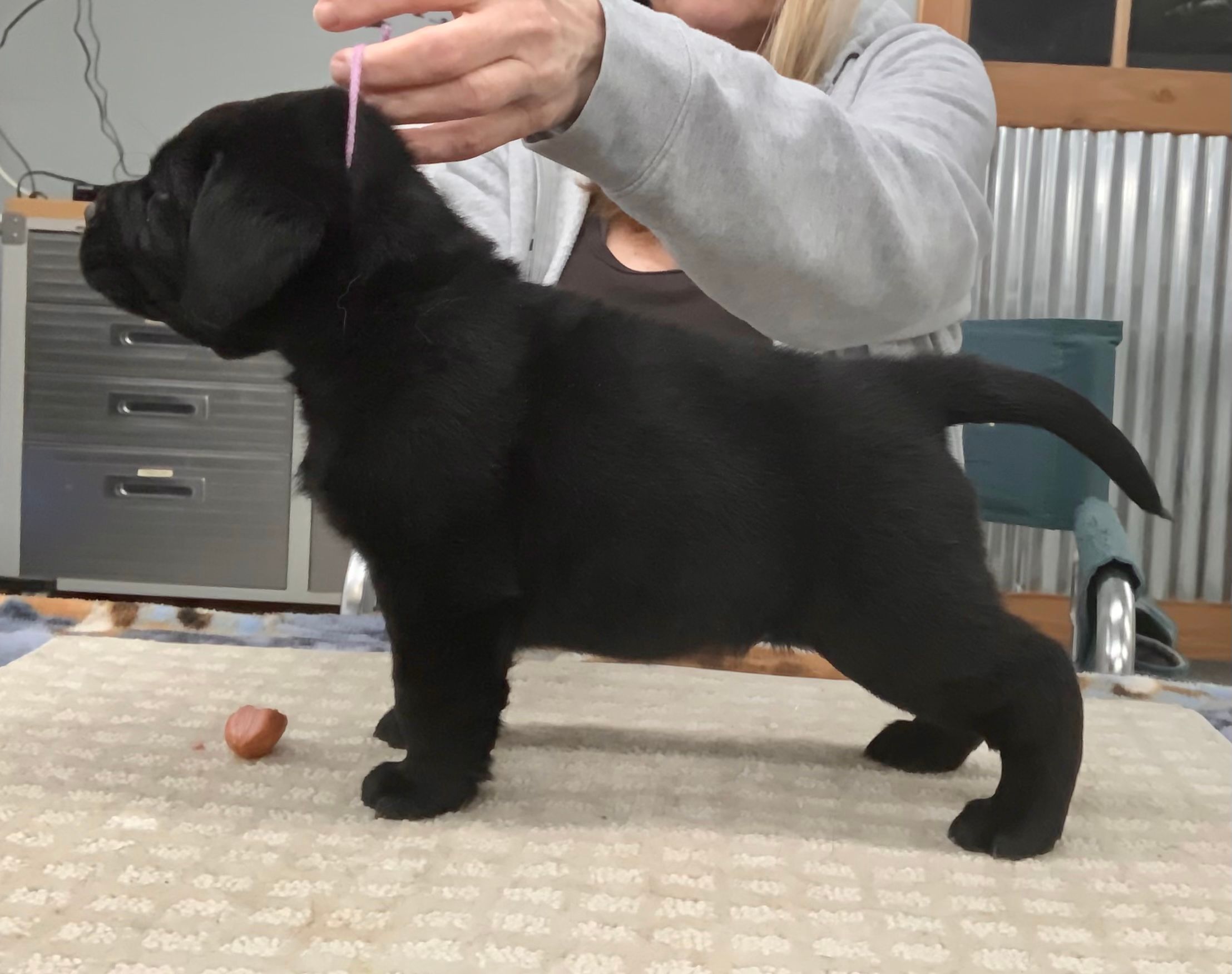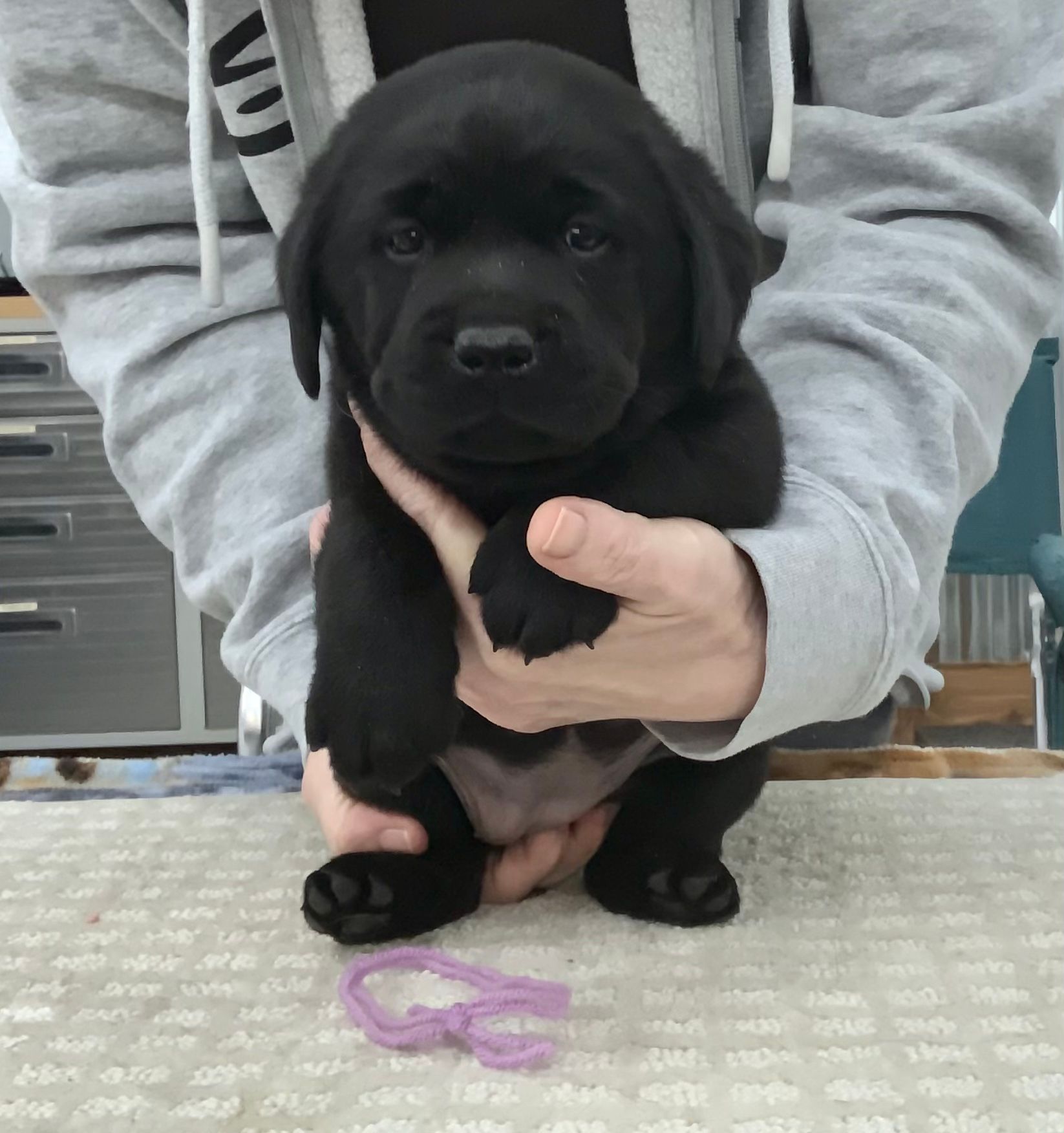 Below - White Collar Girl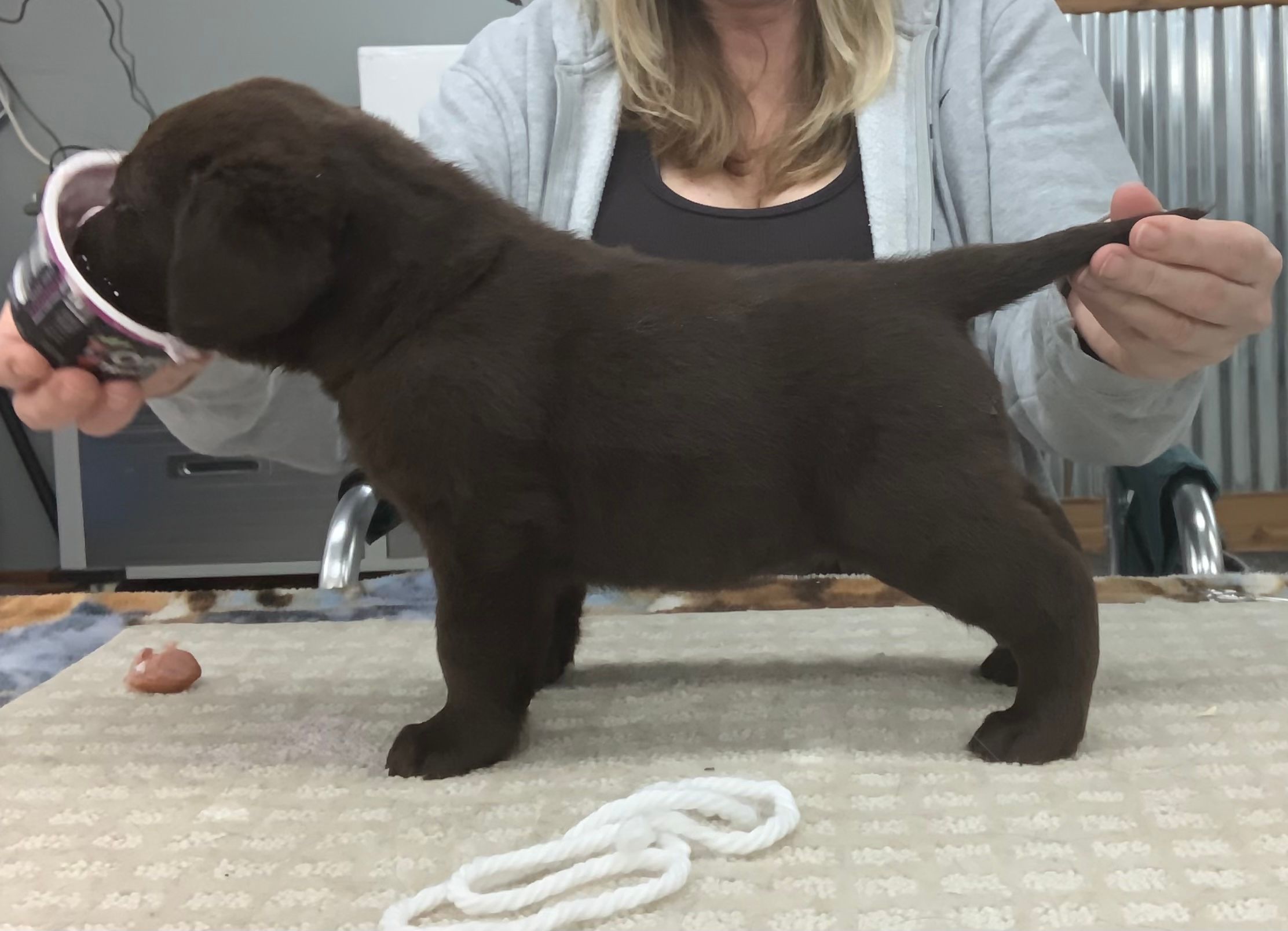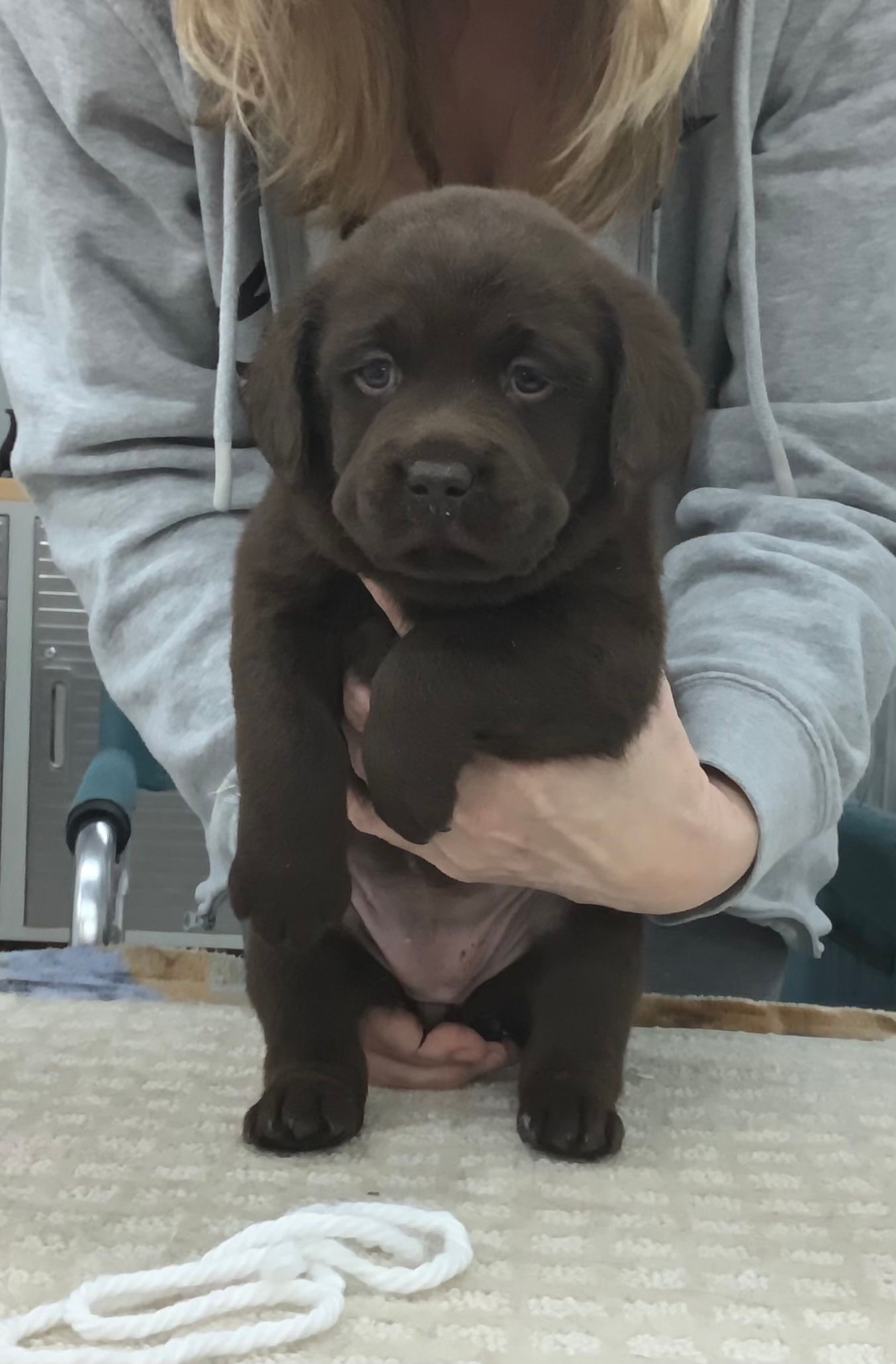 Below - Plum Collar Girl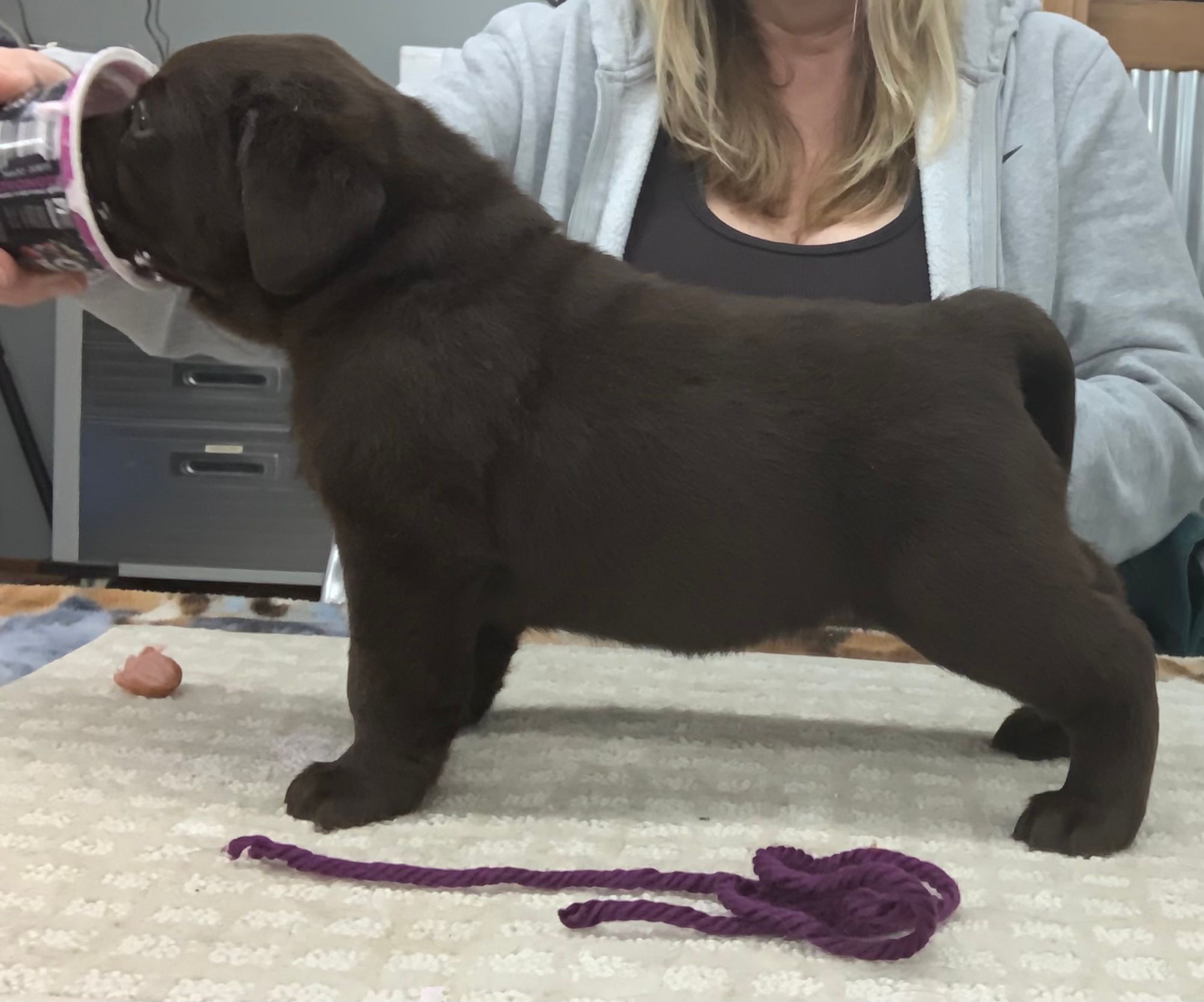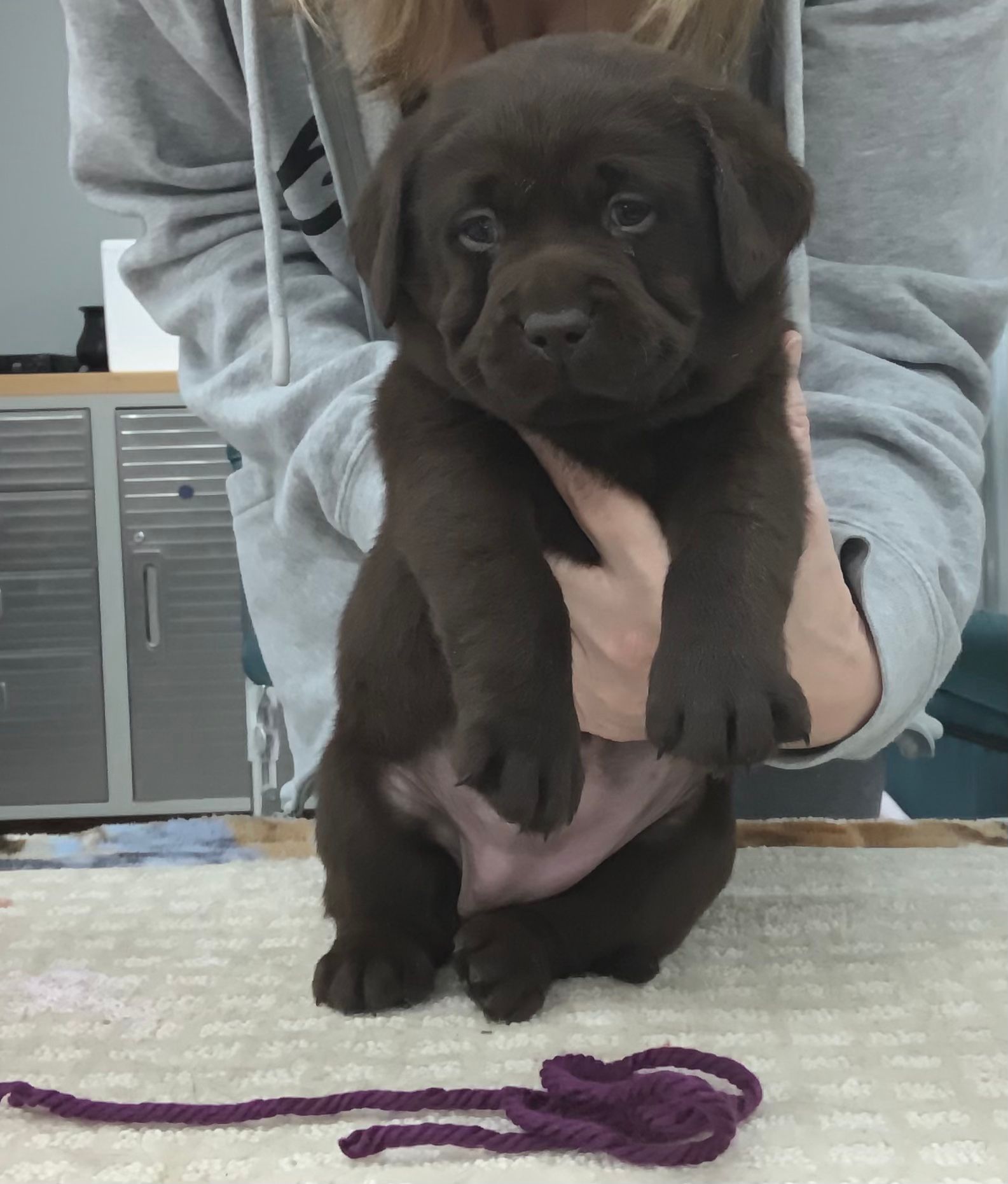 Below - Multi Collar Girl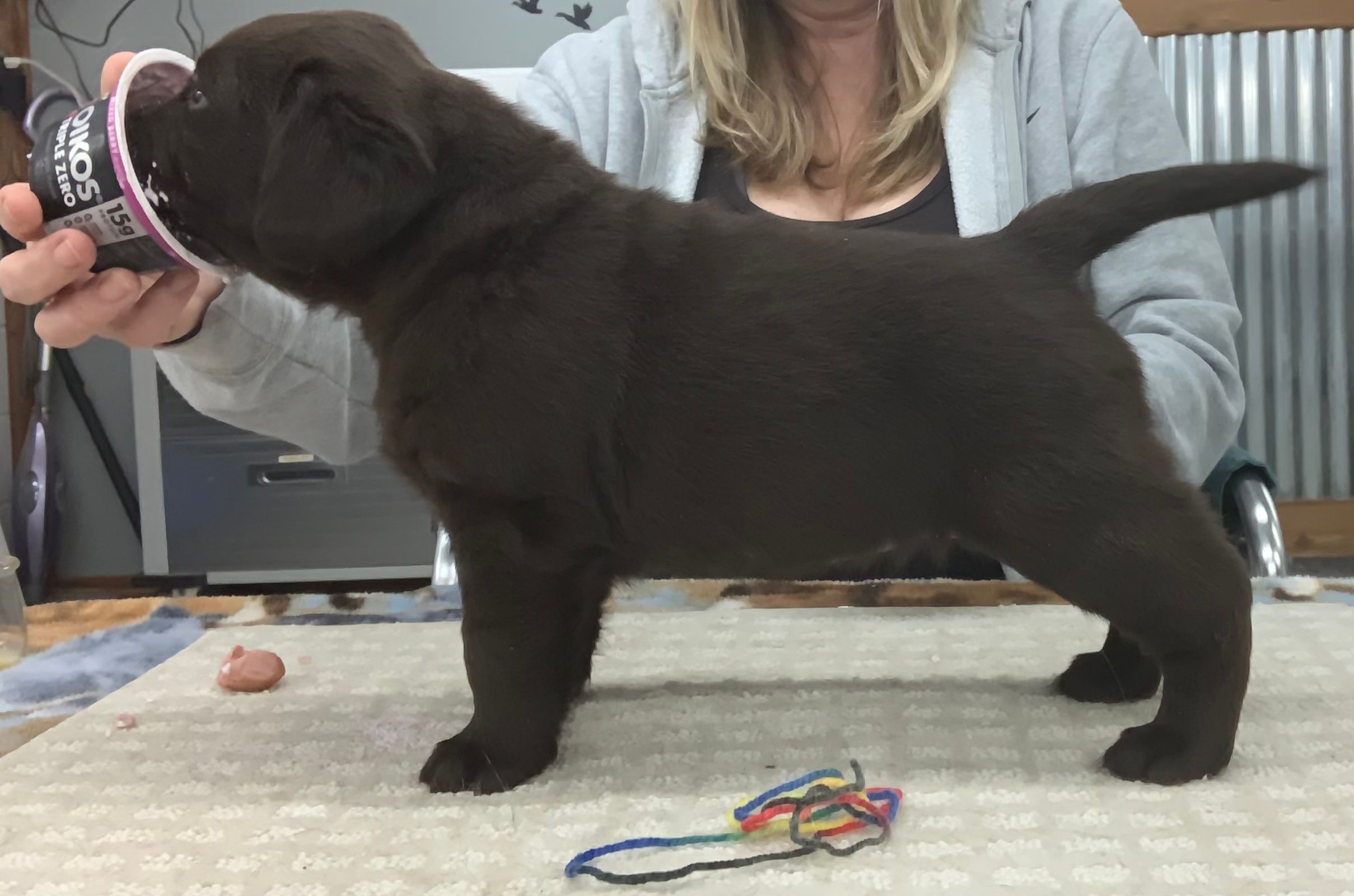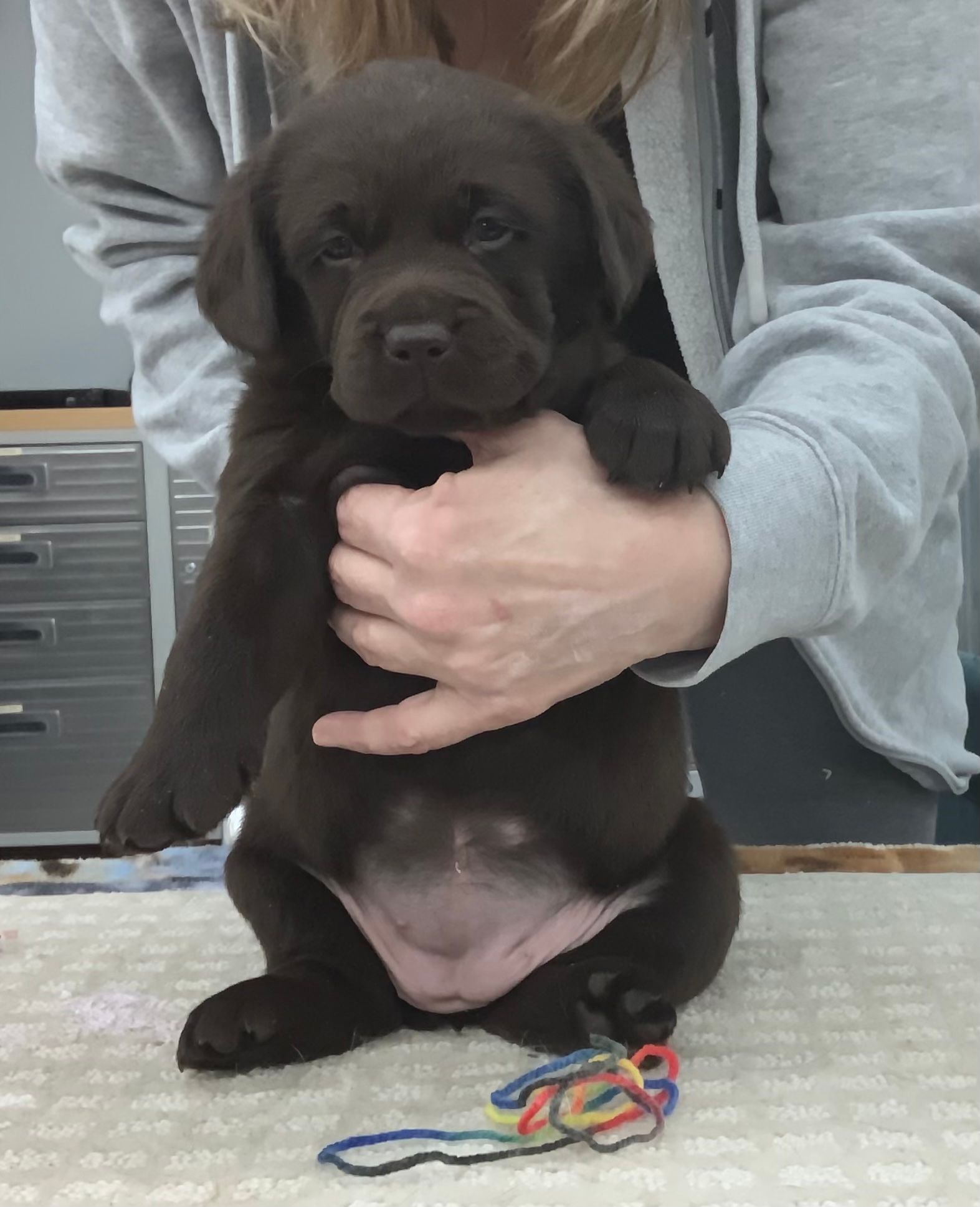 Below - Turquoise Collar Boy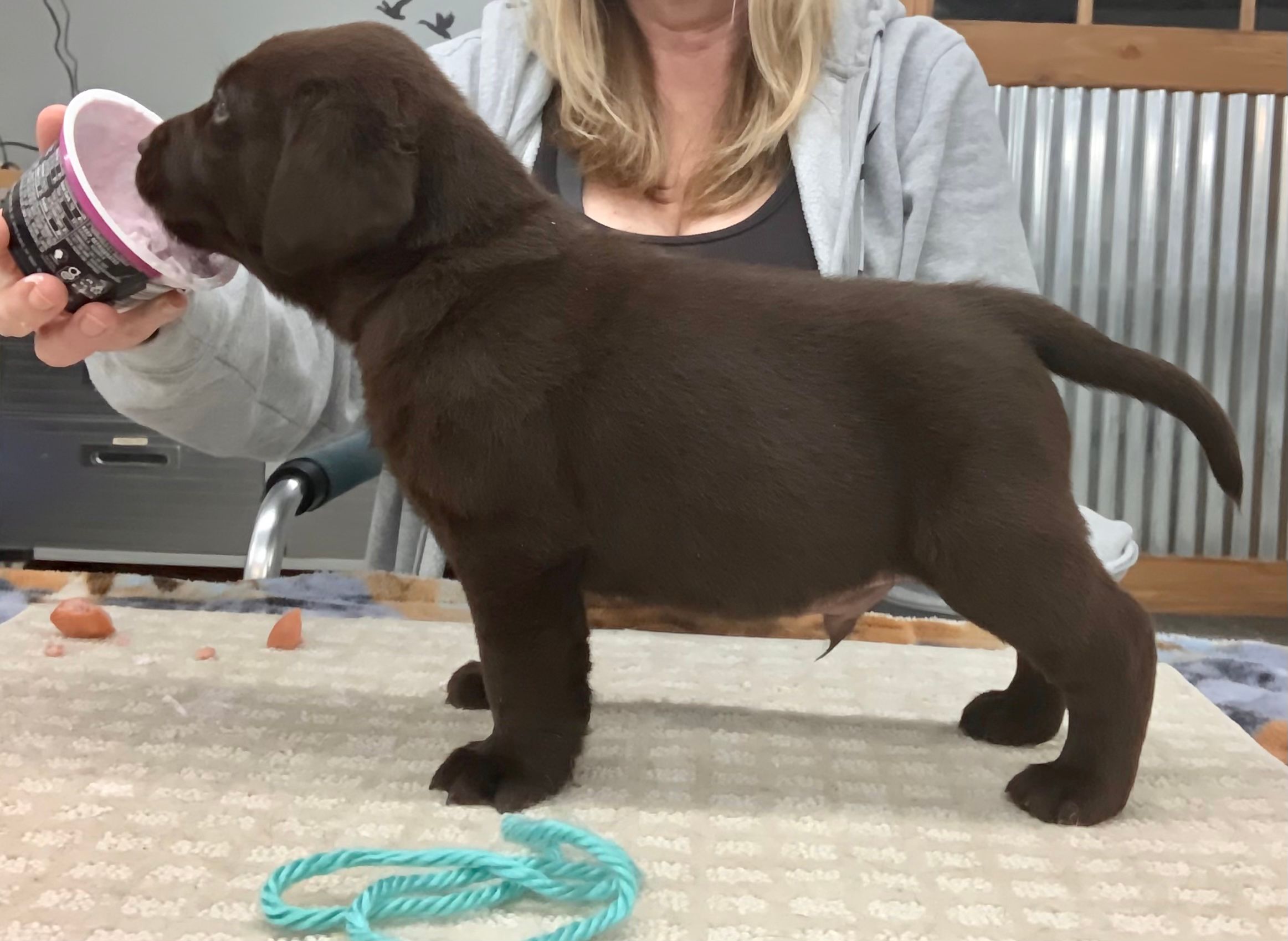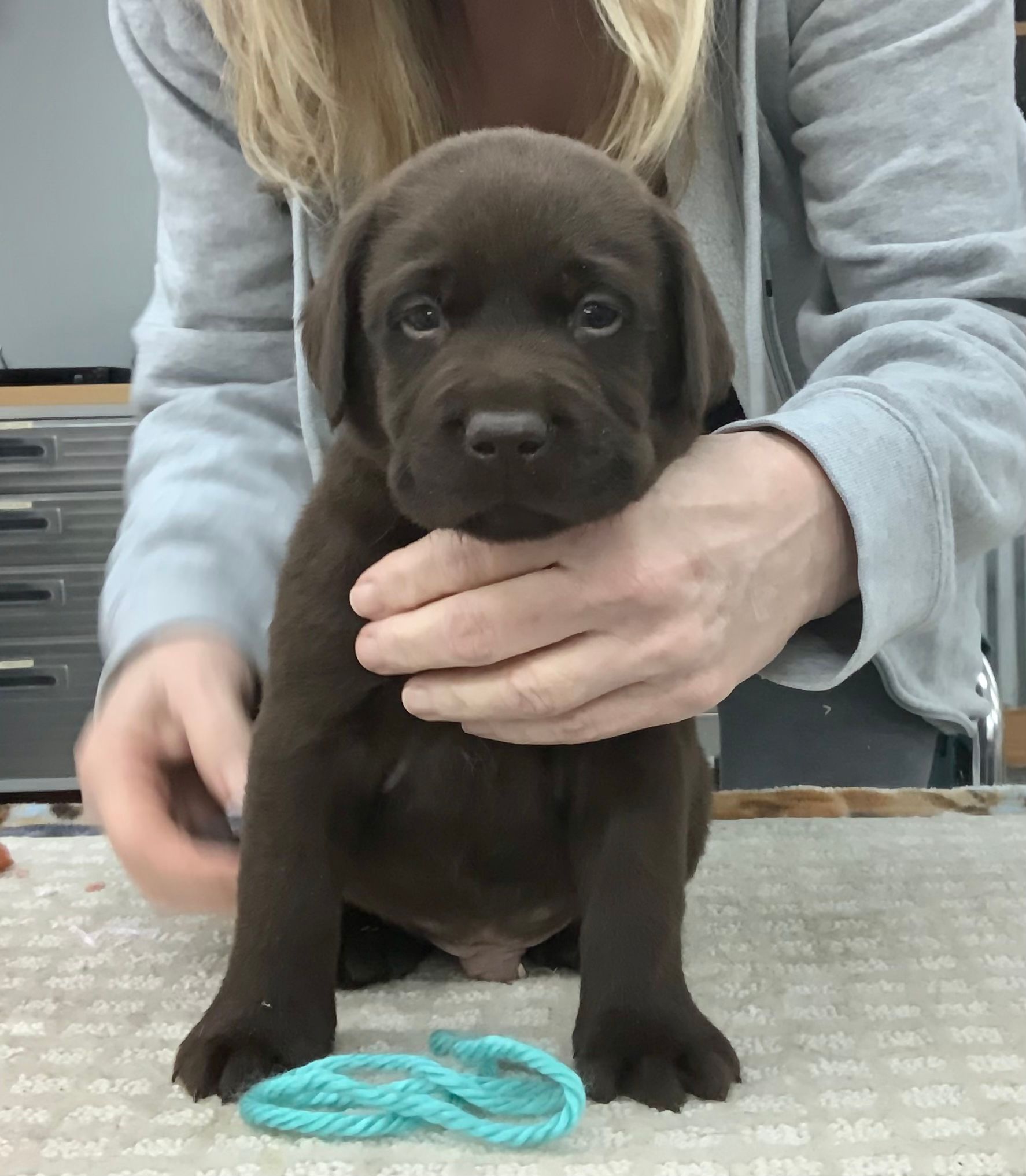 Below - Black Collar Boy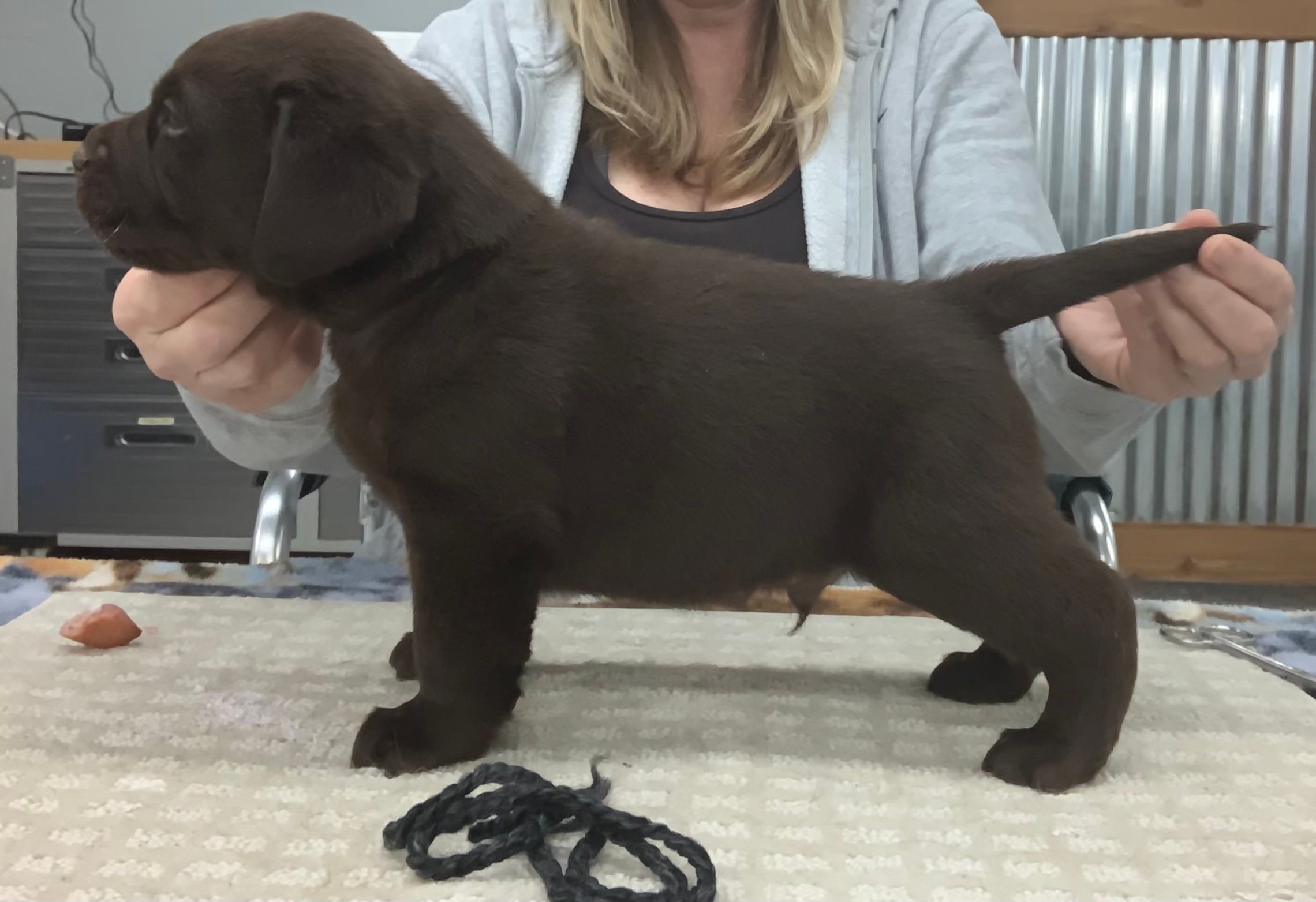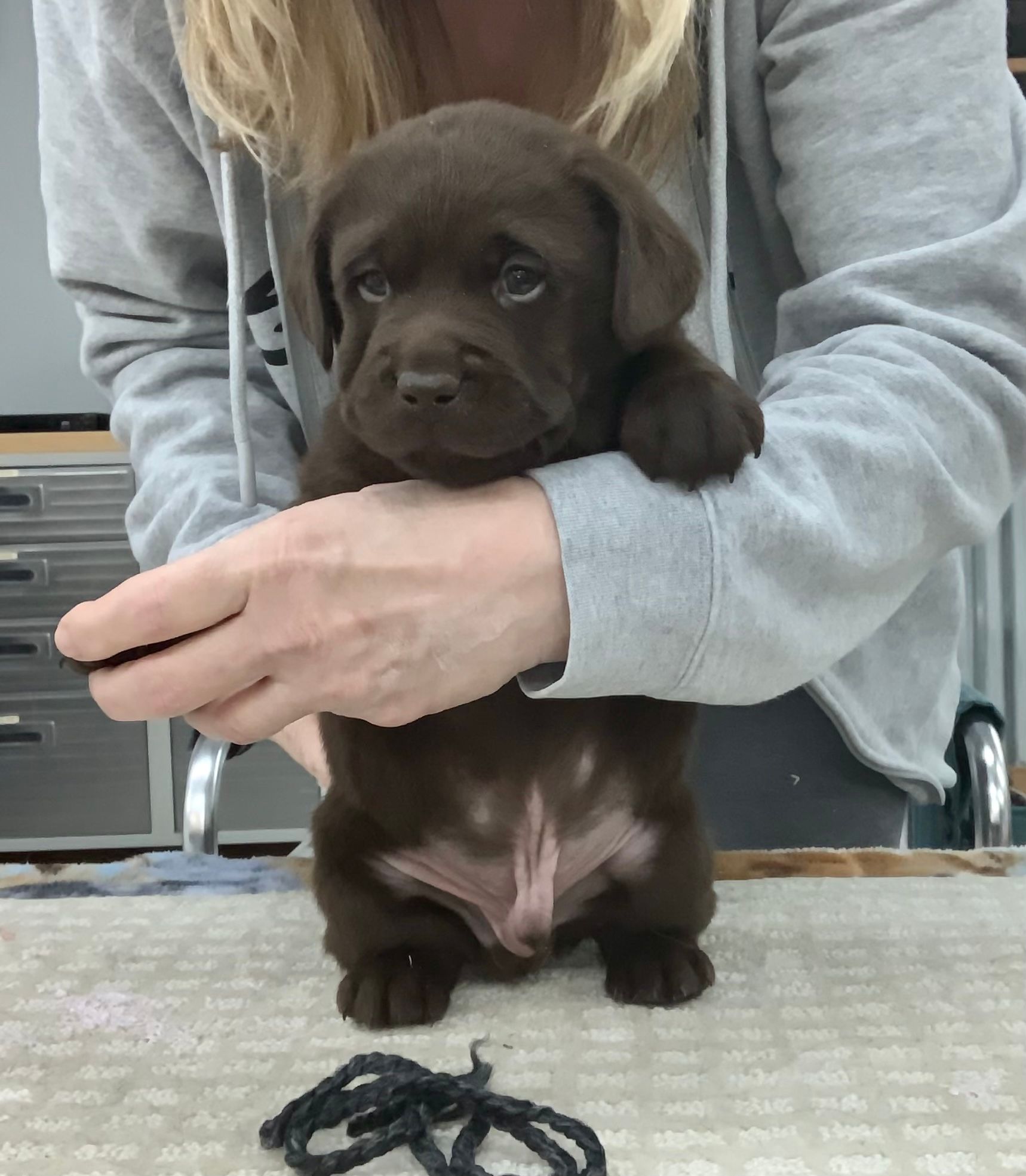 Below - Gold Collar Boy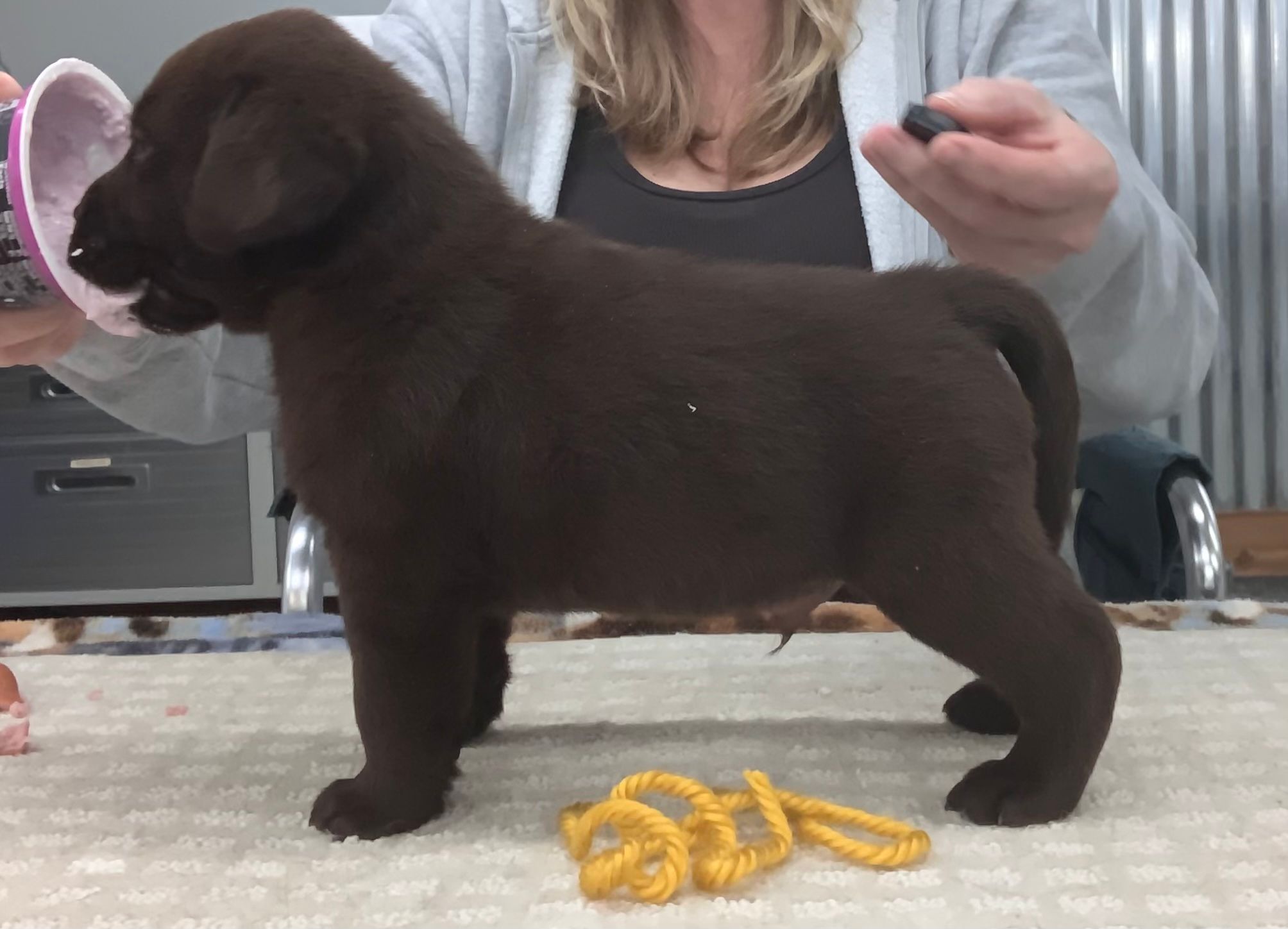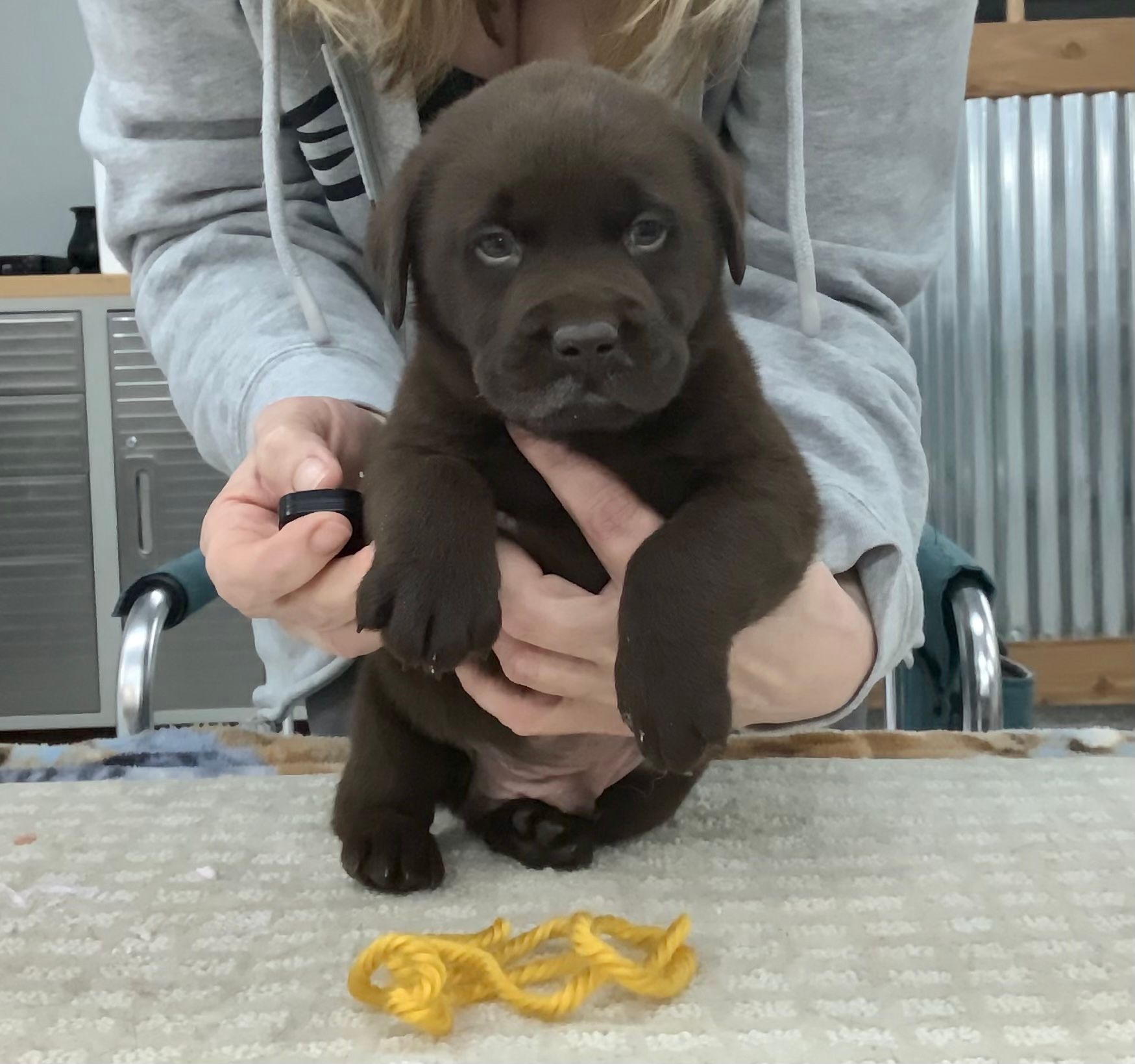 Below - Red Collar Boy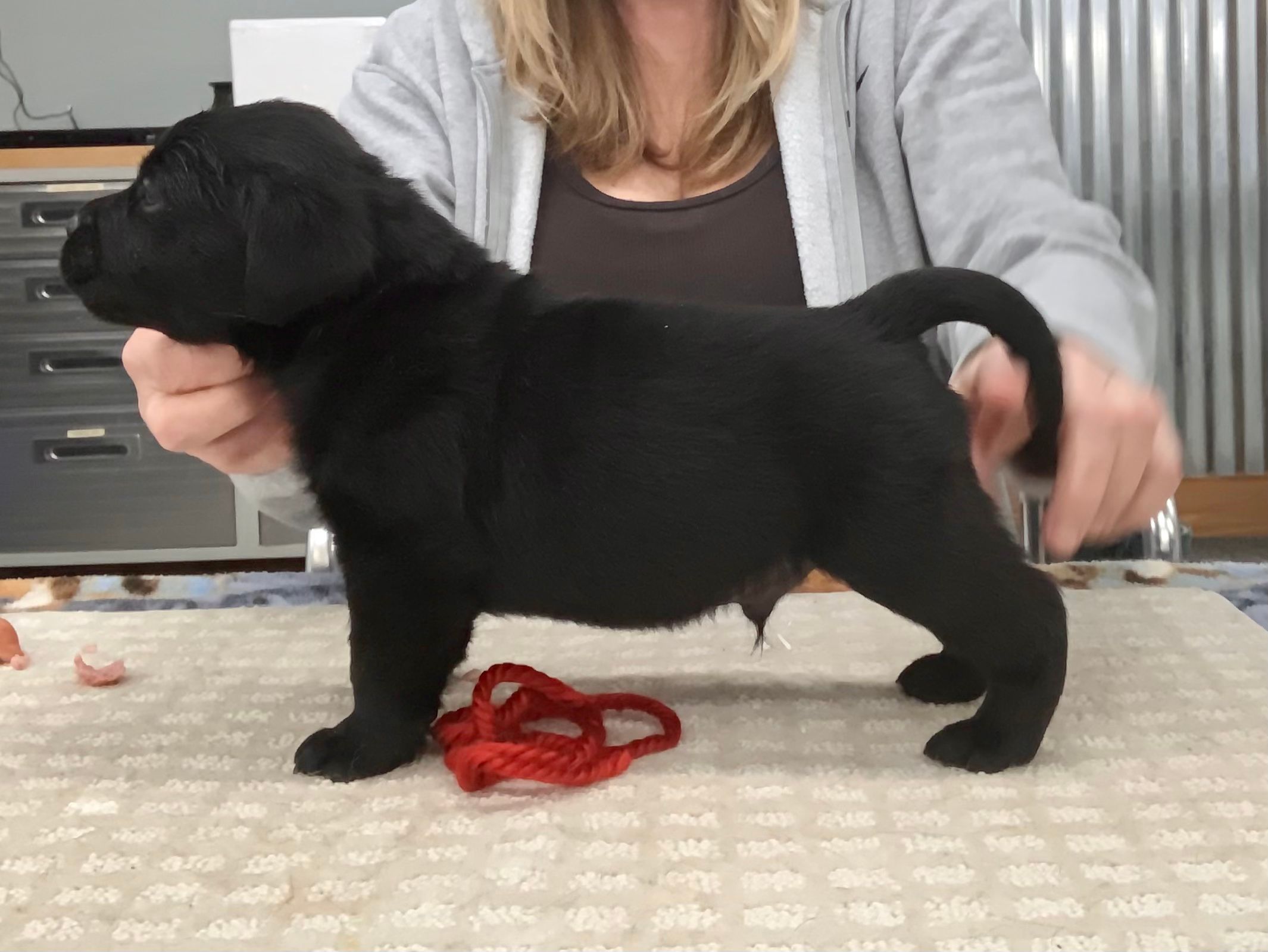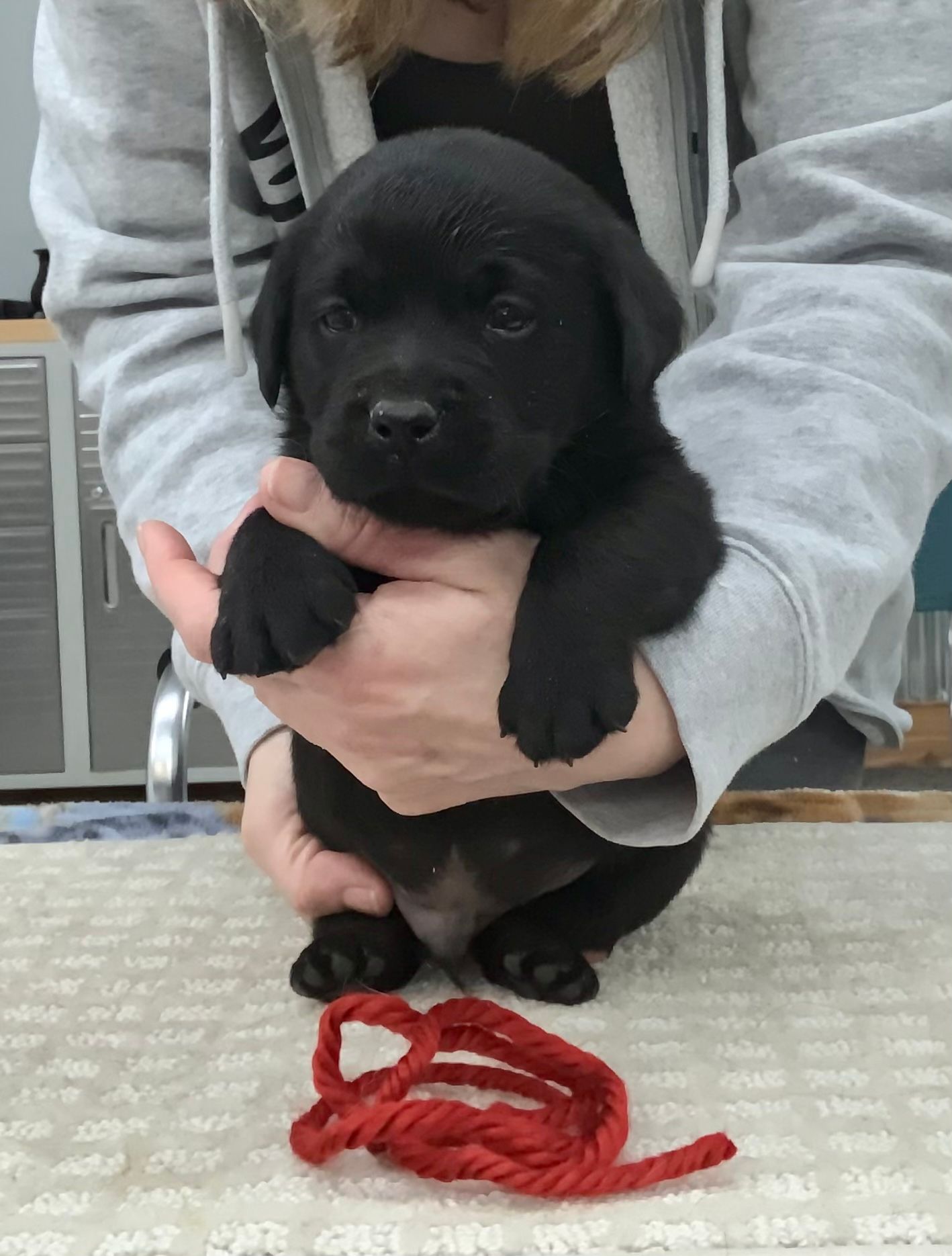 ---
~FOUR WEEK OLD UPDATES~
We moved pups downstairs to our dog room the other day. Everyone is doing GREAT. They're eating puppy gruel (hence the food all over them) 😆
Mom is blowing coat (postpartum hair loss)  and for the most part, she is still nursing them several times per day but I would say in the next week she'll begin gradually weaning them.  
Not the best pictures this week. Looking forward to some warmer weather in the next two weeks so we can get these guys out for some fresh air and sunshine.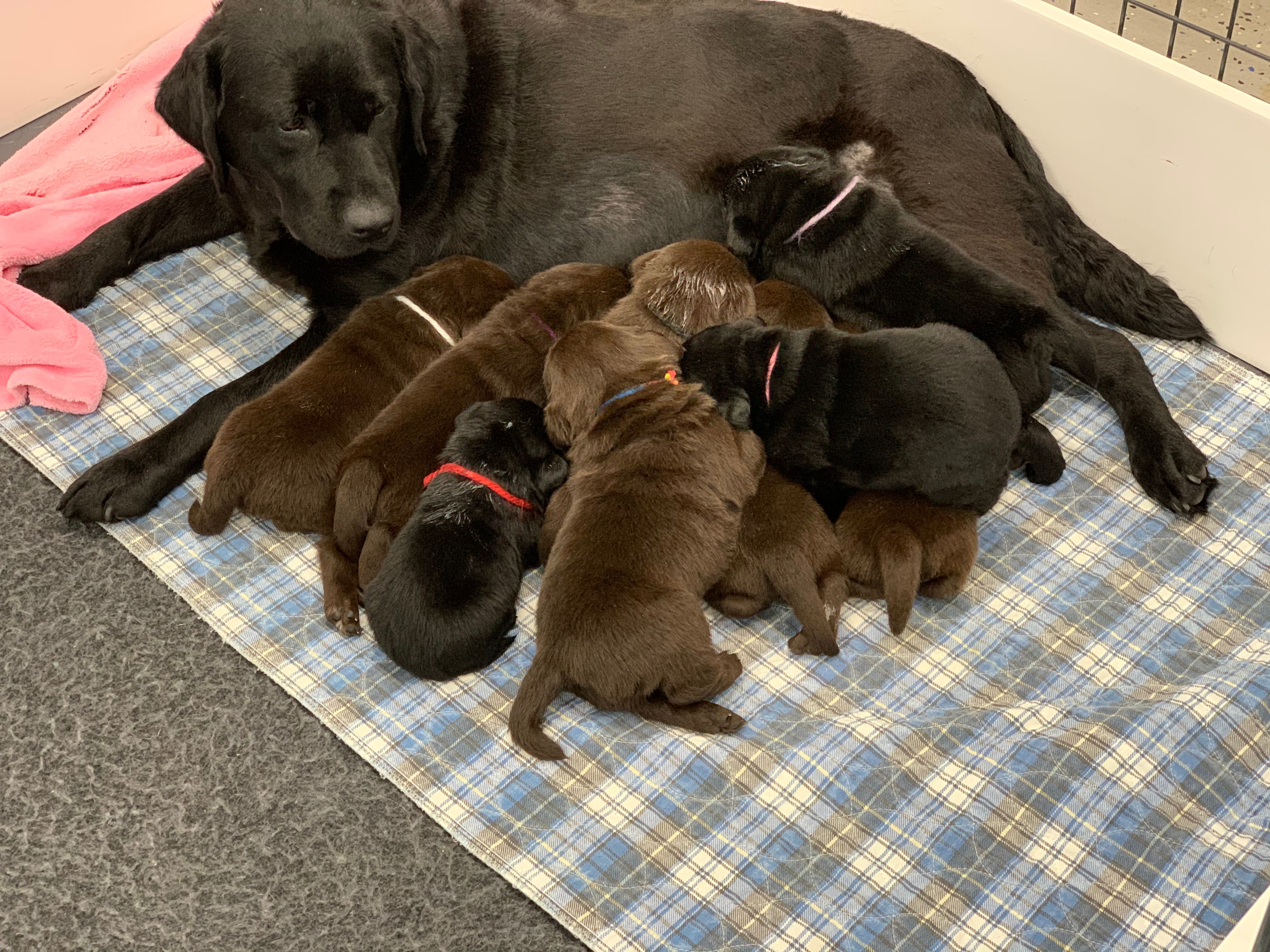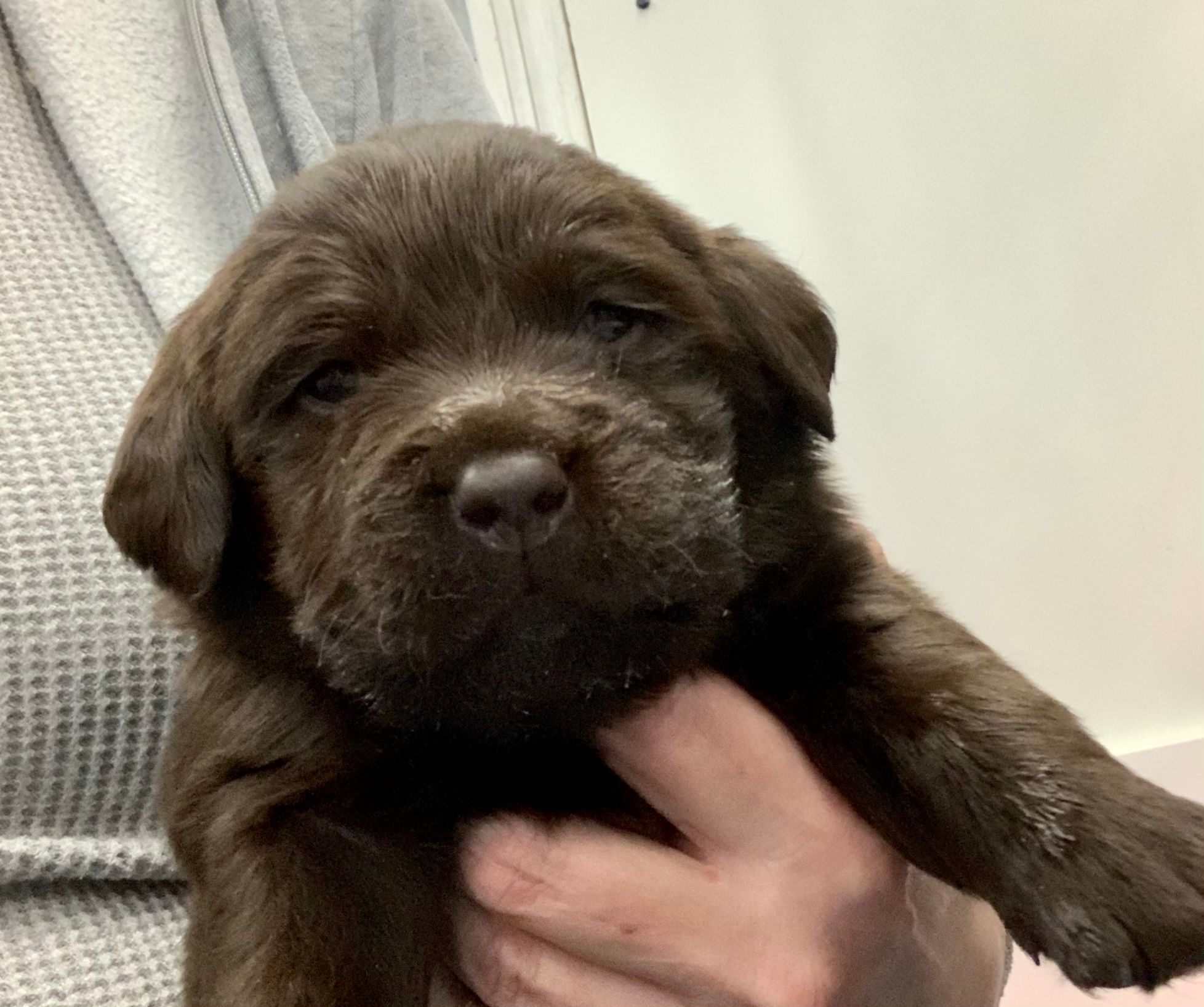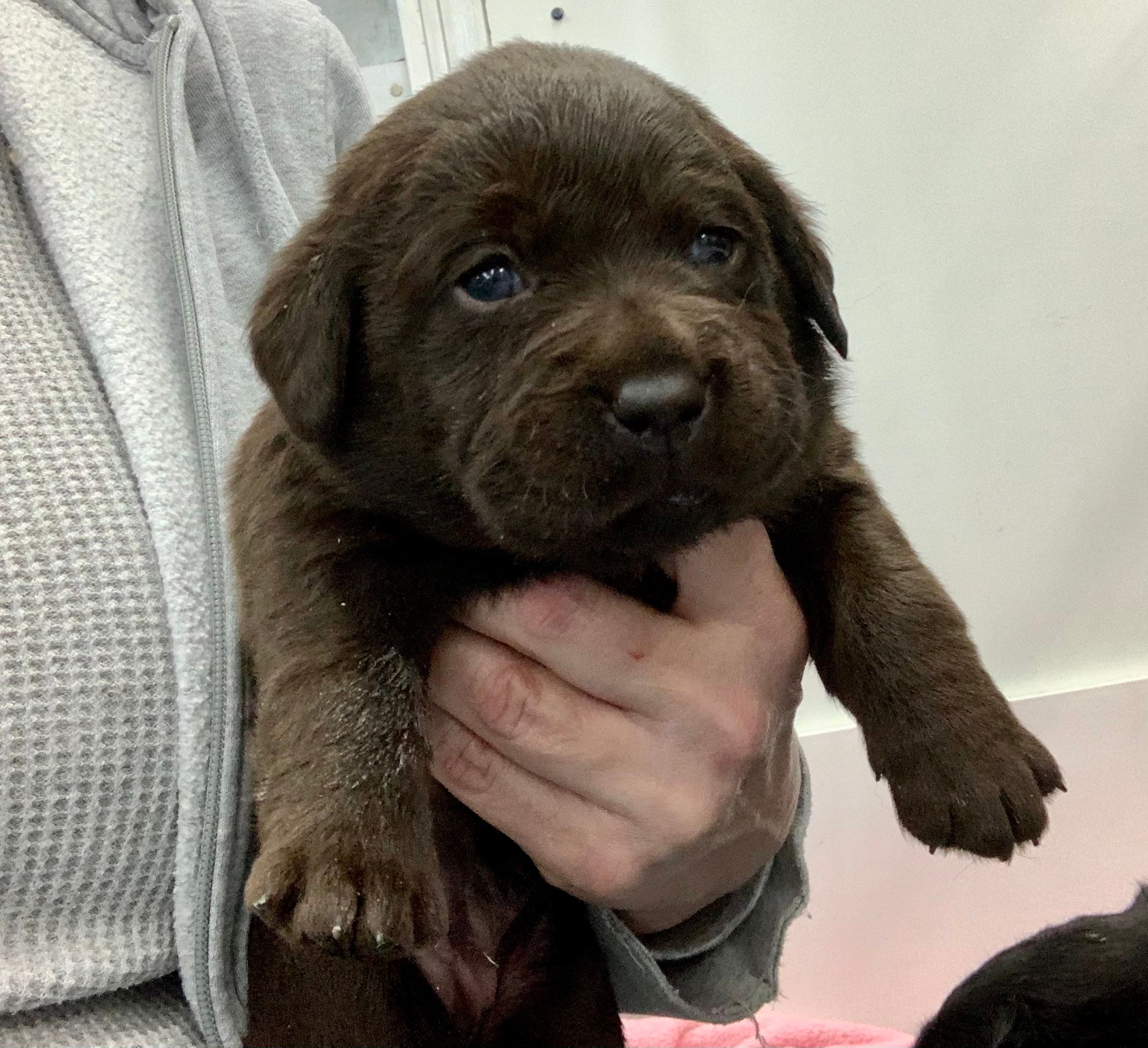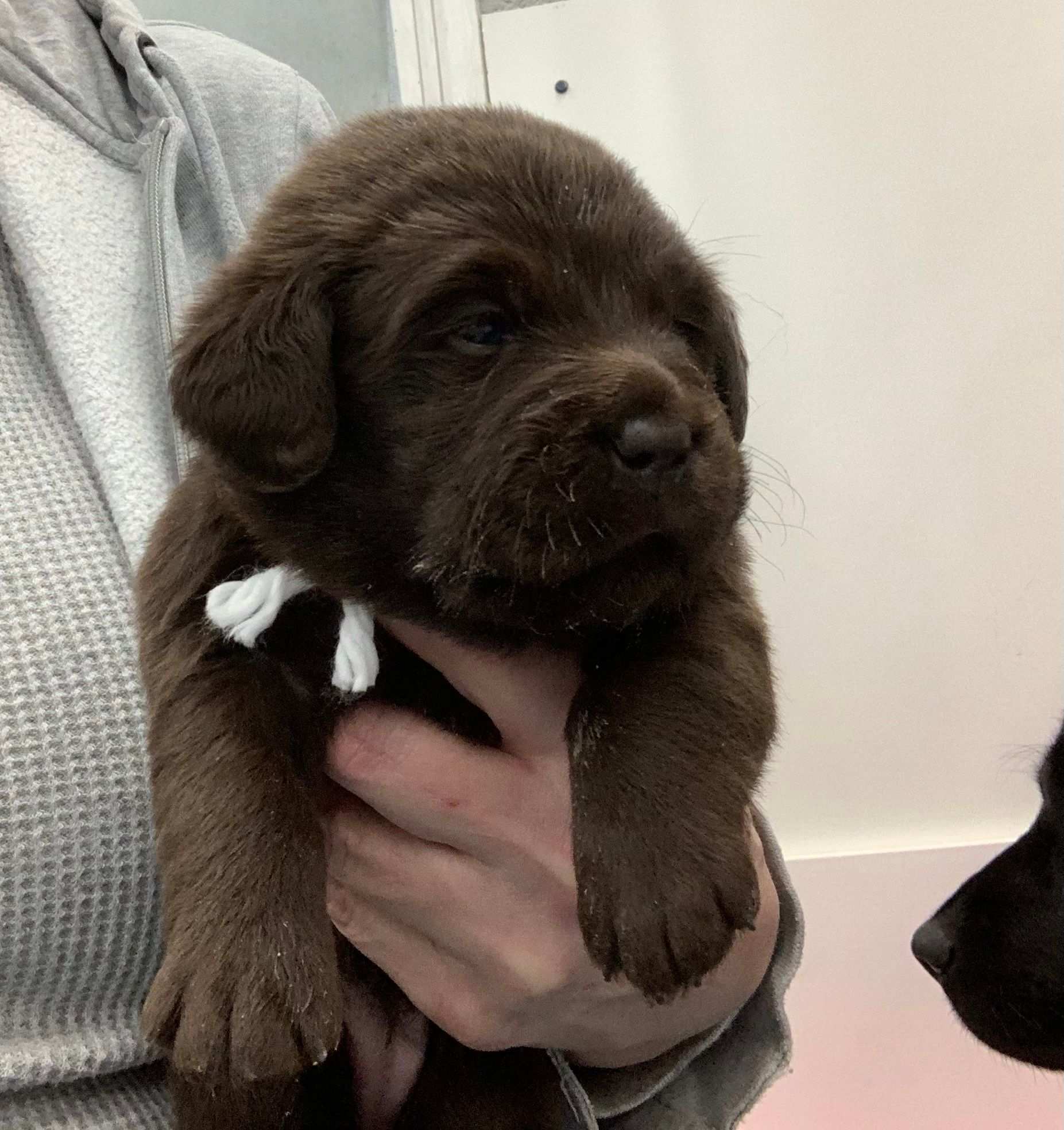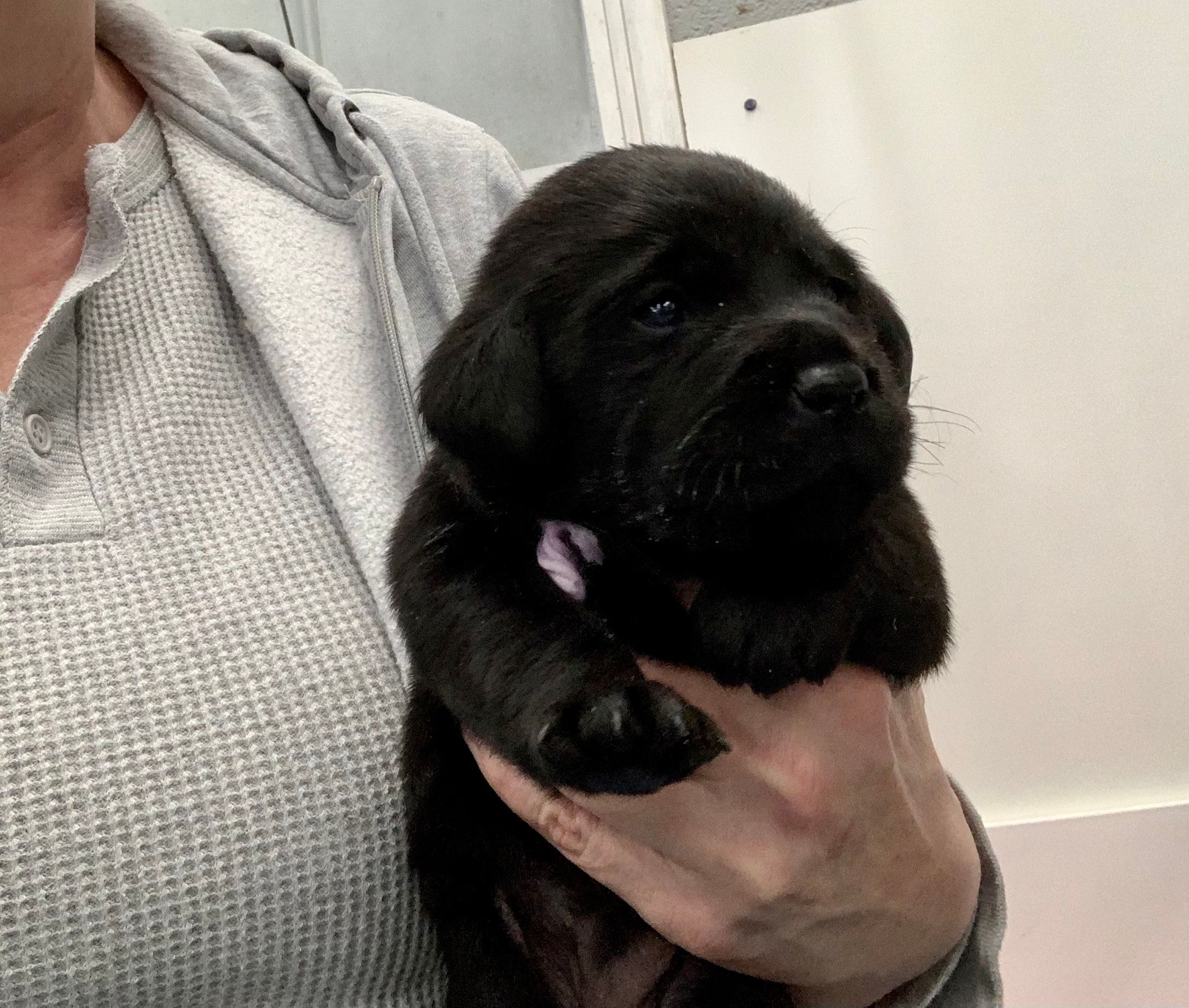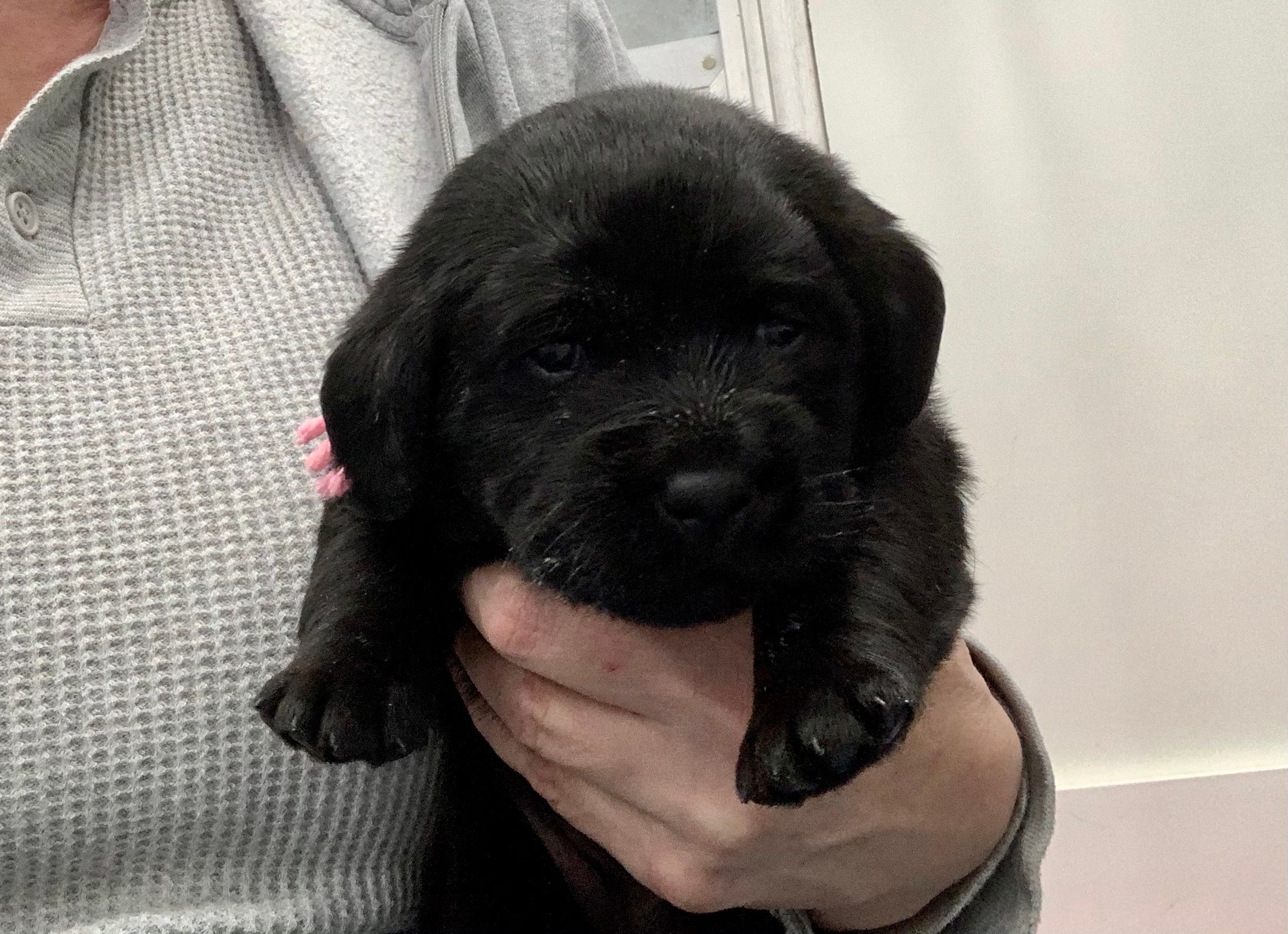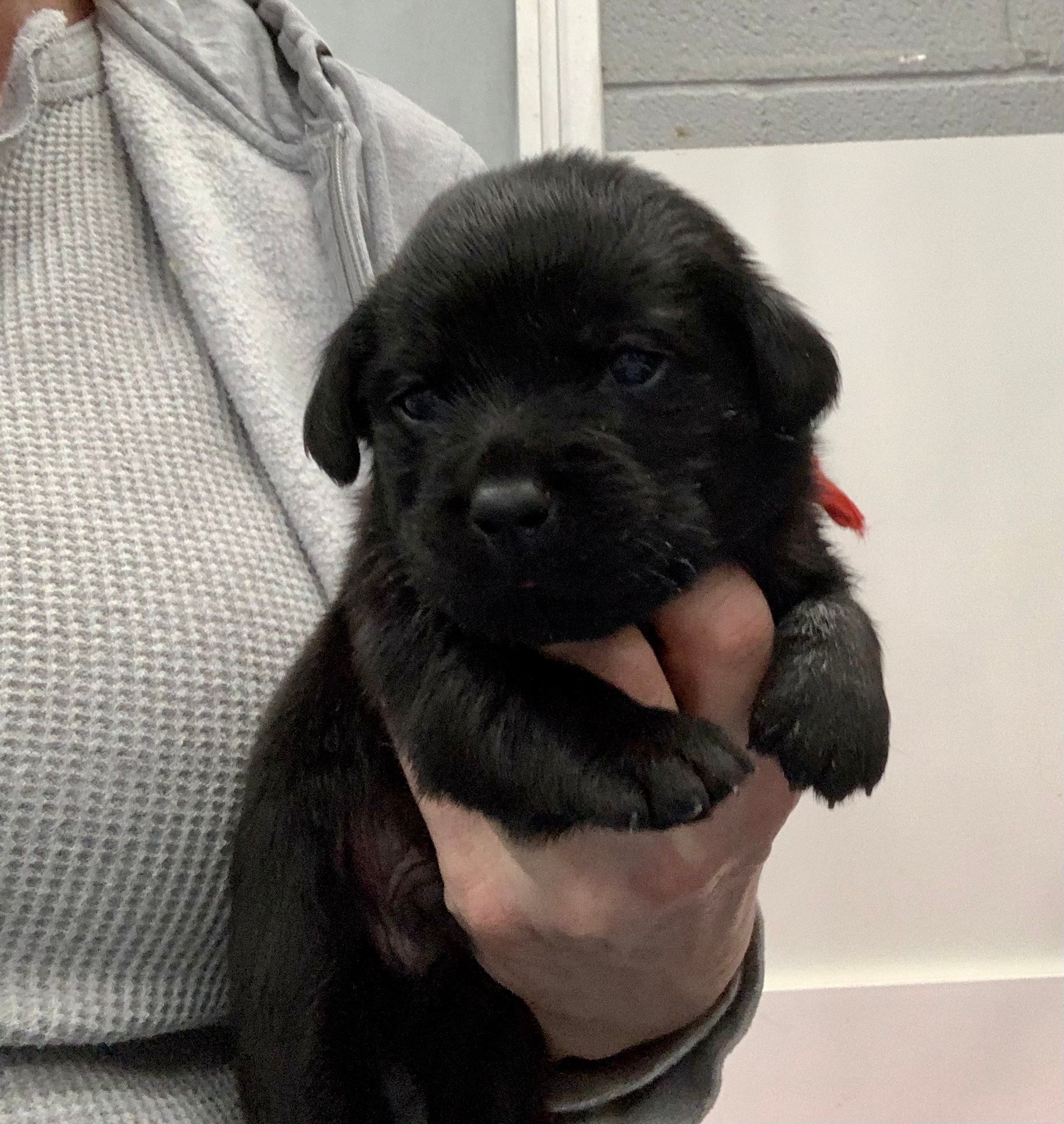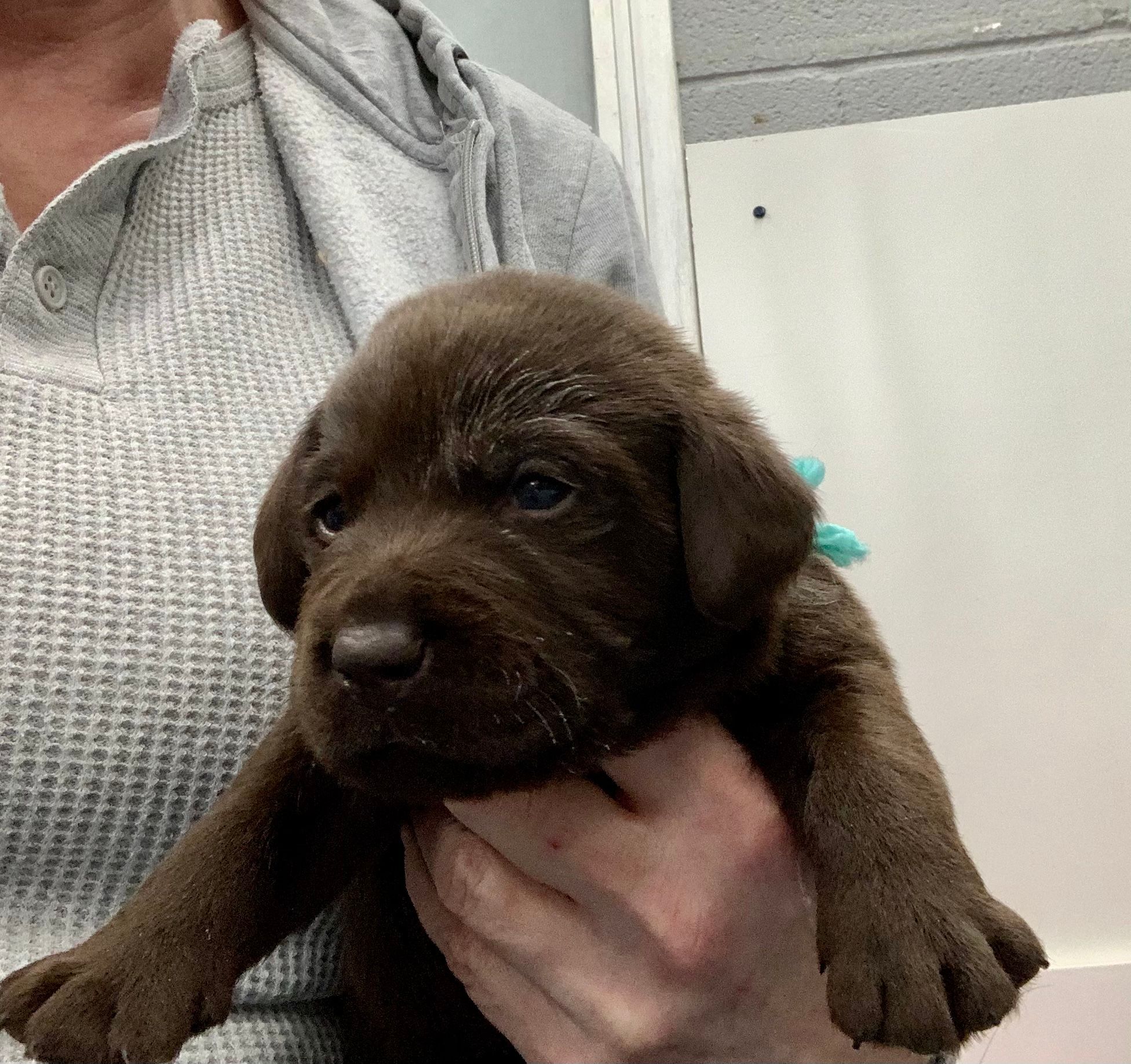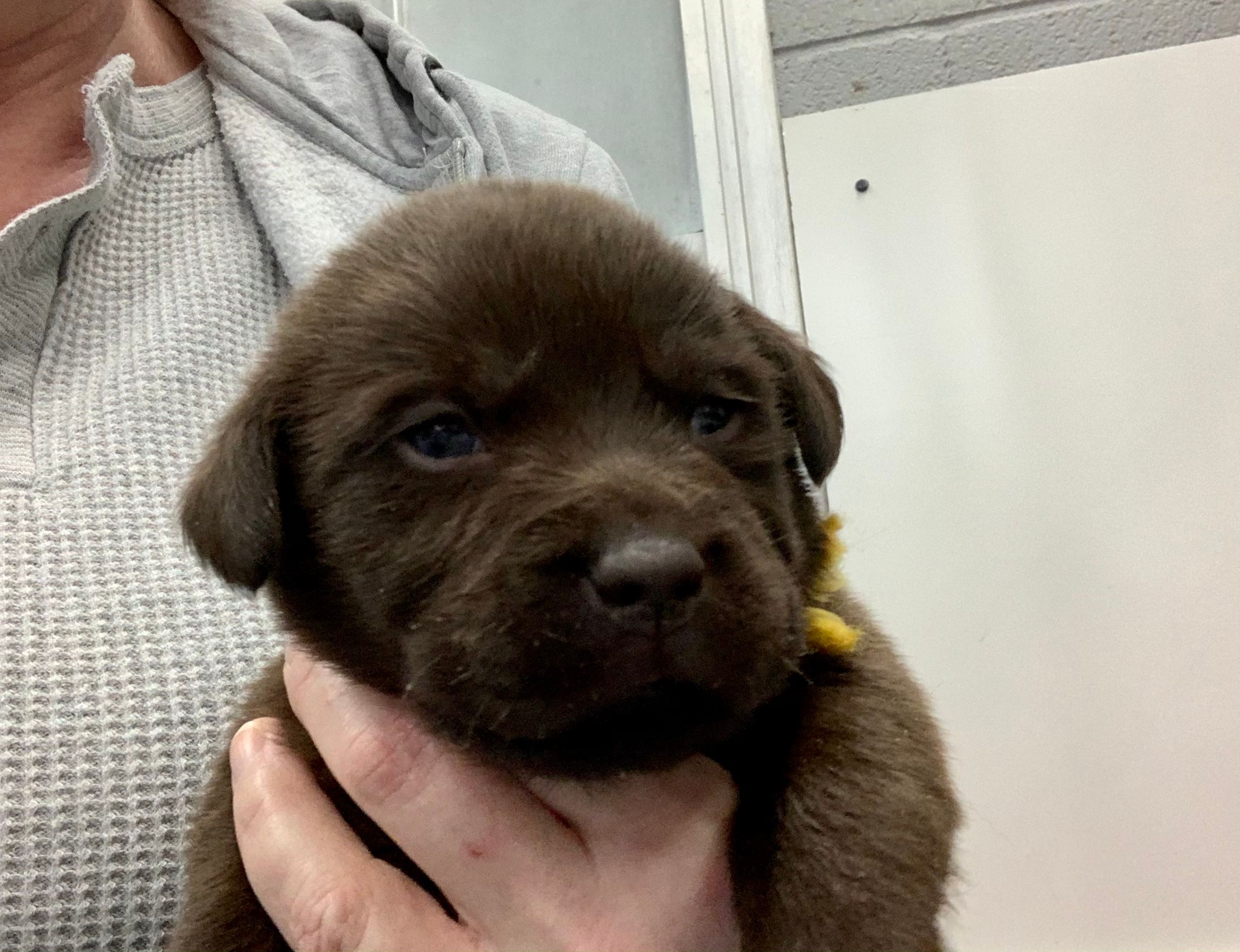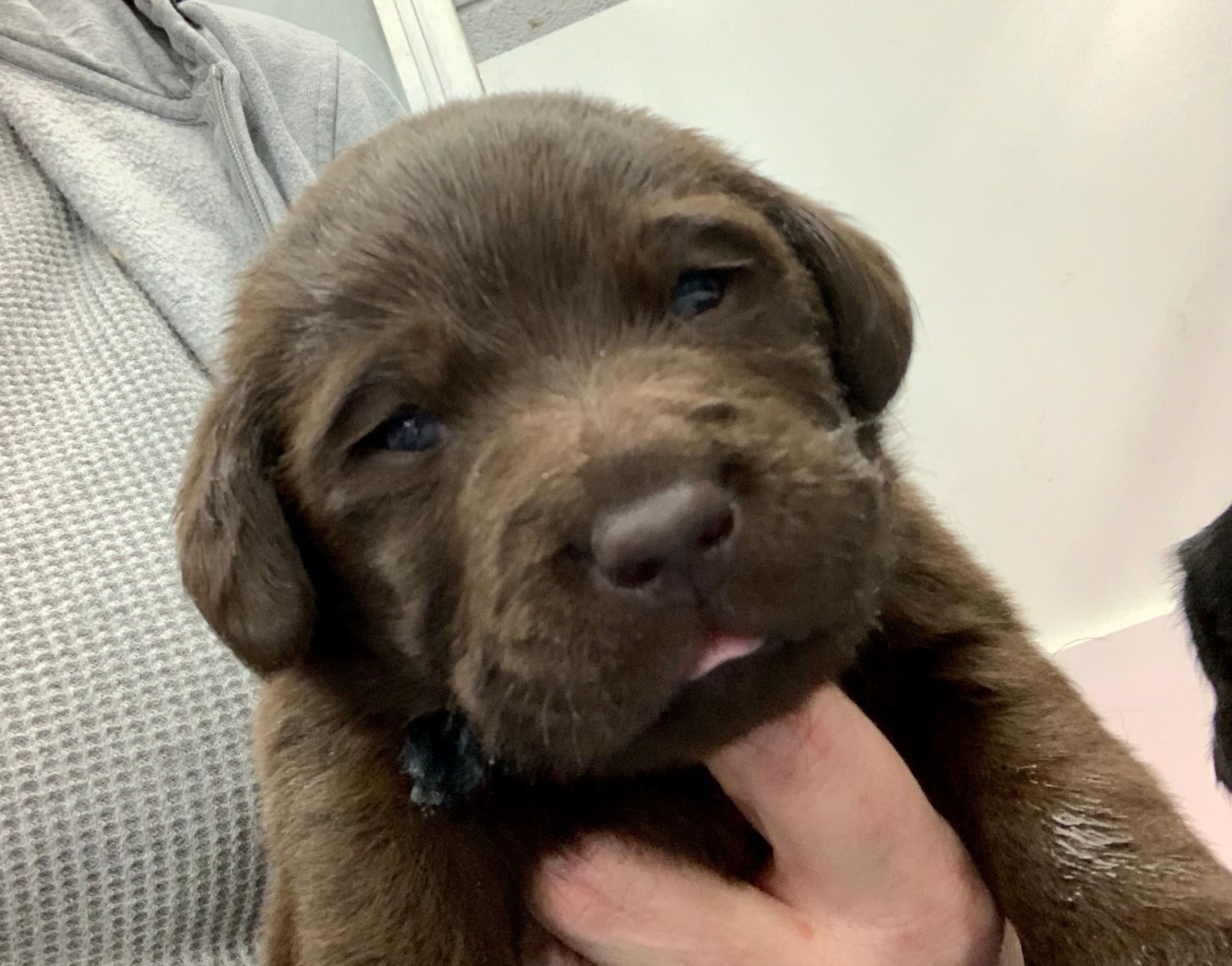 ~THREE WEEK OLD UPDATES~
Eyes and Ears are fully opened.  They get excited when we talk to them. They're starting to get up on fours and do the drunk wobble trying to find their legs.  So adorable to watch them! 
This week they will be introduced to puppy gruel which is just soaked puppy kibble mixed with goats milk to get the started on solids.  By mid-week, they will be transferred to our puppy room downstairs so they can begin to explore more as they're quickly outgrowing the whelping box.  
More milestones coming in the next few weeks!!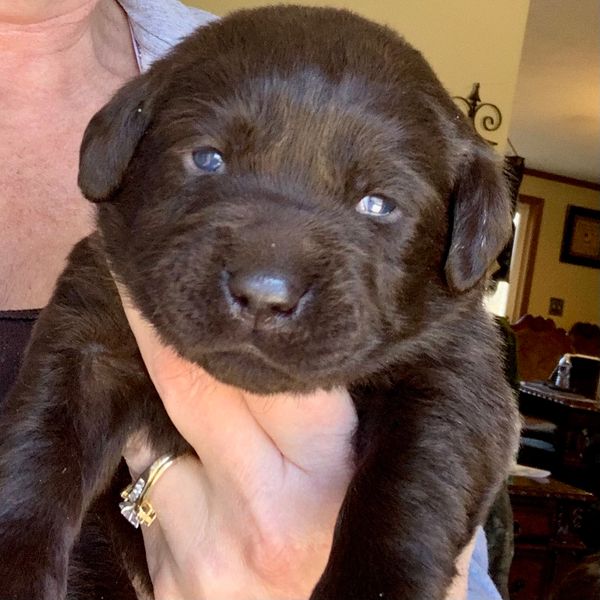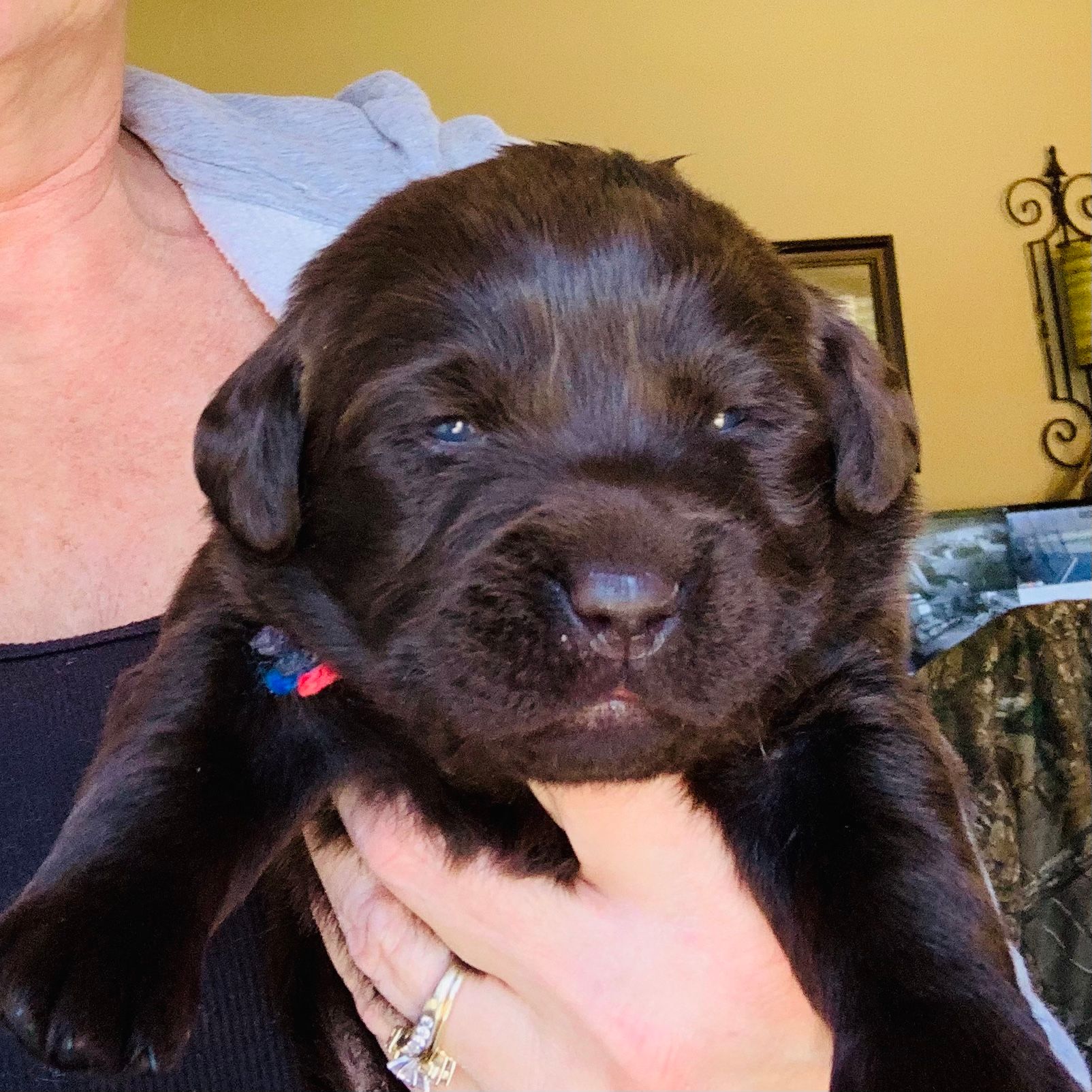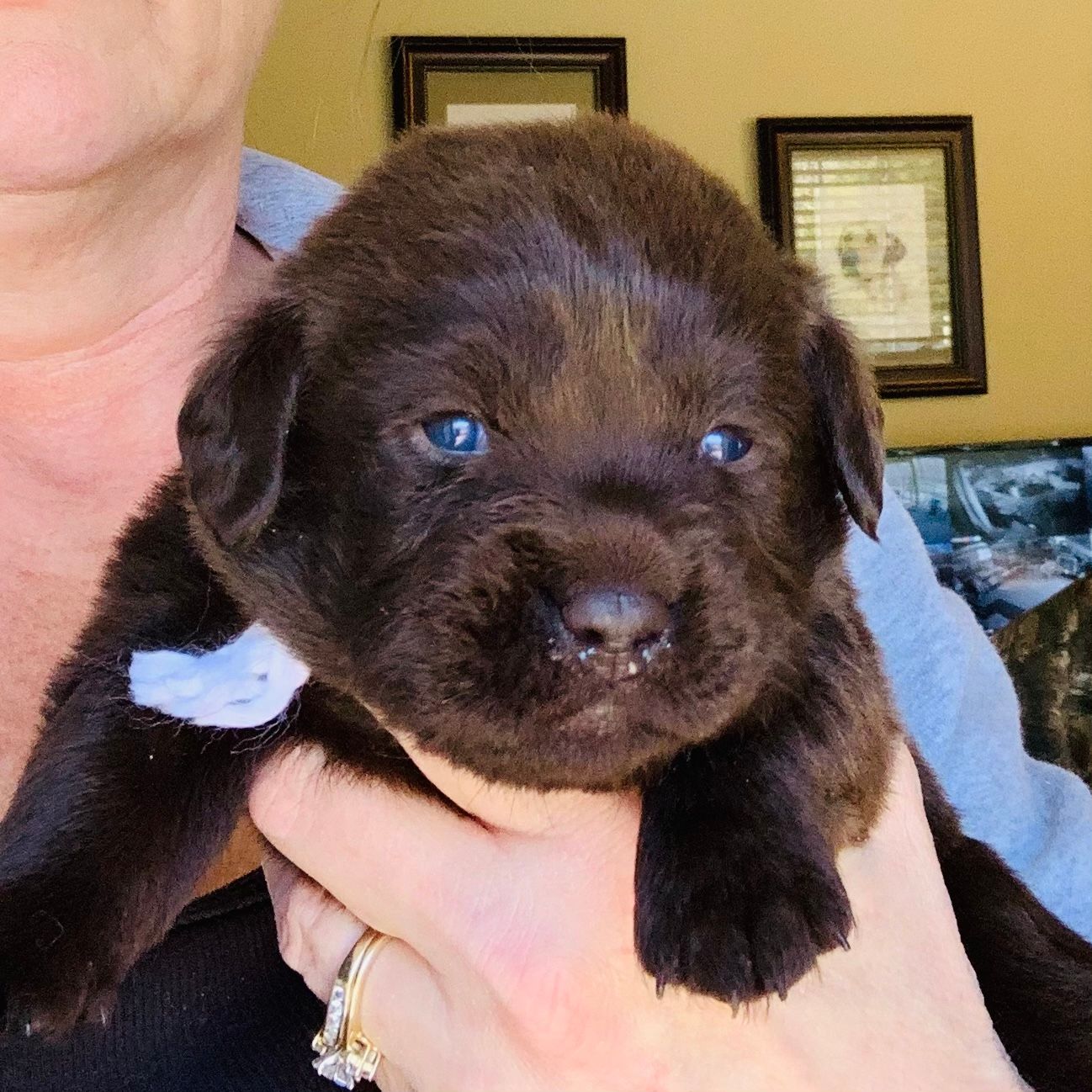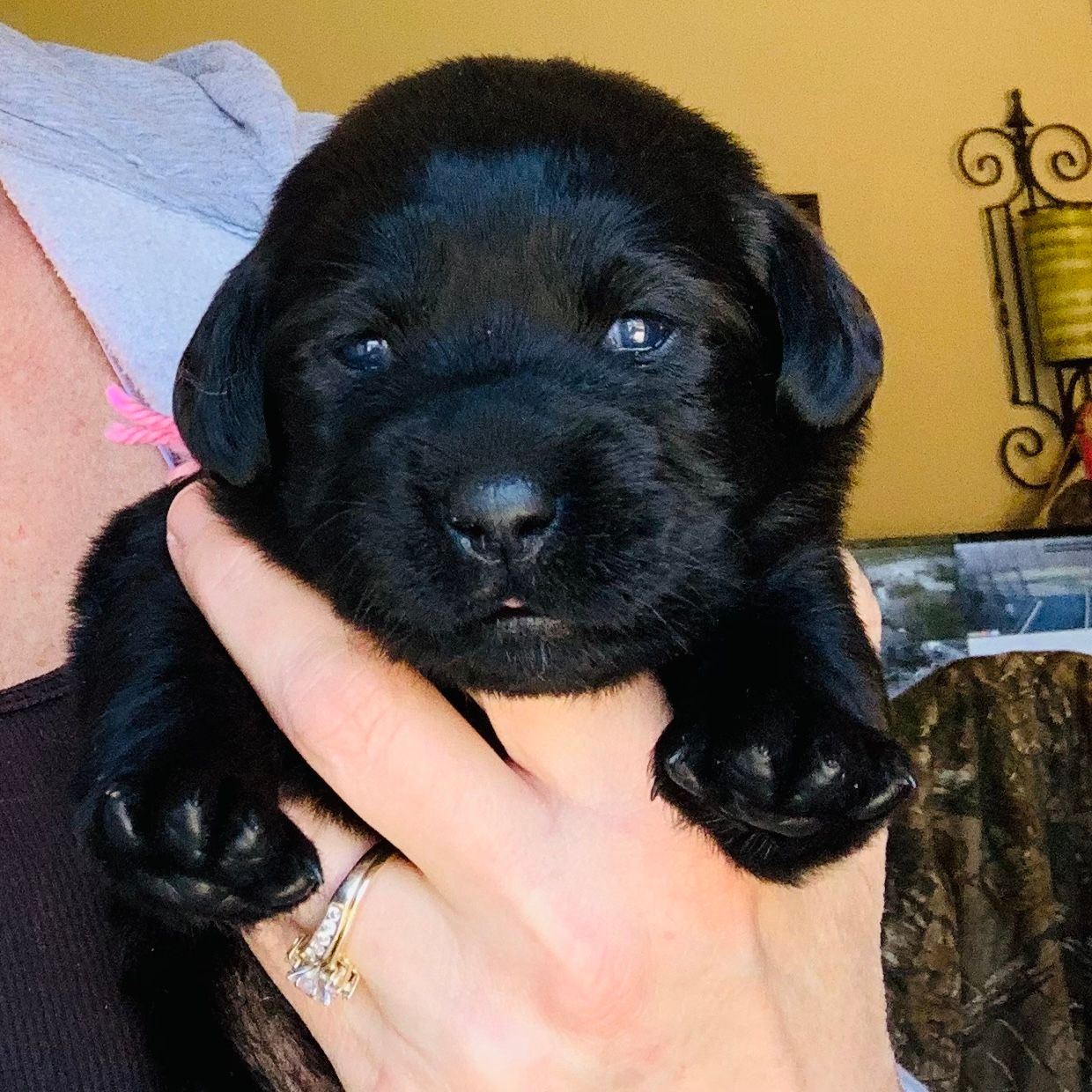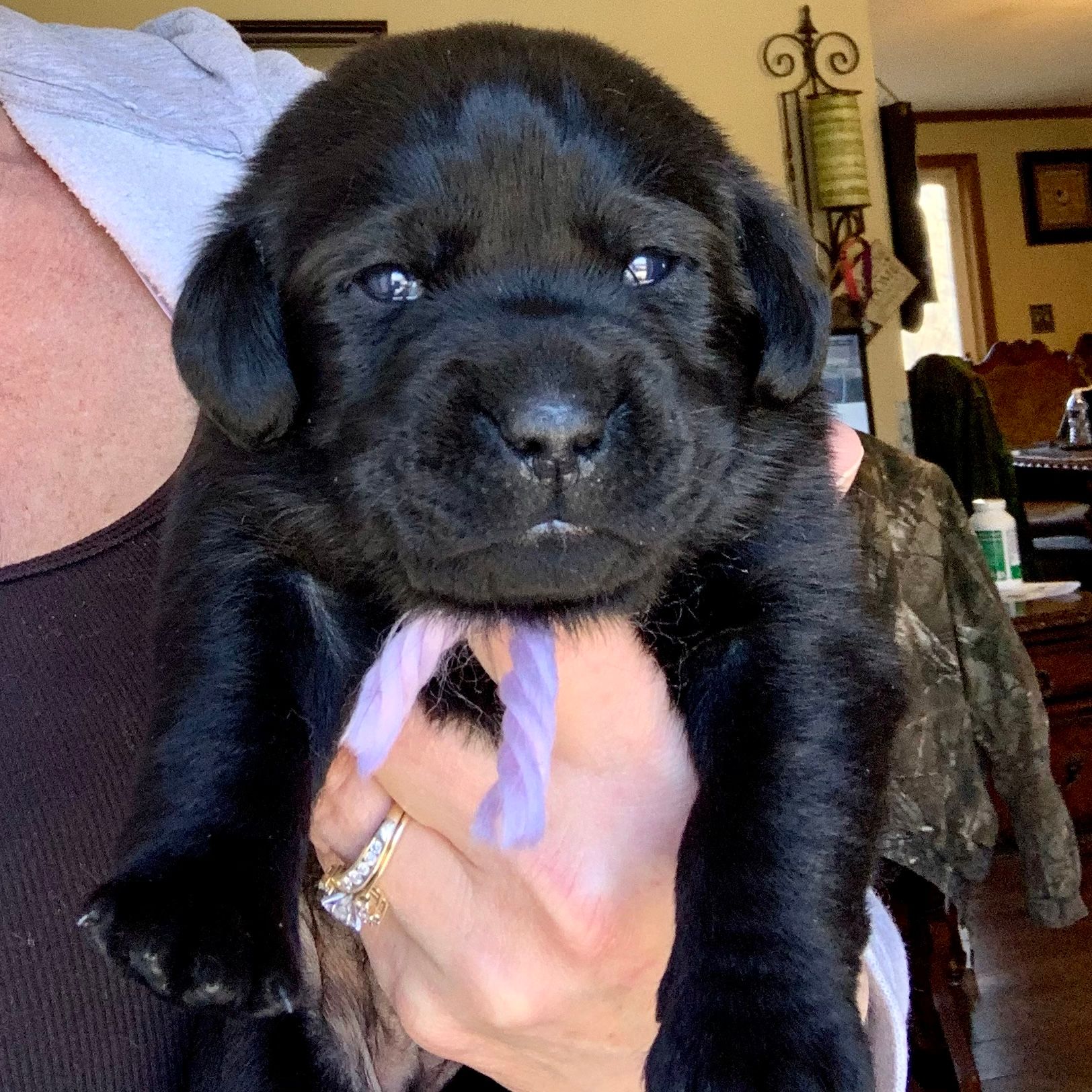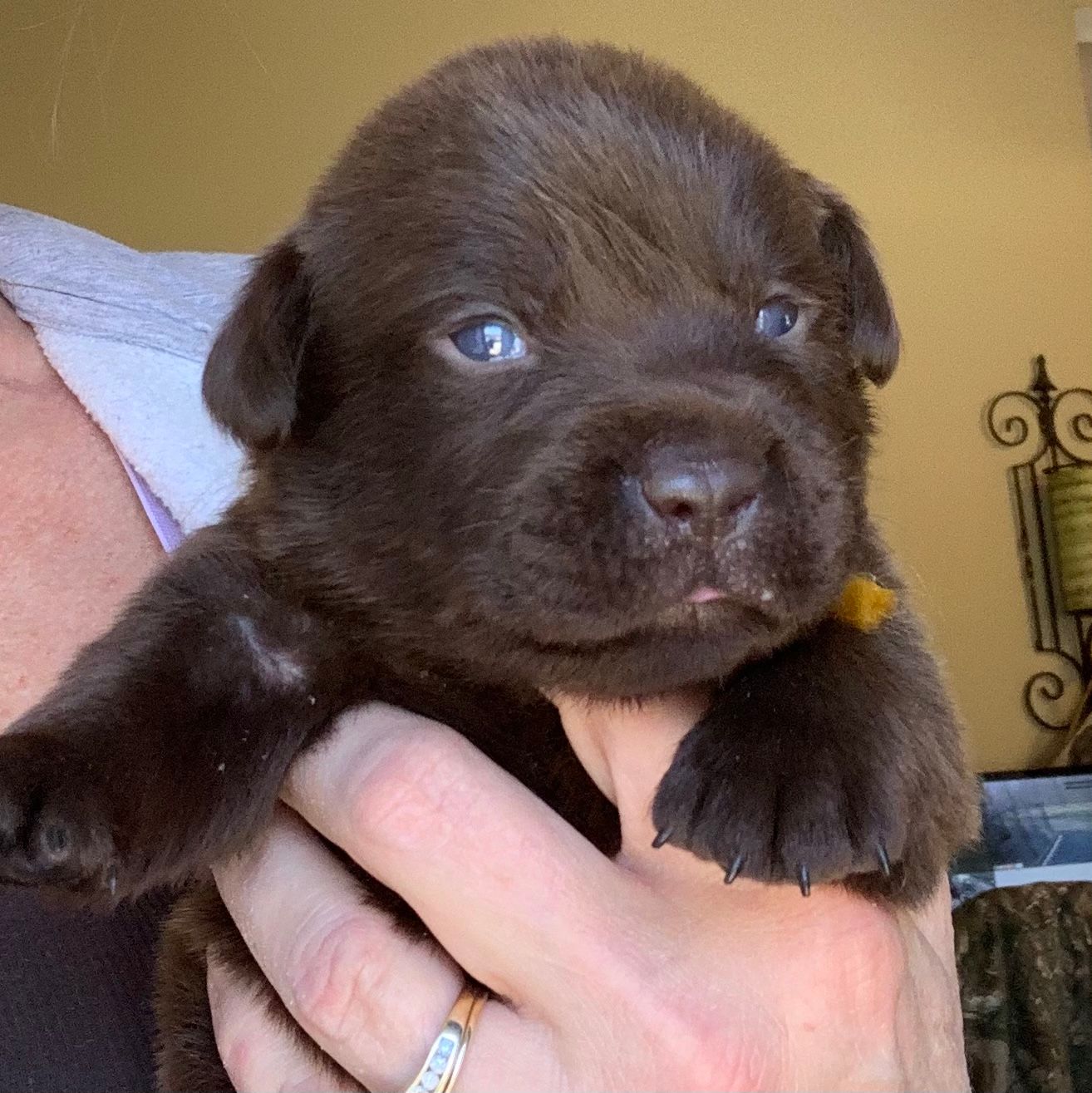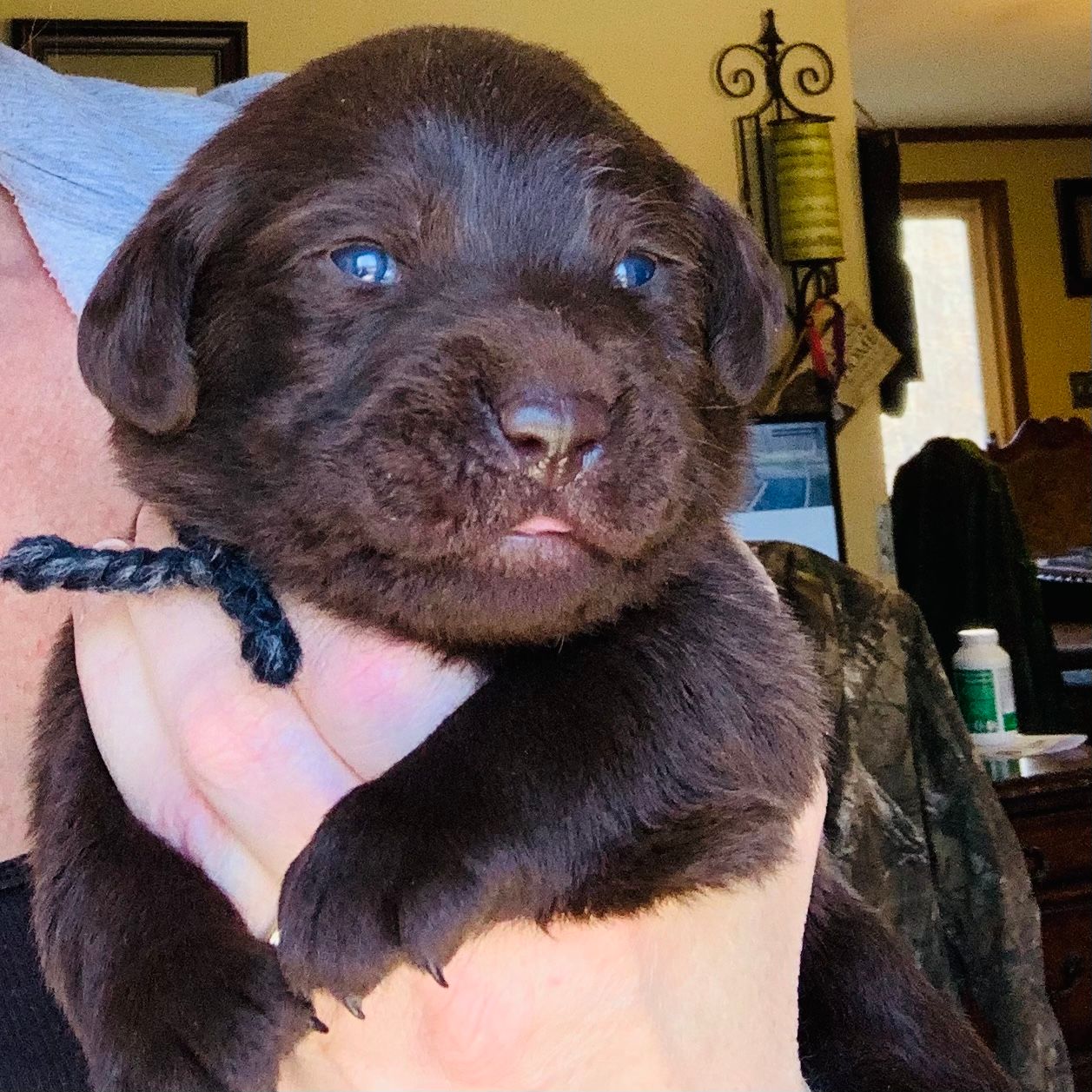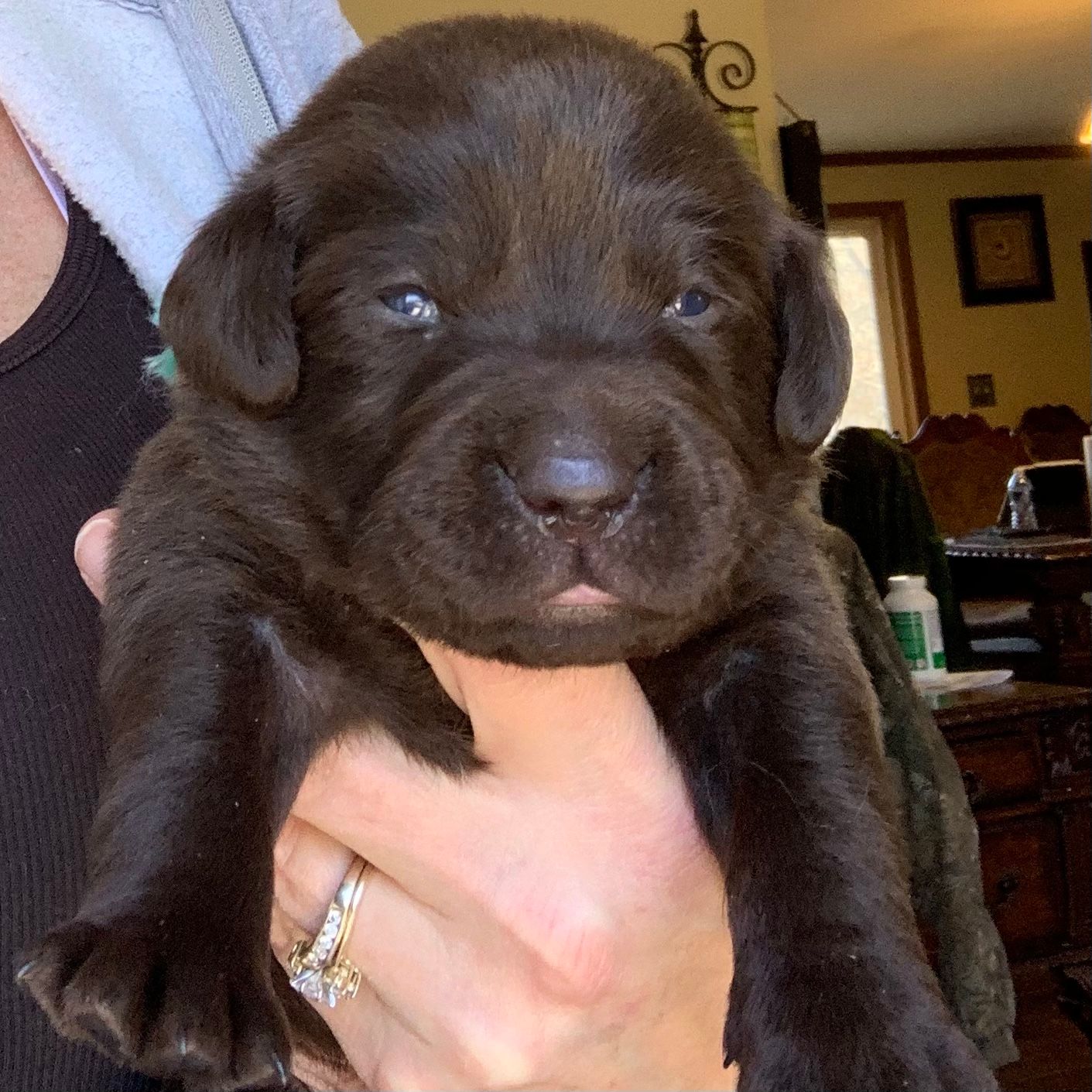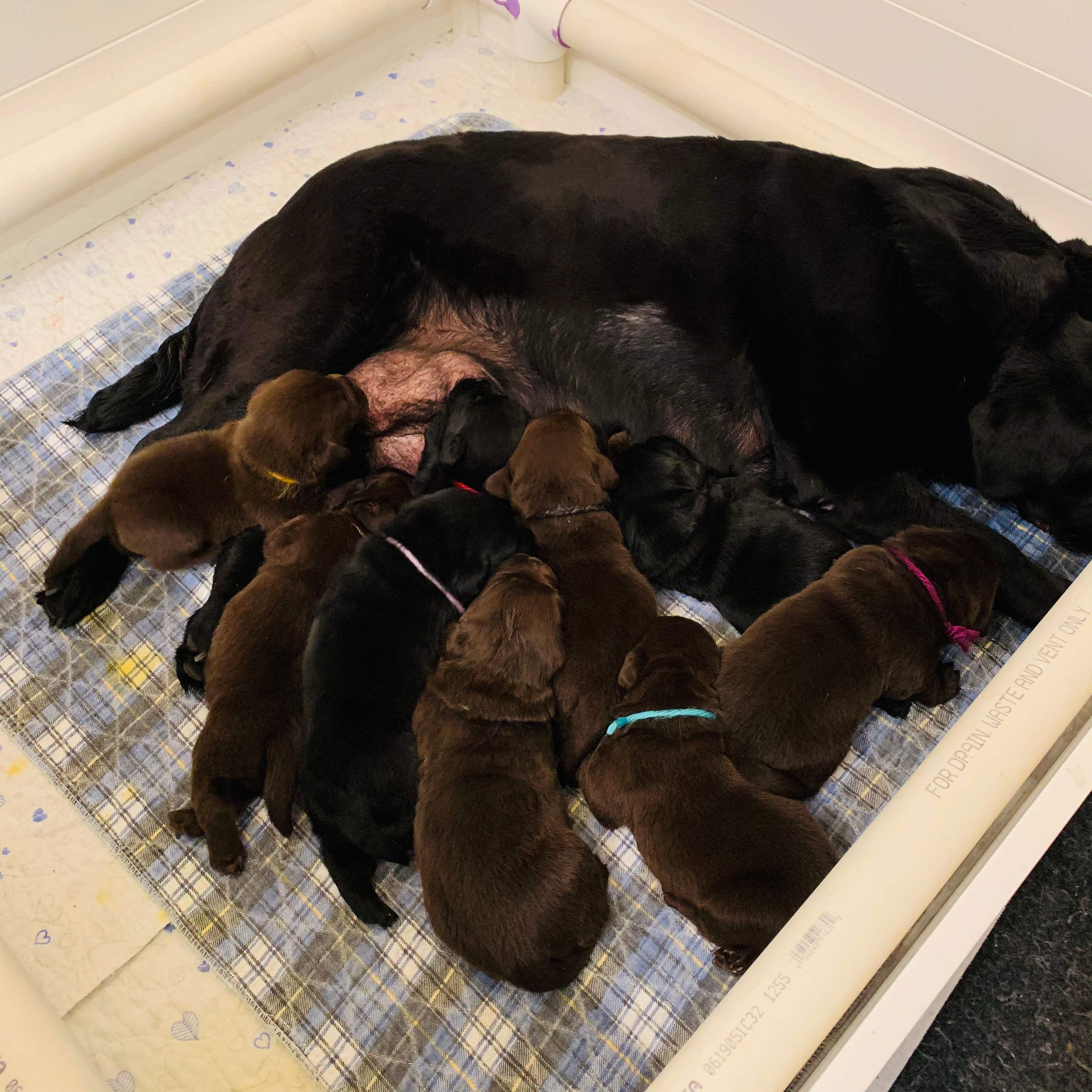 ~TWO WEEK OLD UPDATES~
Little peepers (eyes) are just starting to open. These babies are just doing fantastic. They're meeting all the two week milestones.  Marti is such a fabulous mother and tends to the constantly.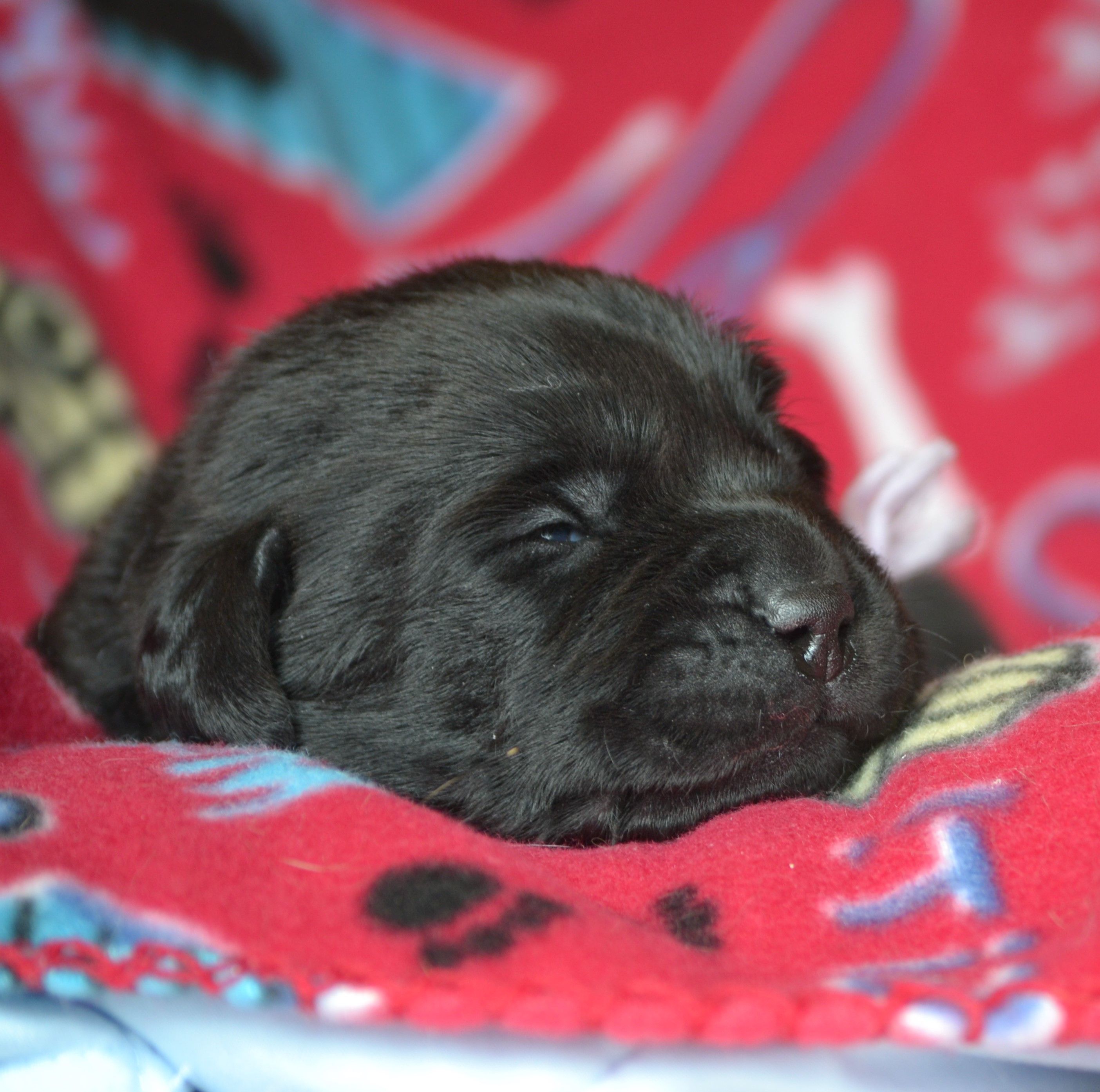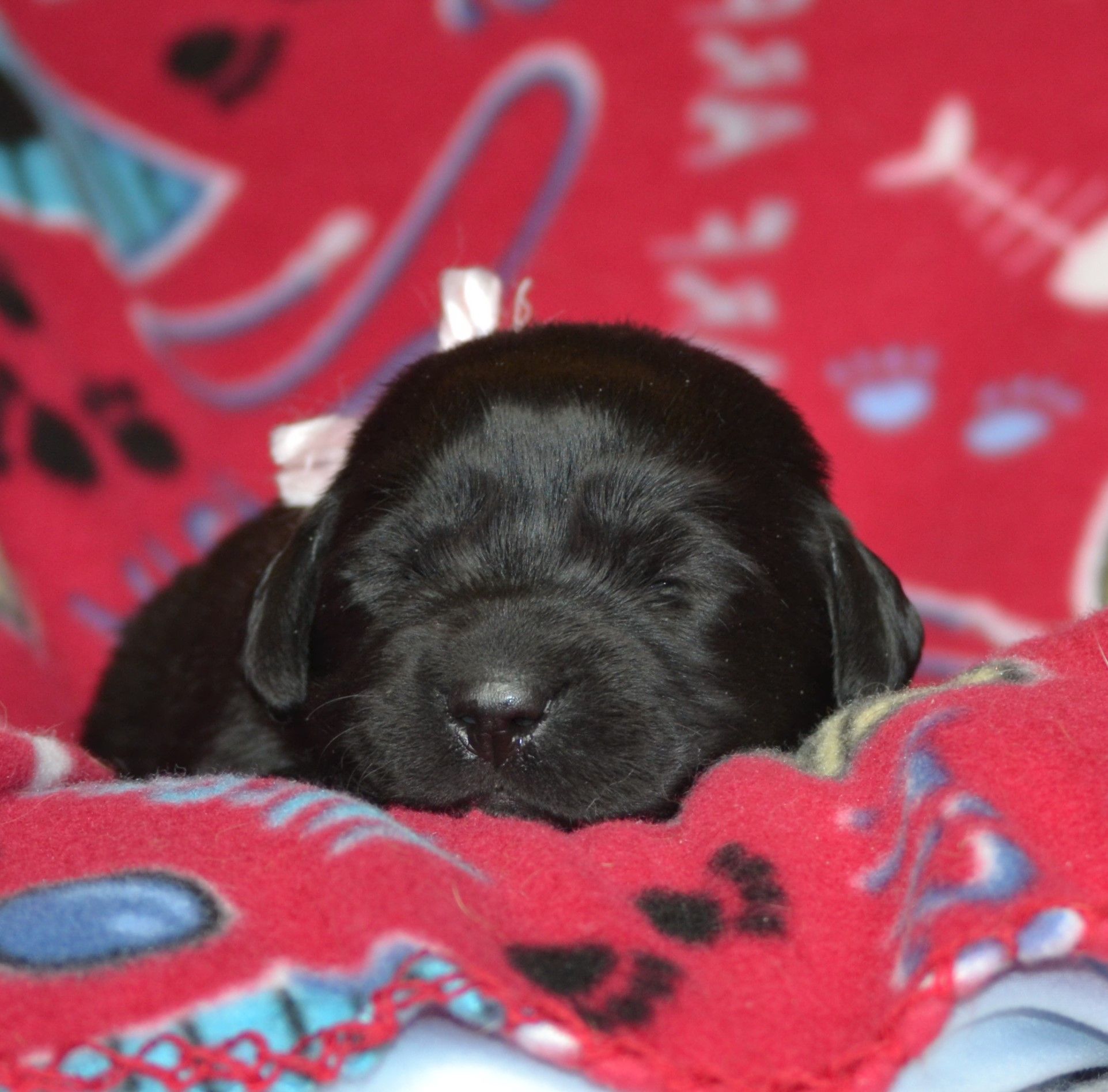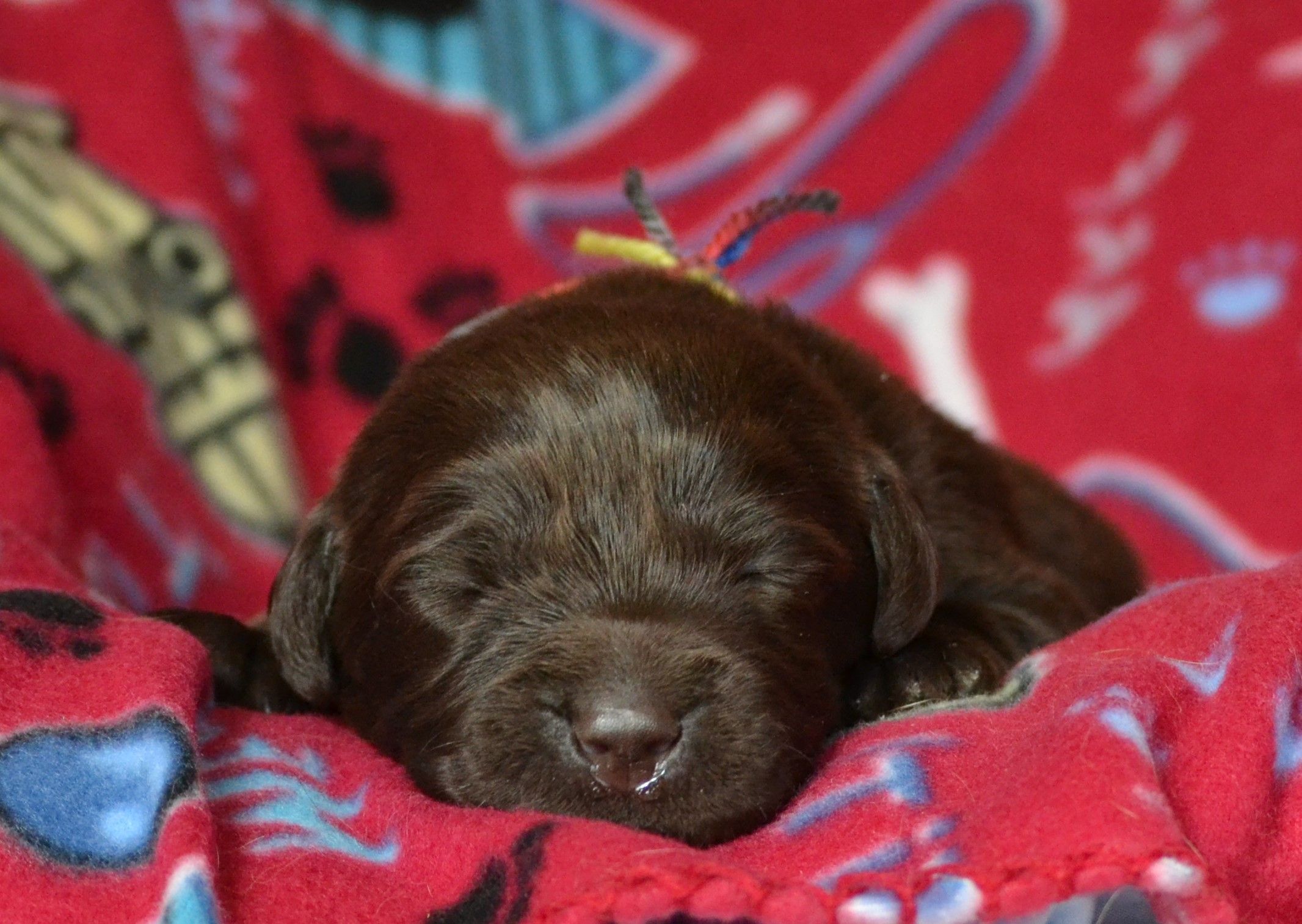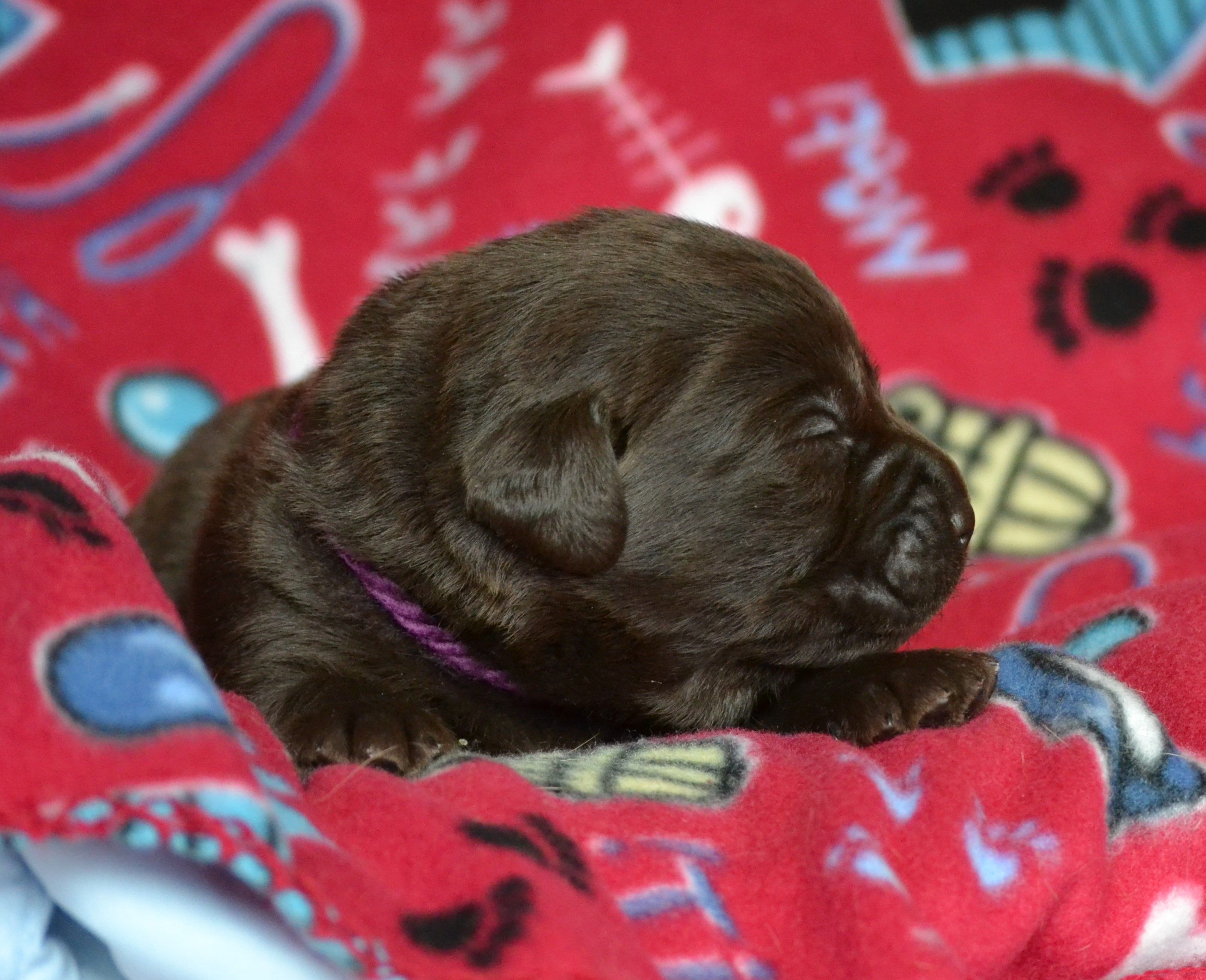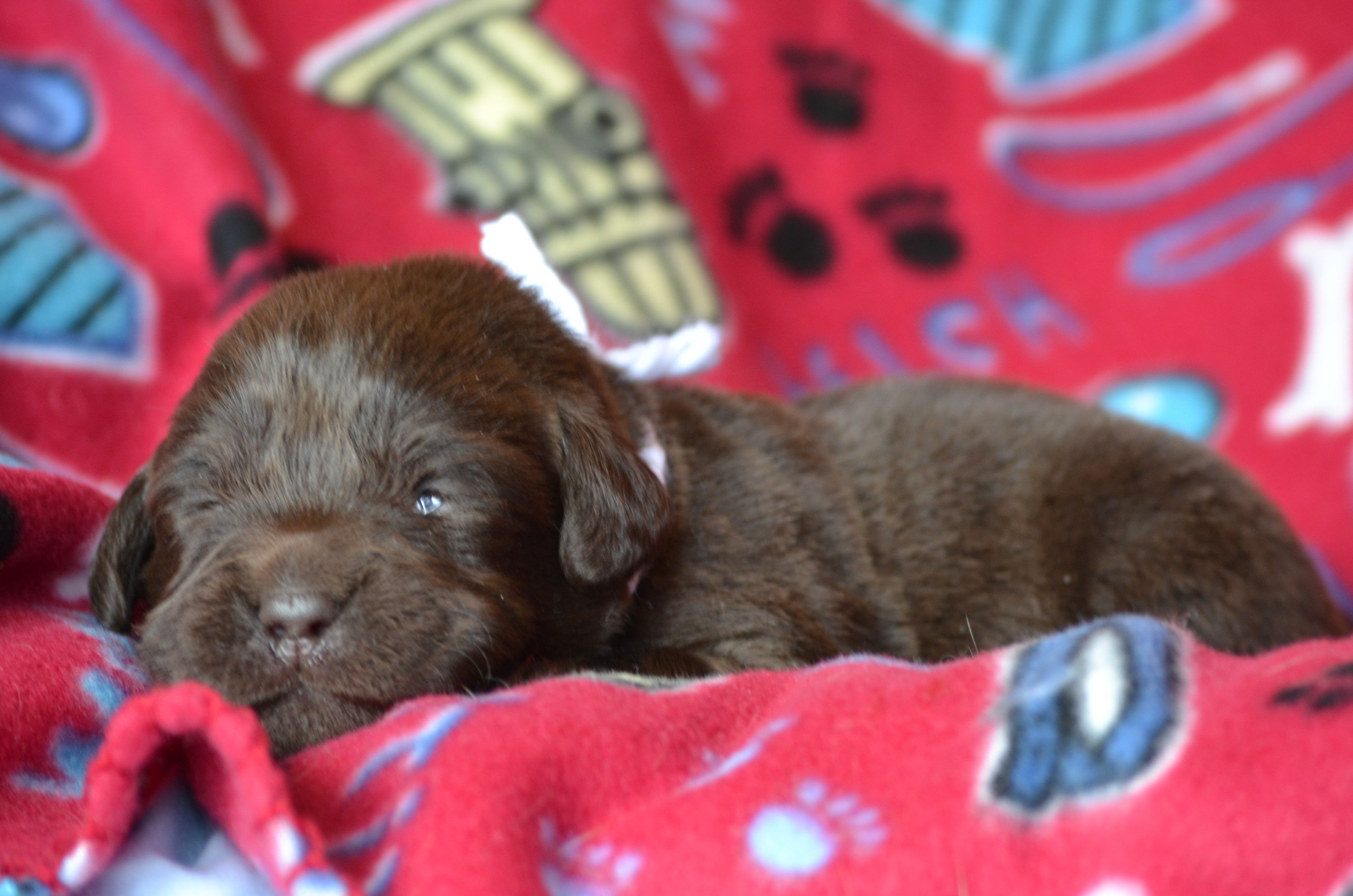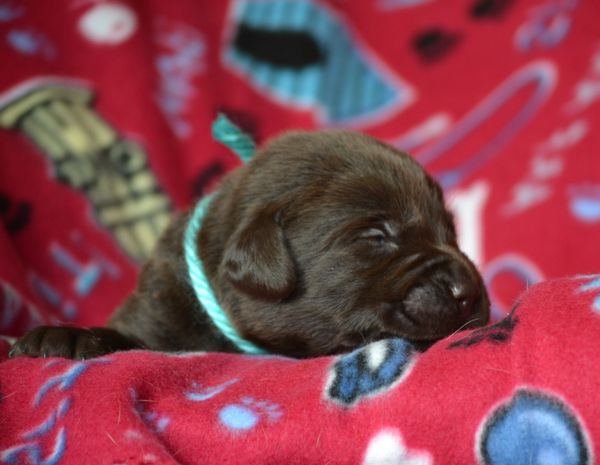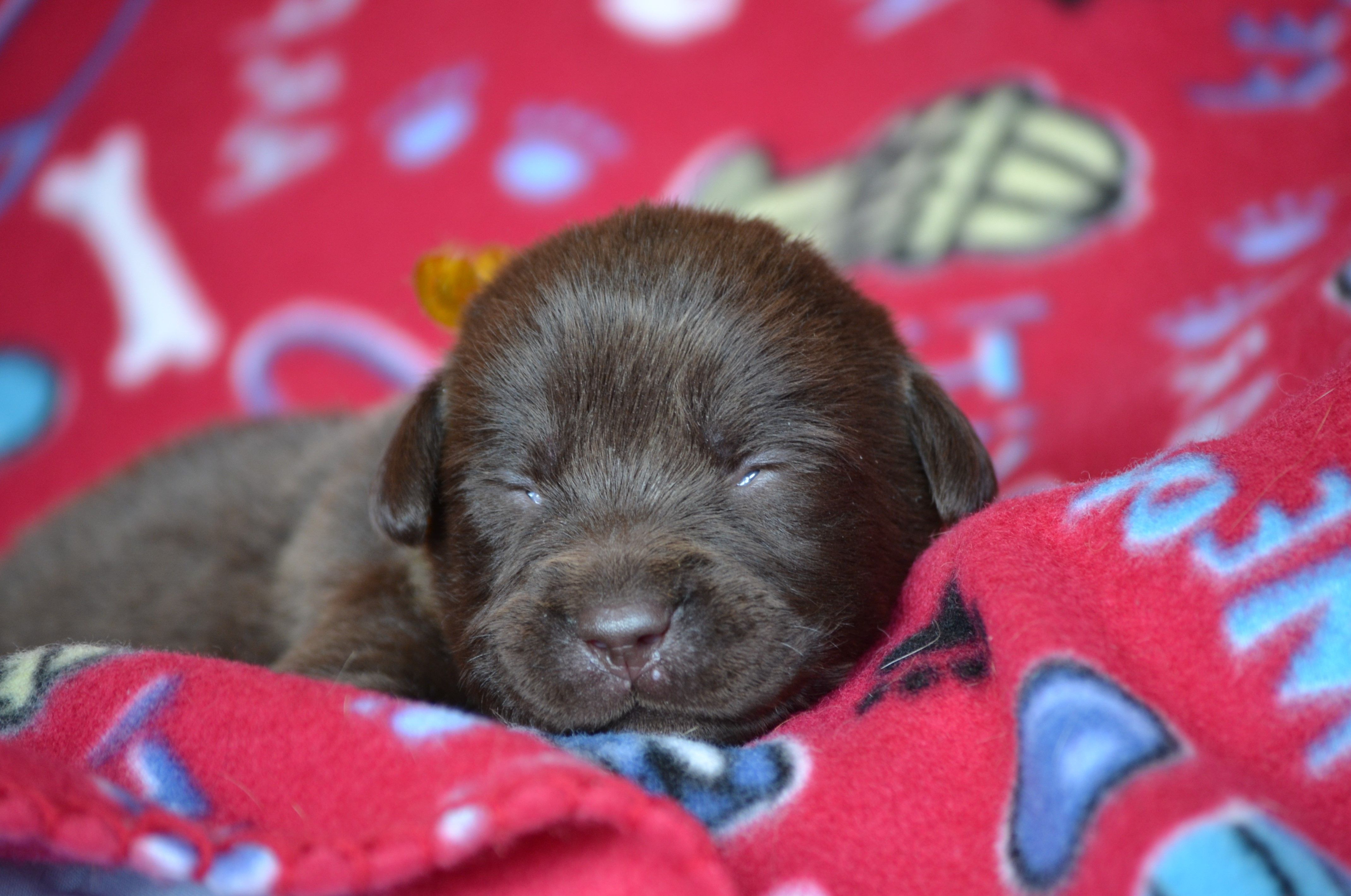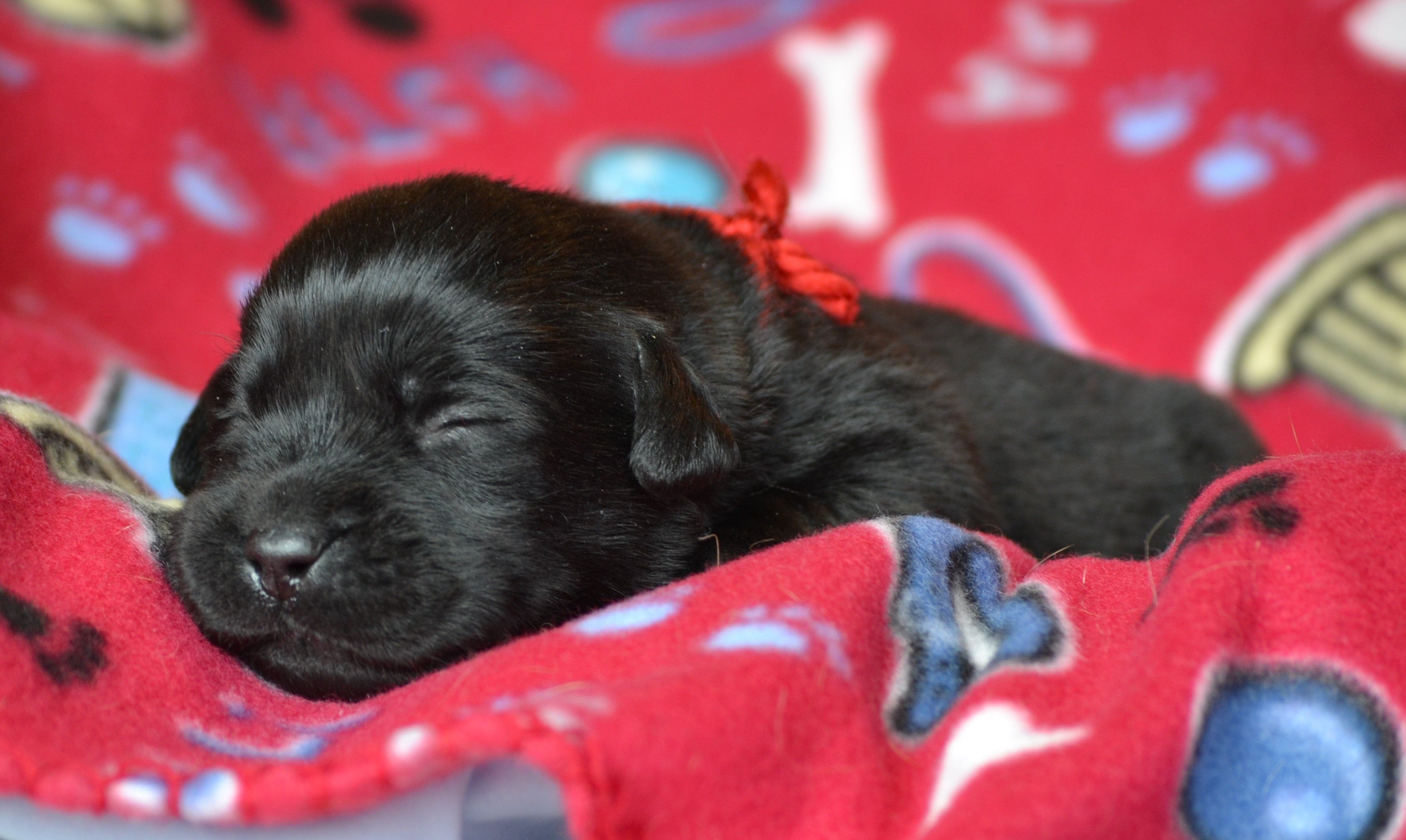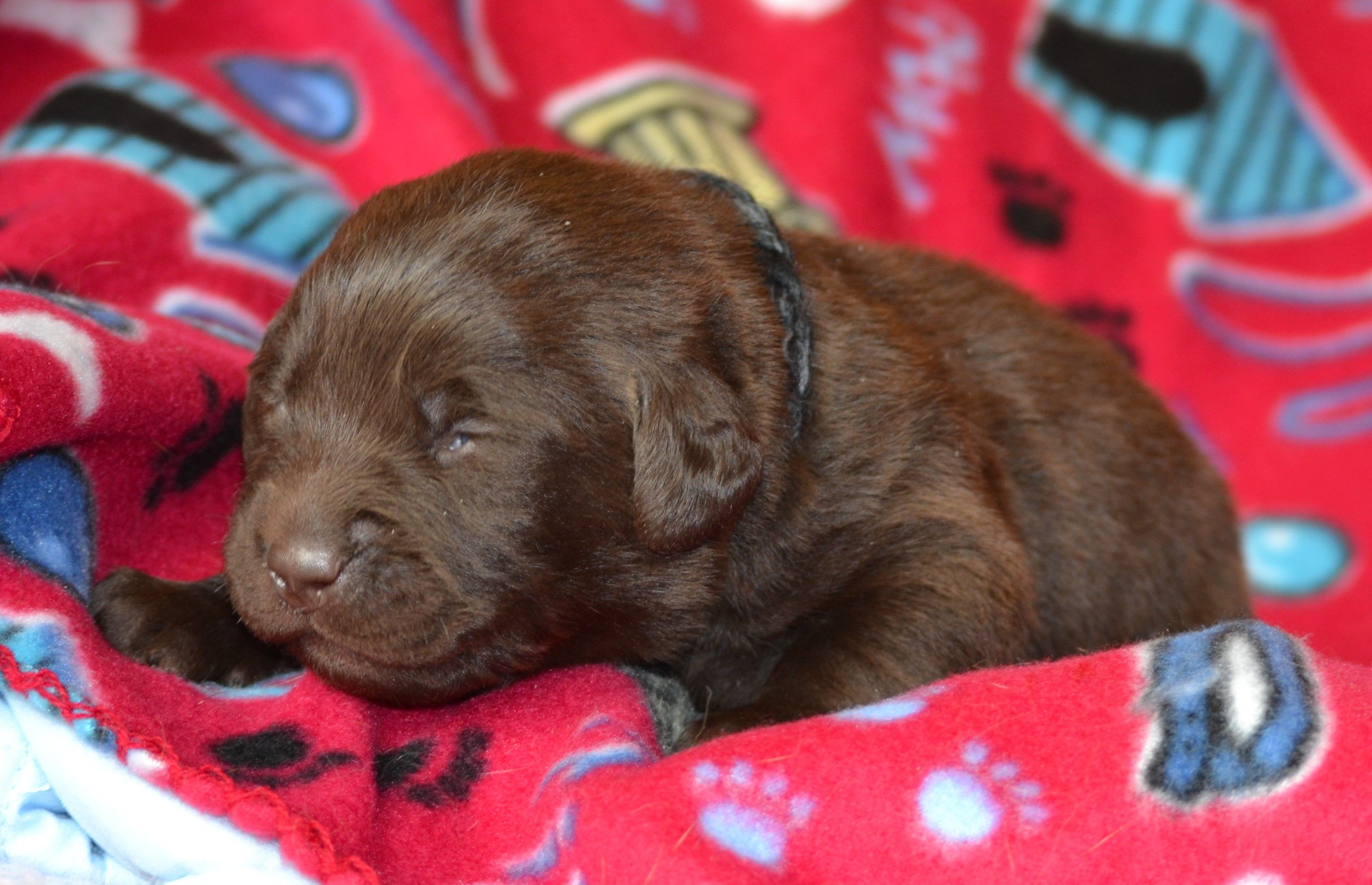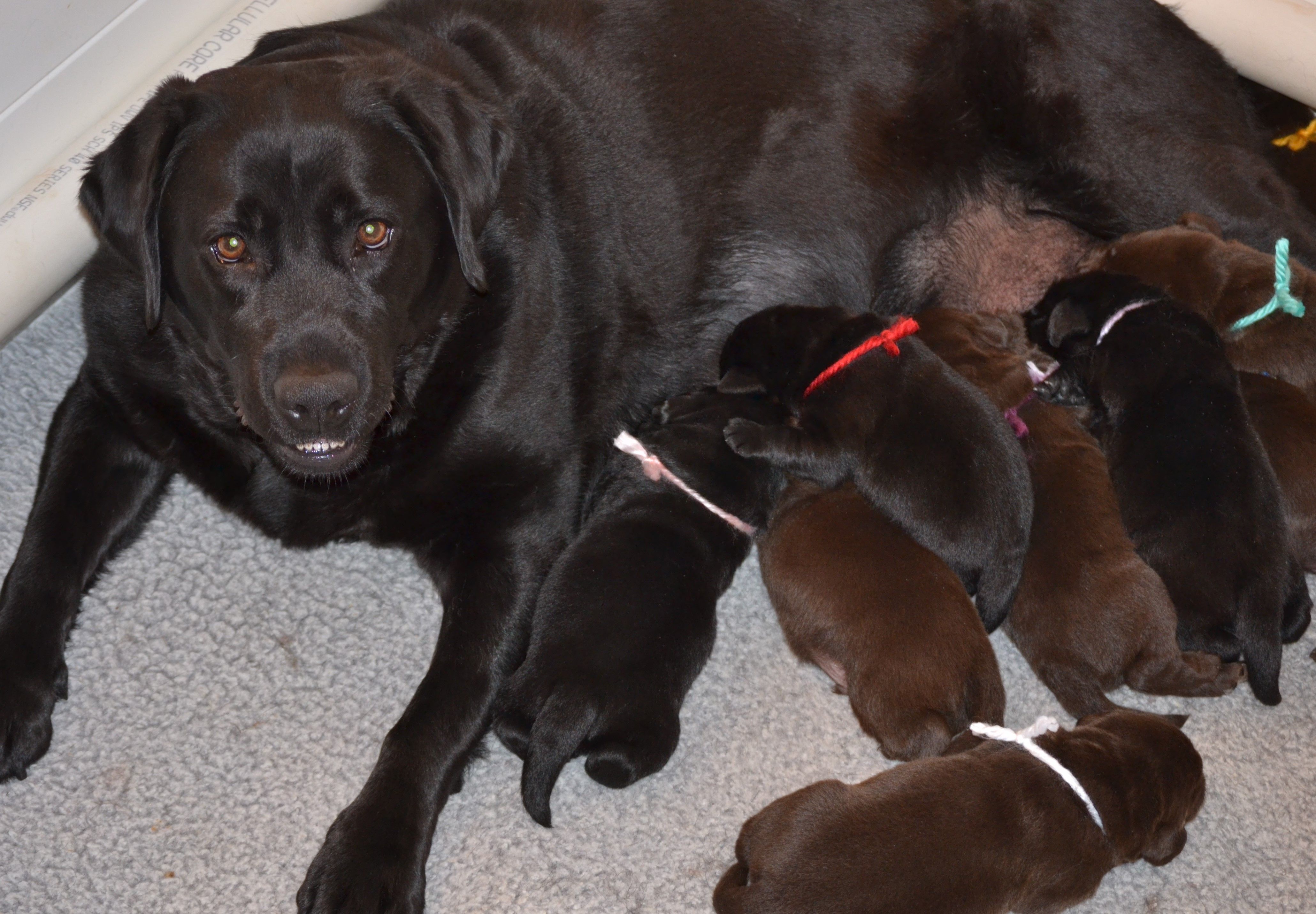 ONE WEEK OLD UPDATES
Pups are FAT and sassy!  They have doubled their weight in just one week. Marti is doing an excellent job with her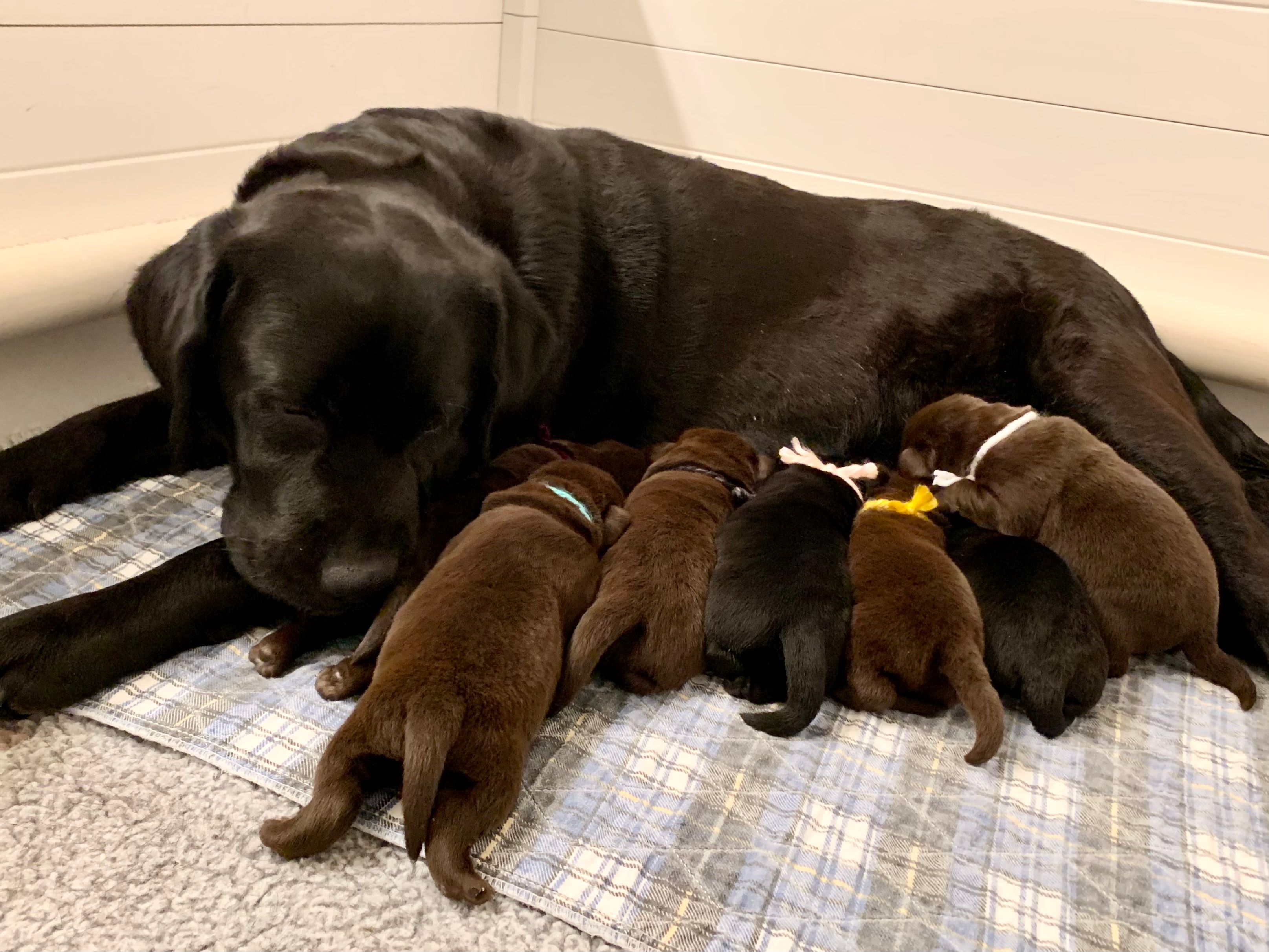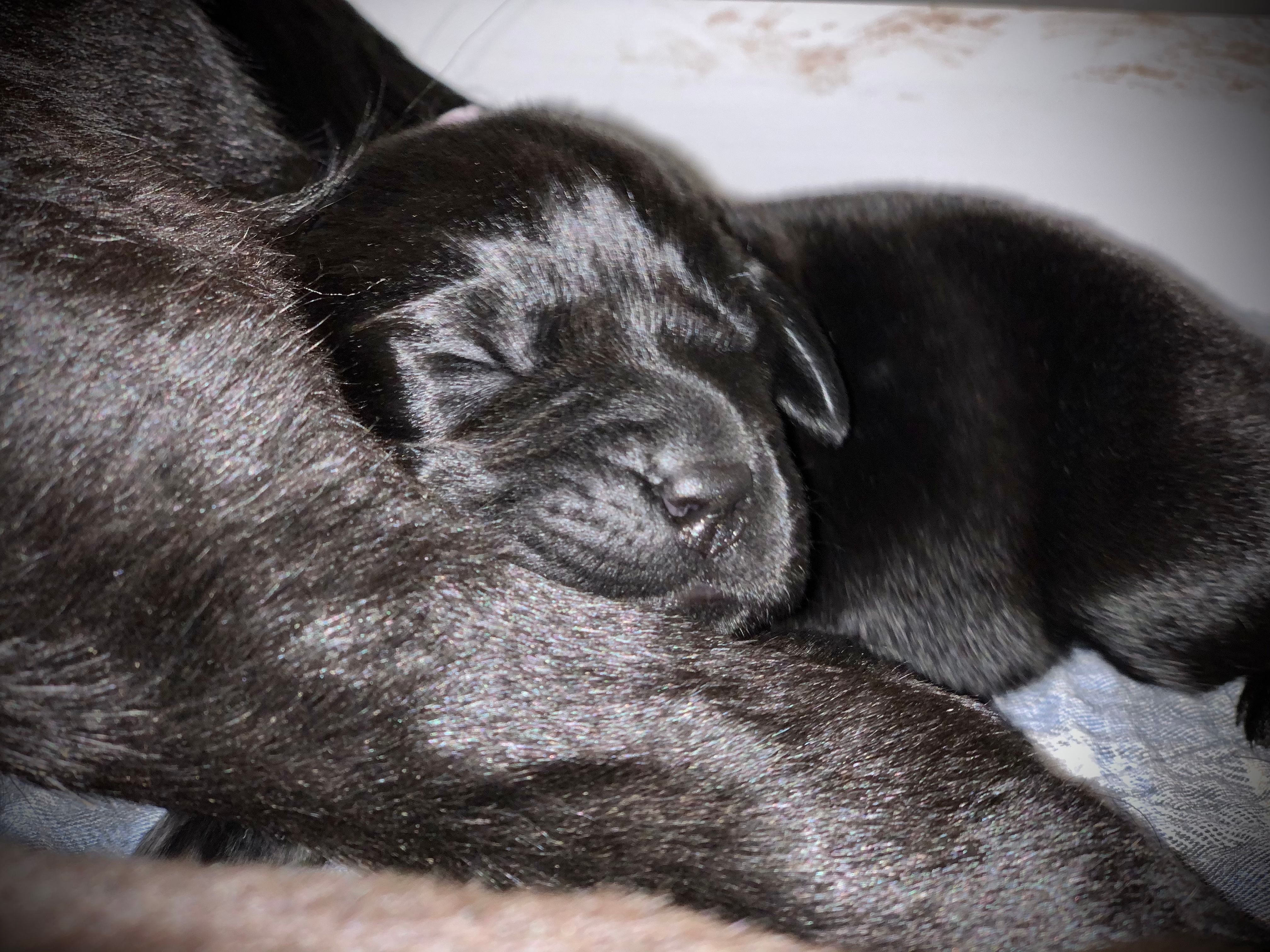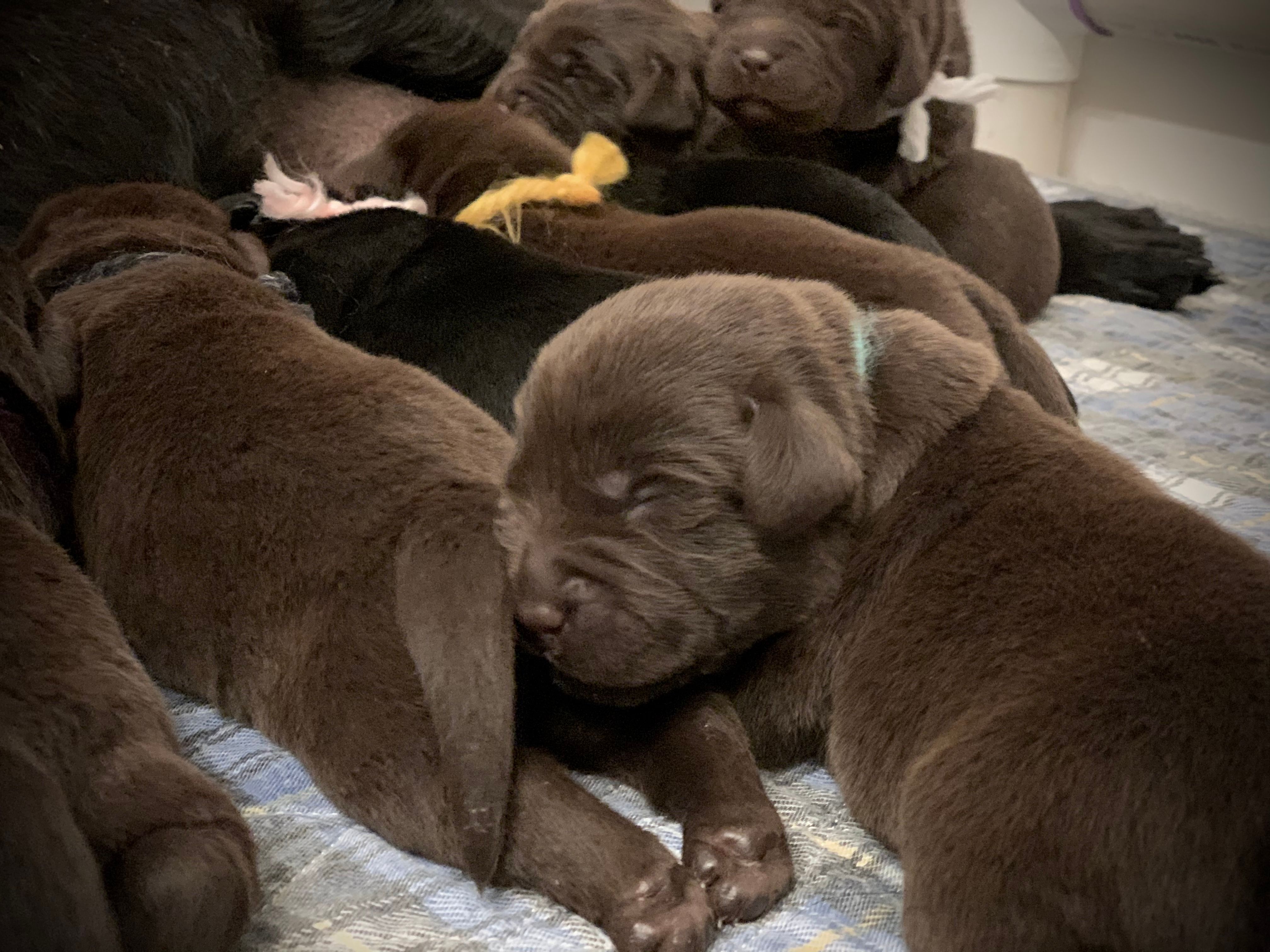 Chocolate Girls Below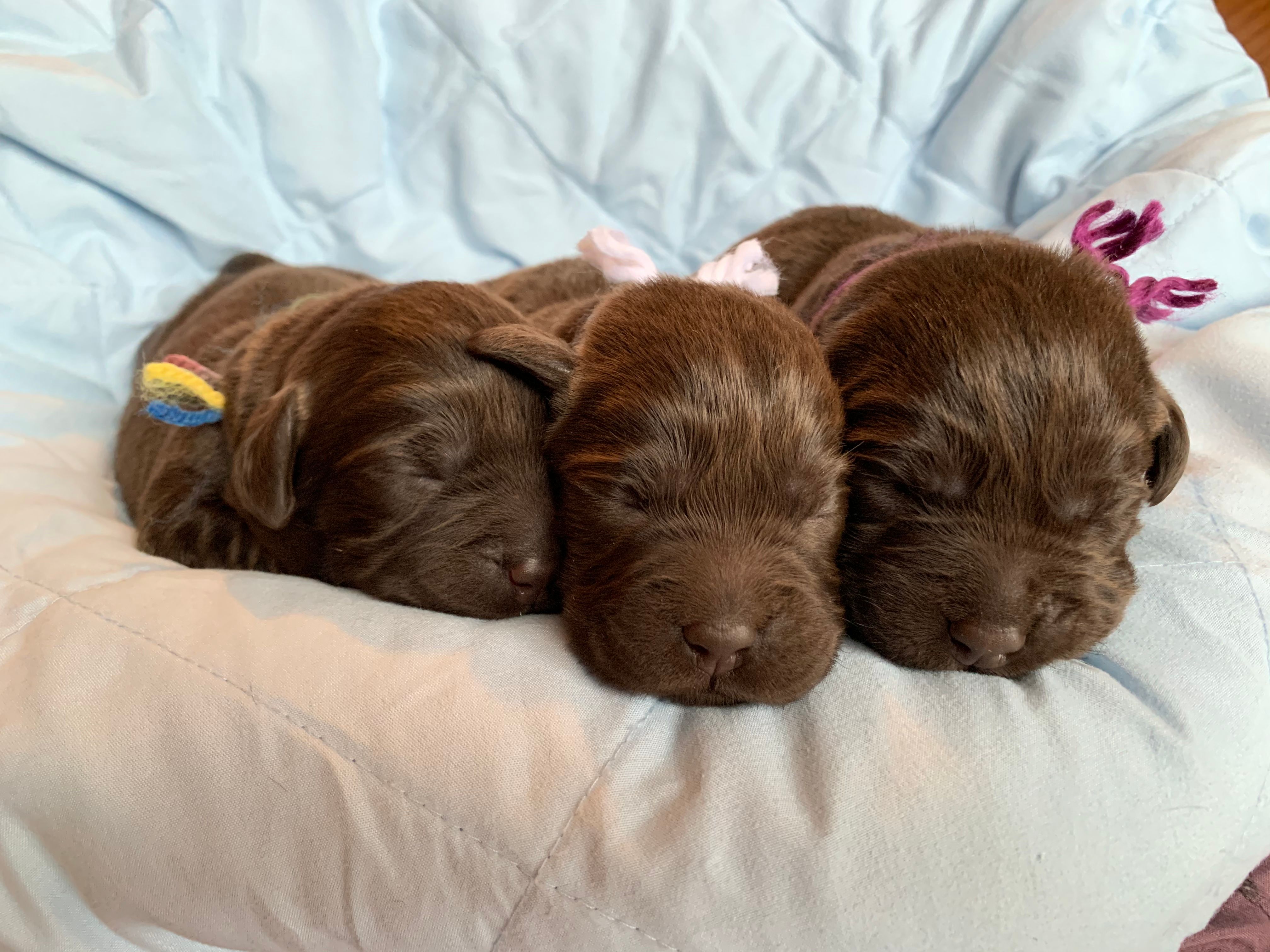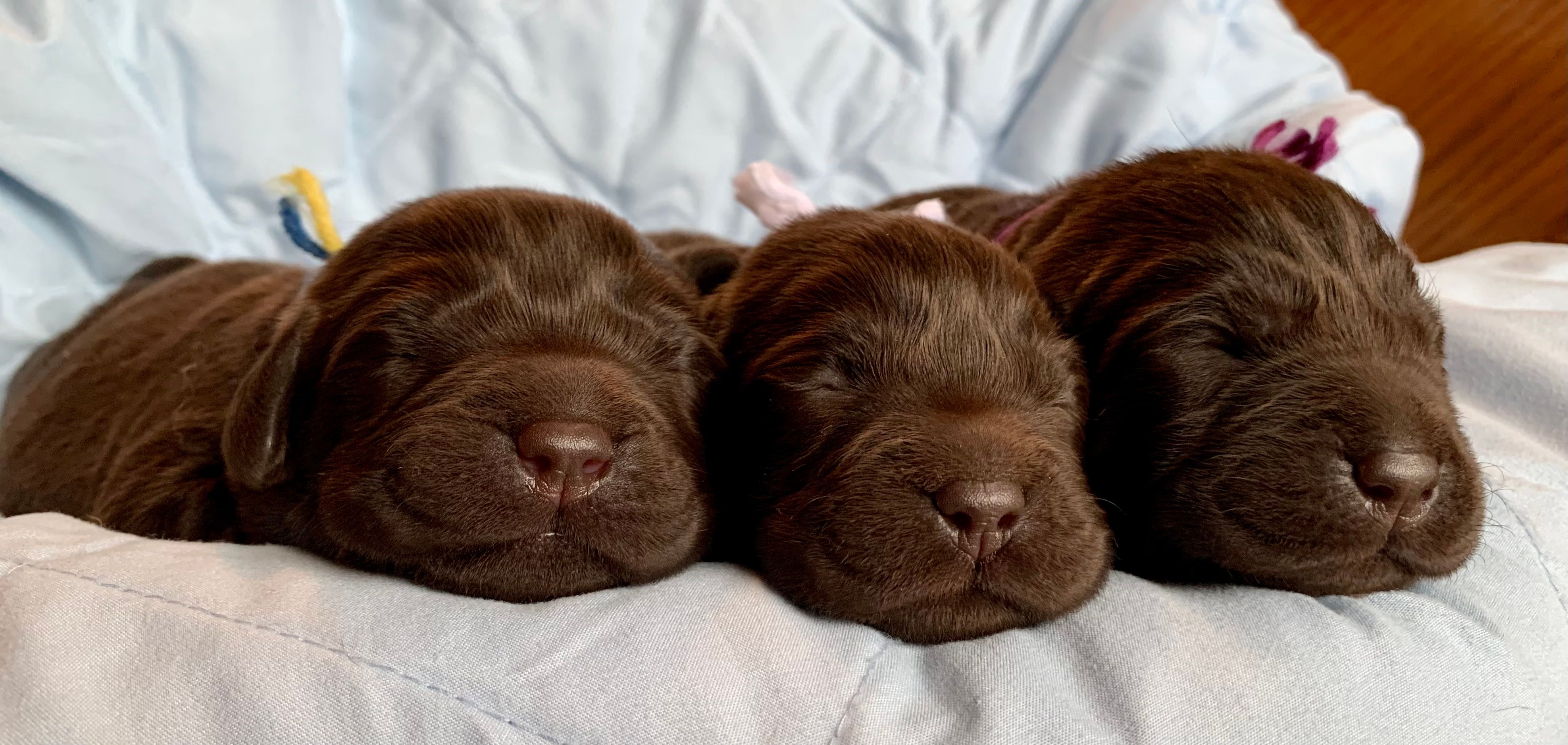 Black Girls Below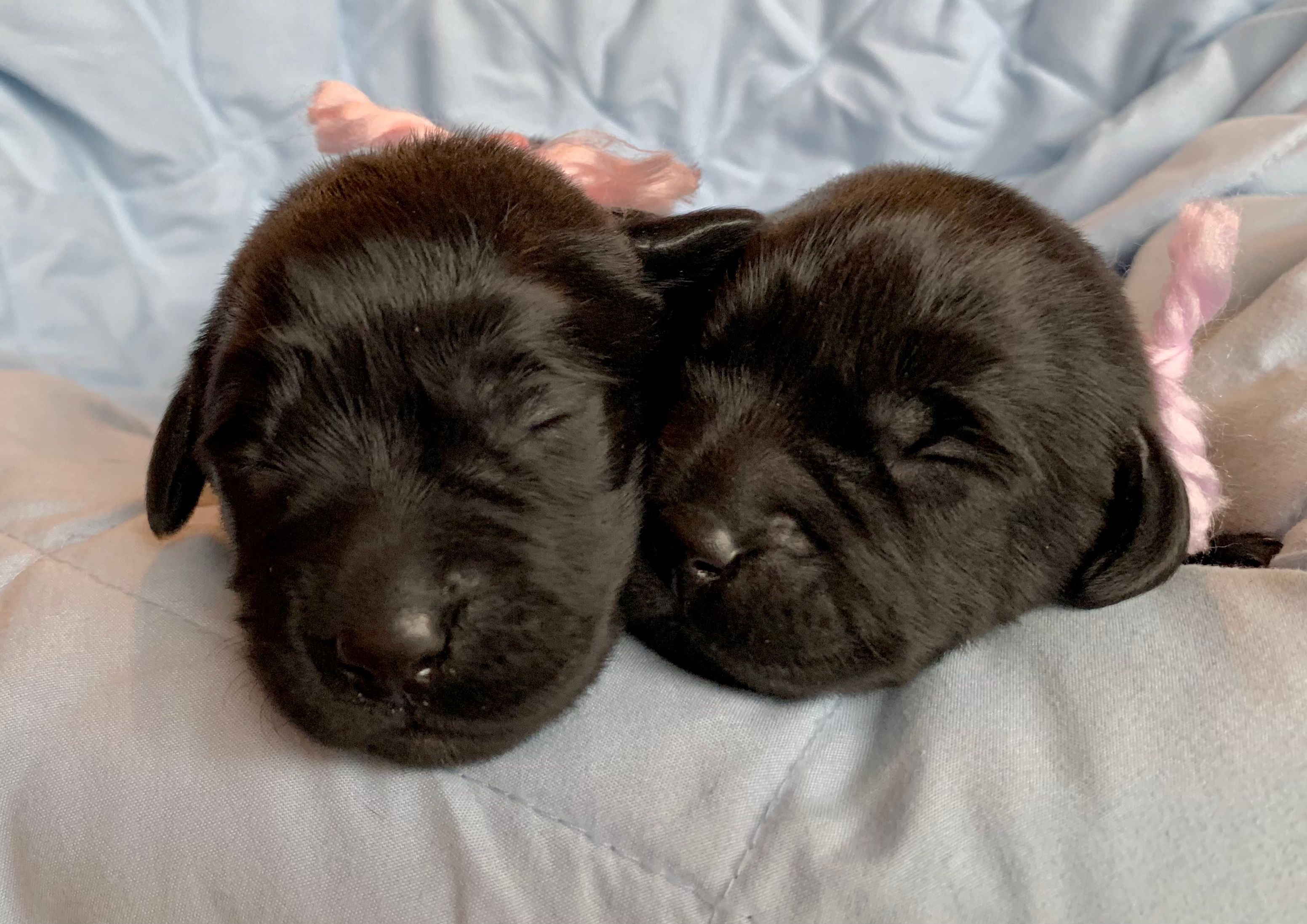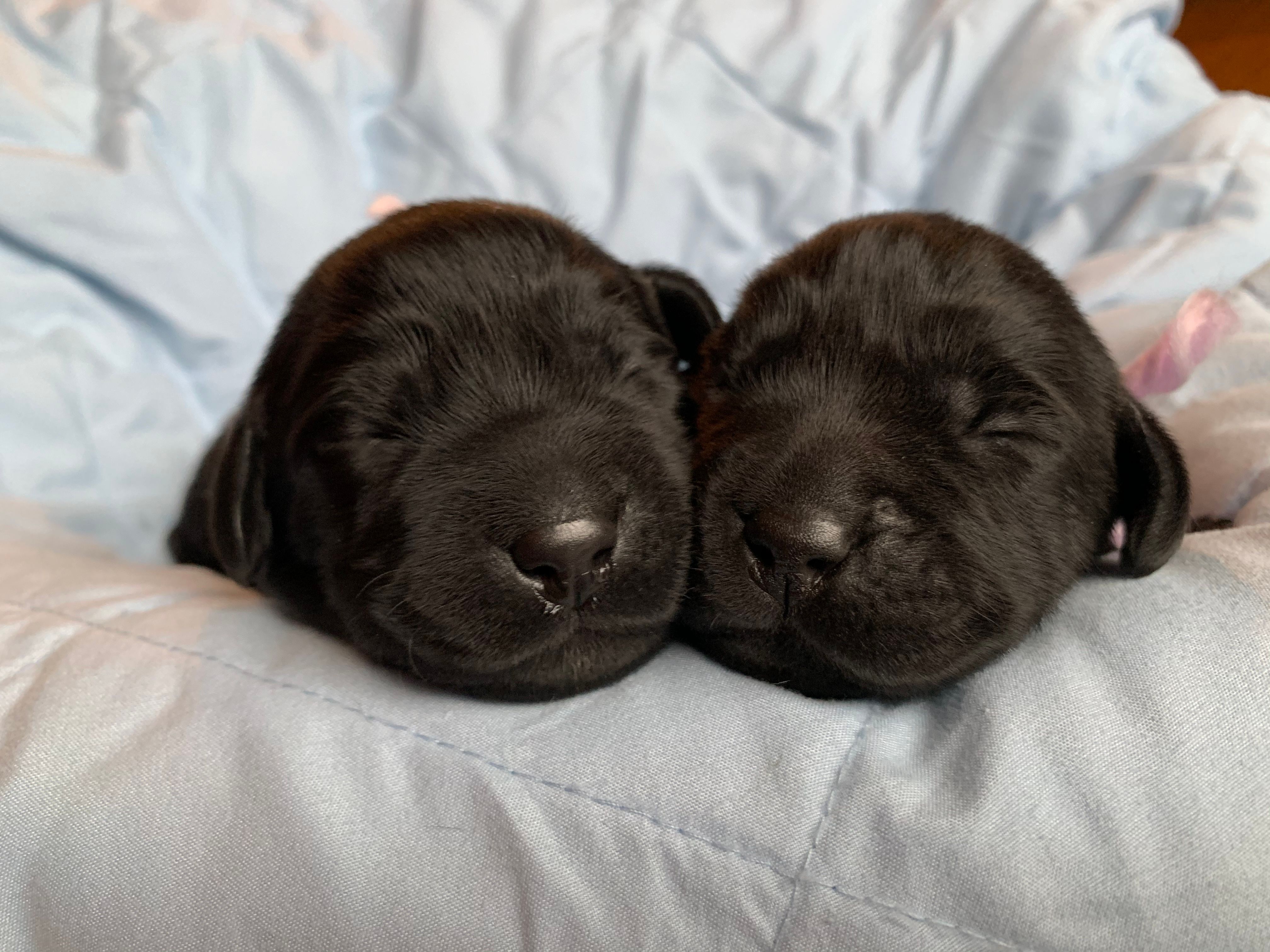 Black & Chocolate Boy Below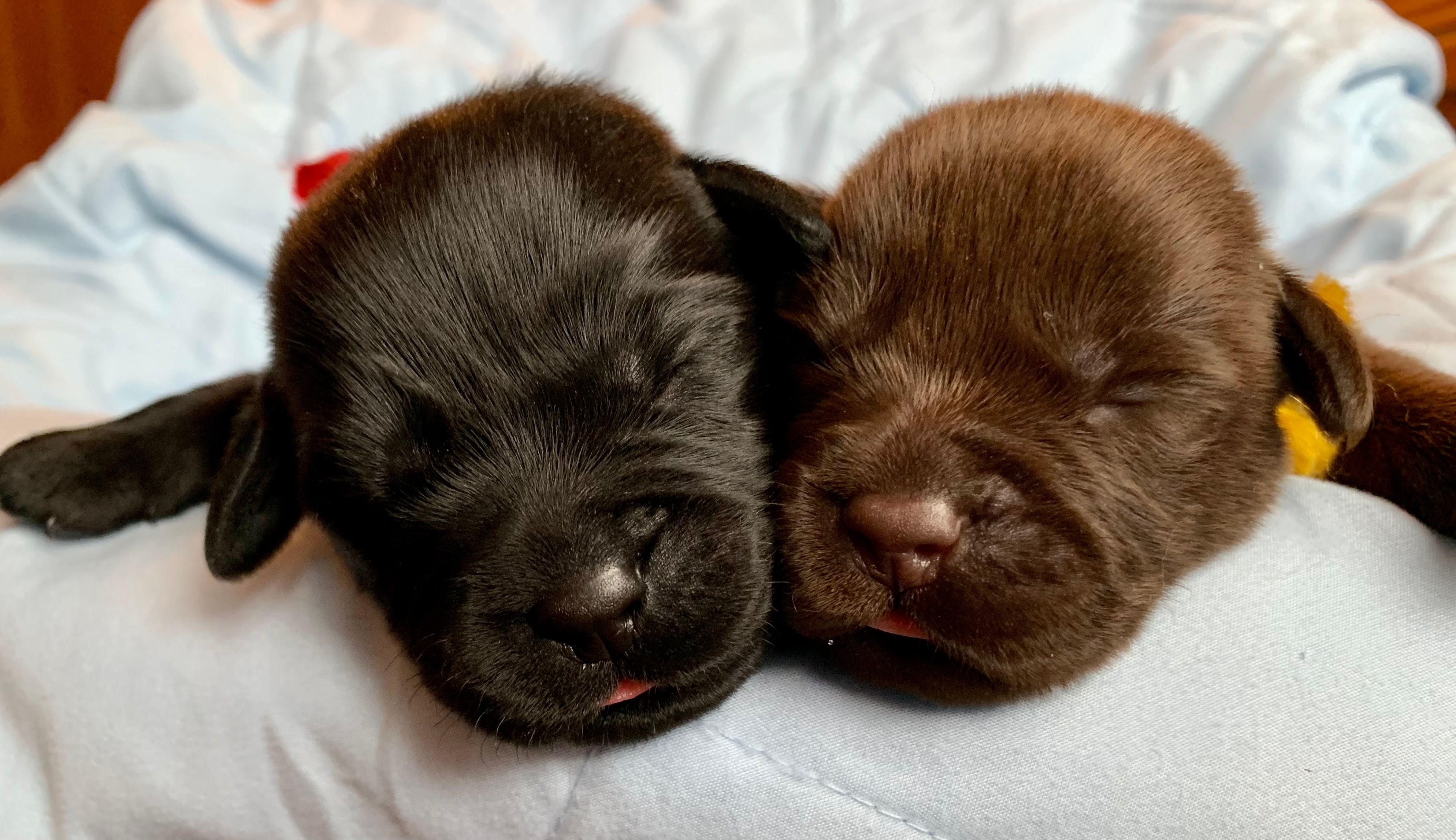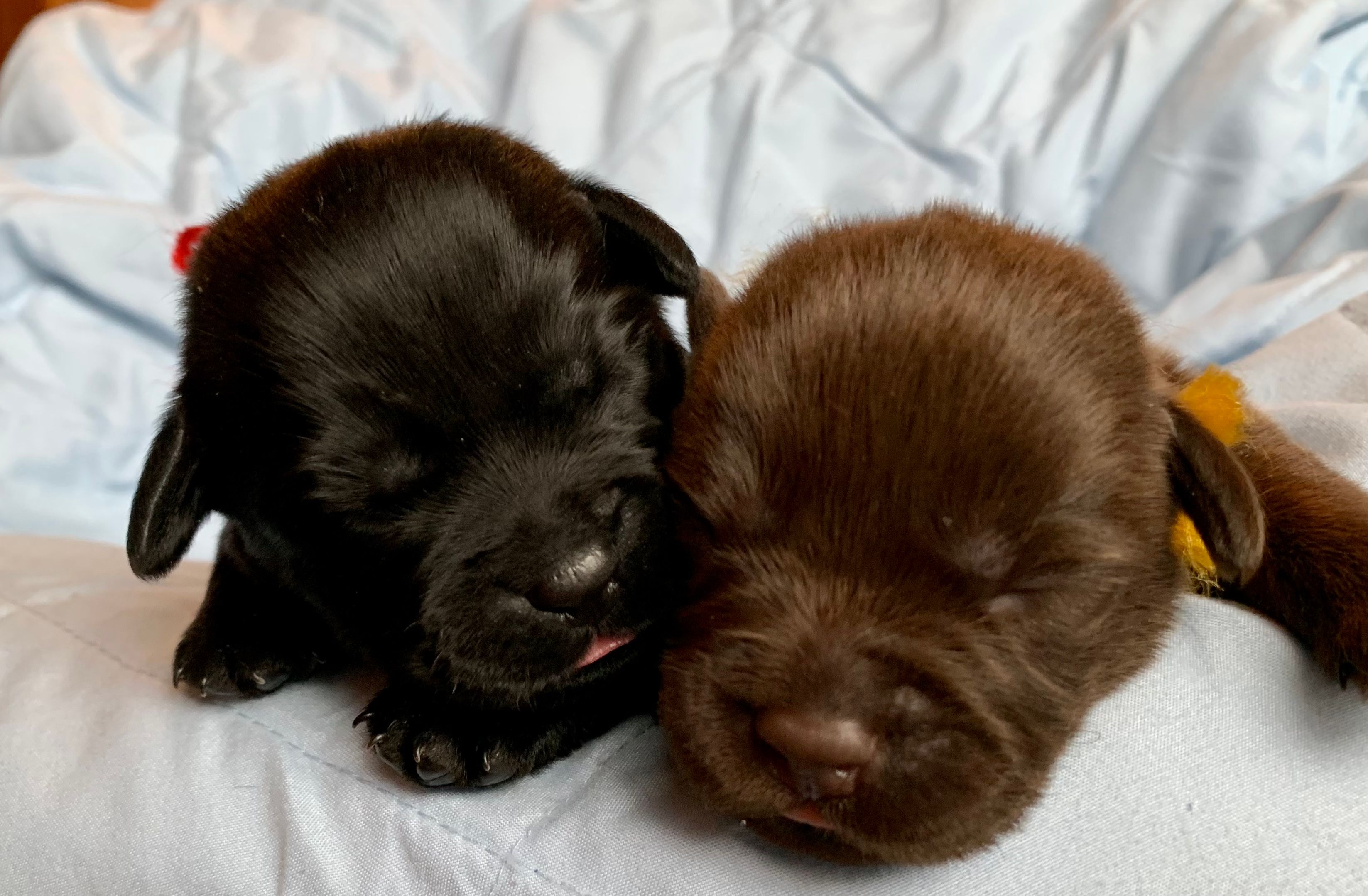 Chocolate Boys Below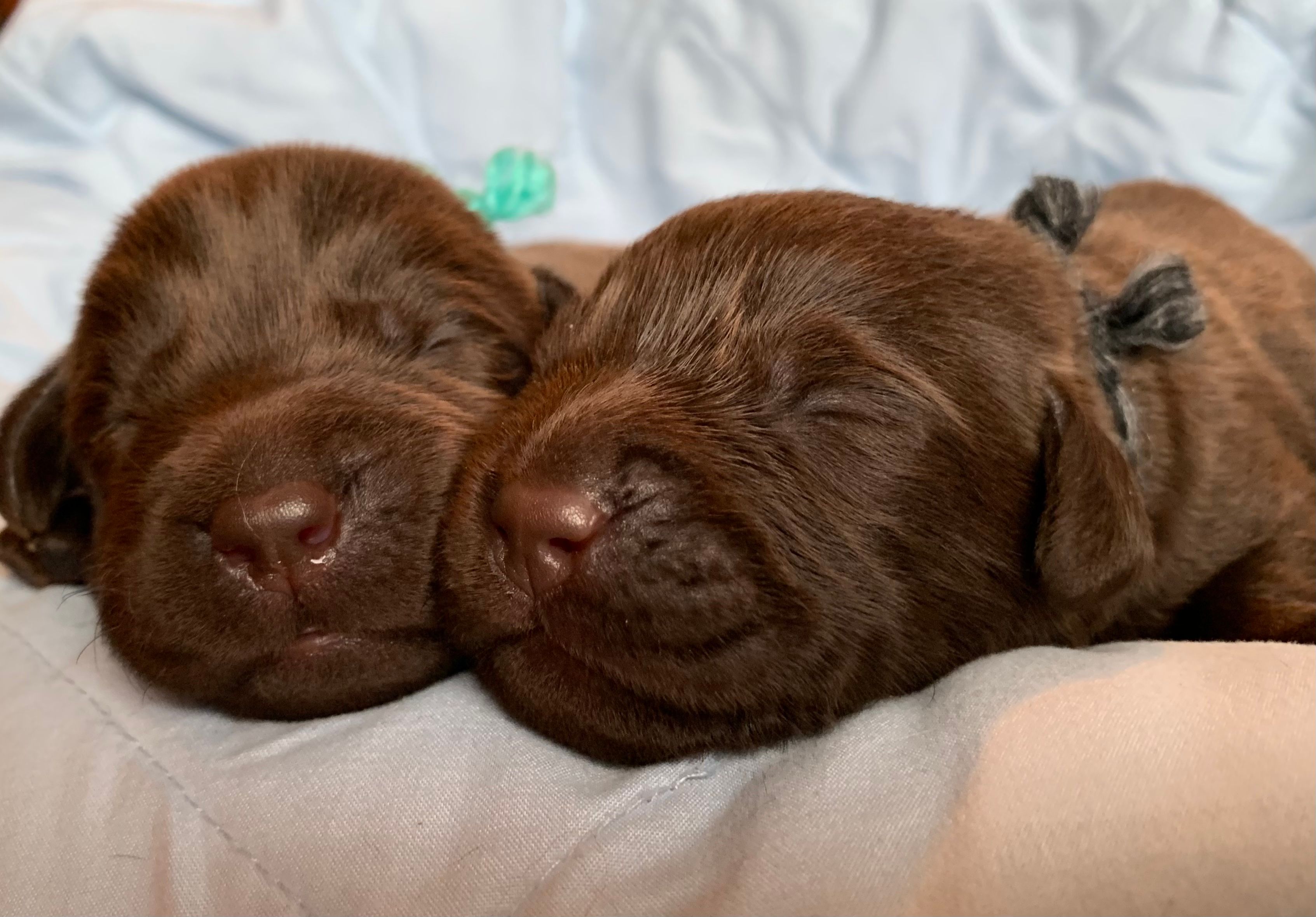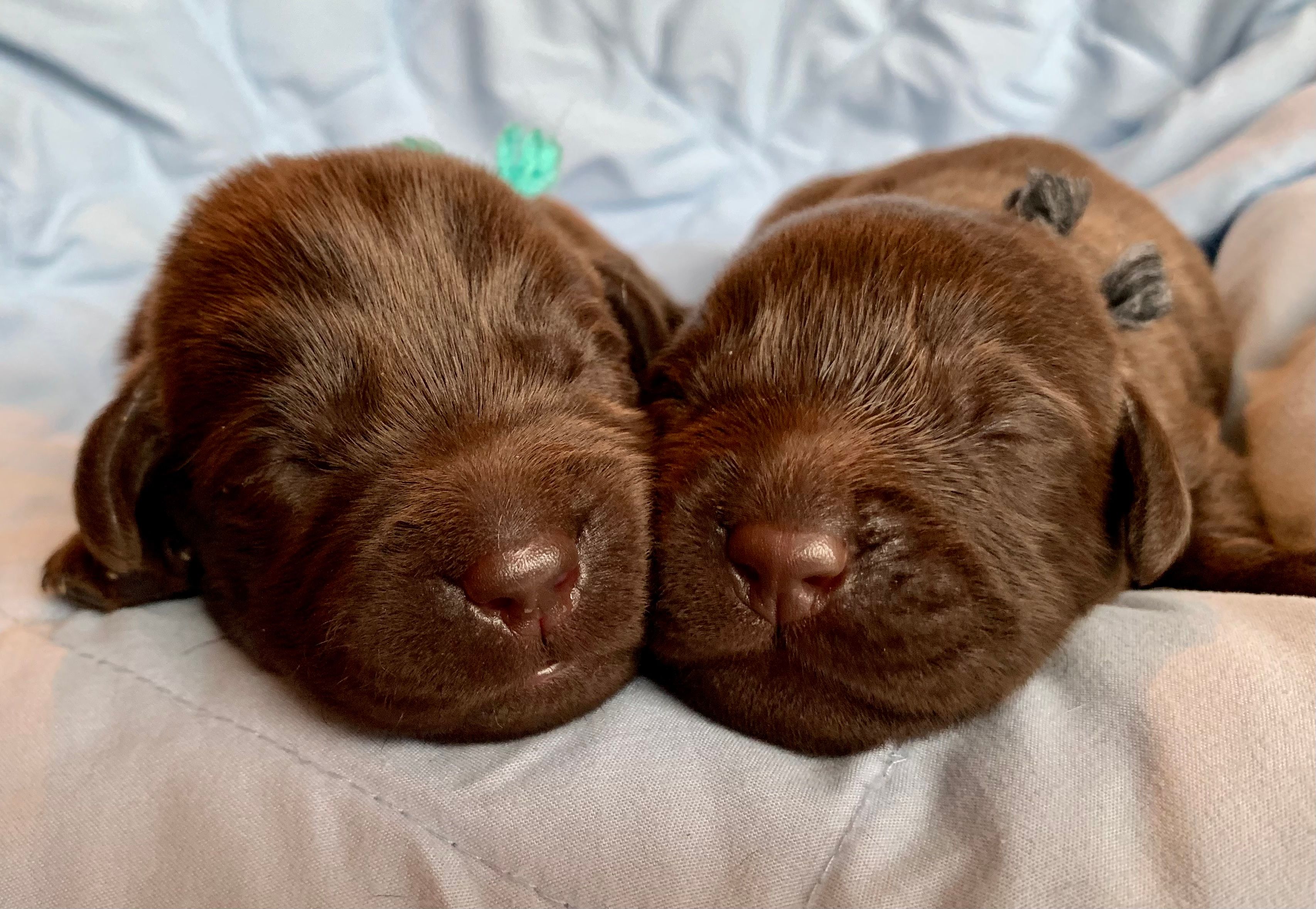 Newborn Pics below
---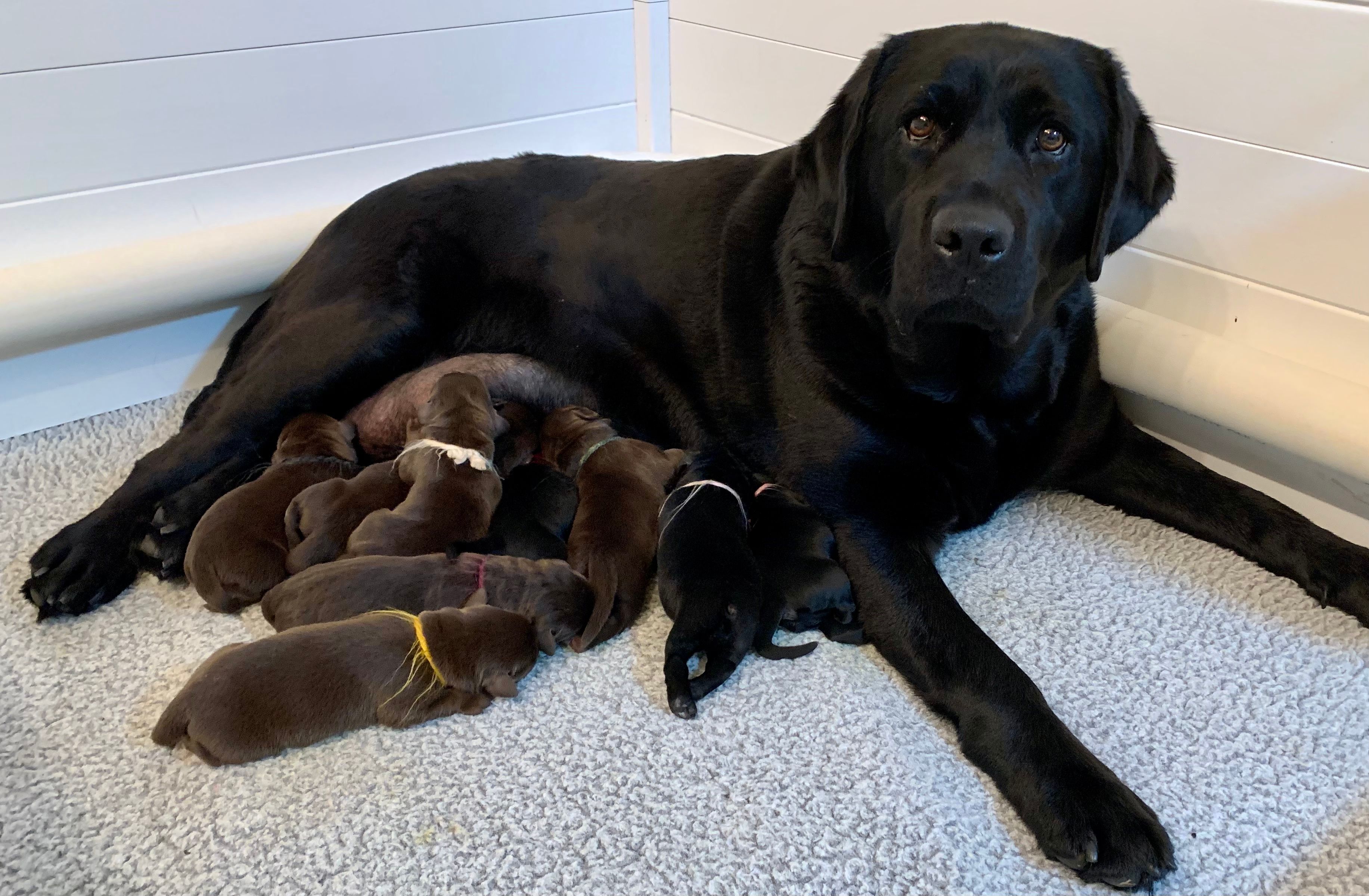 NEWBORN PICTURES (Pups less than 24 hours old)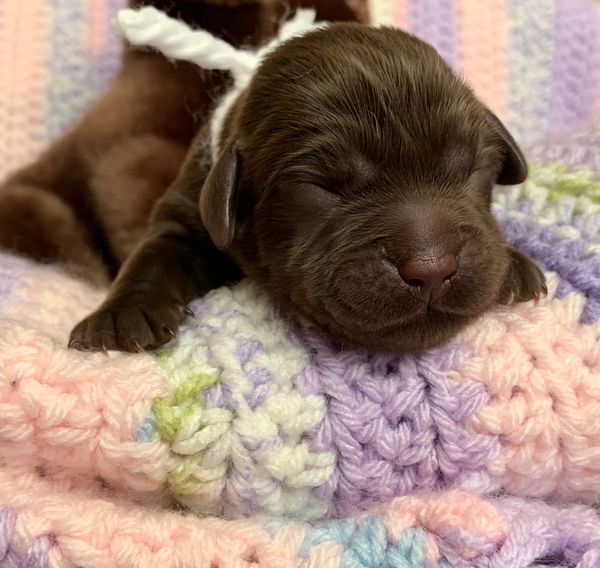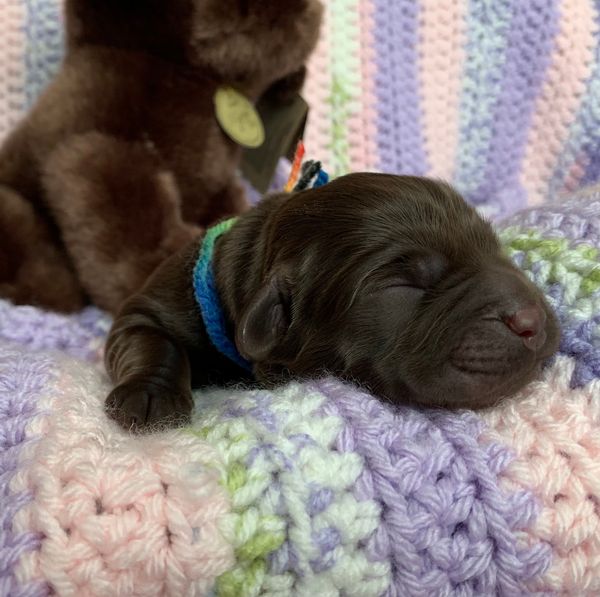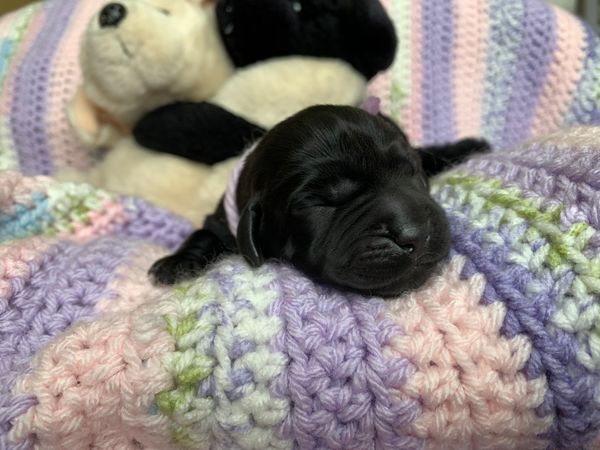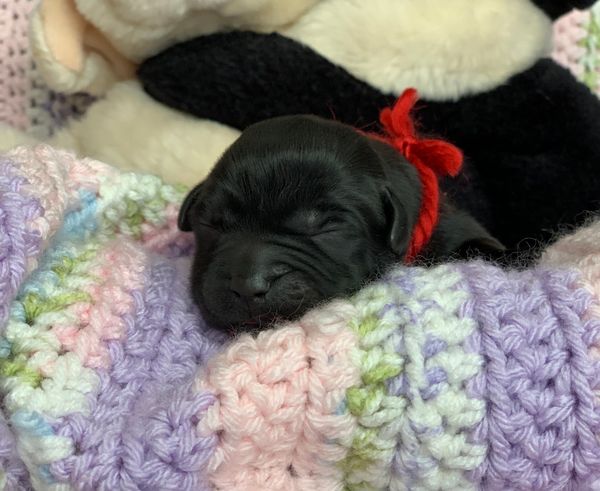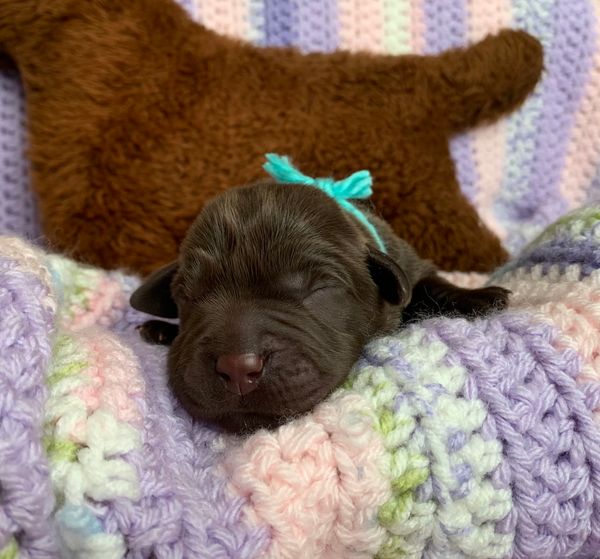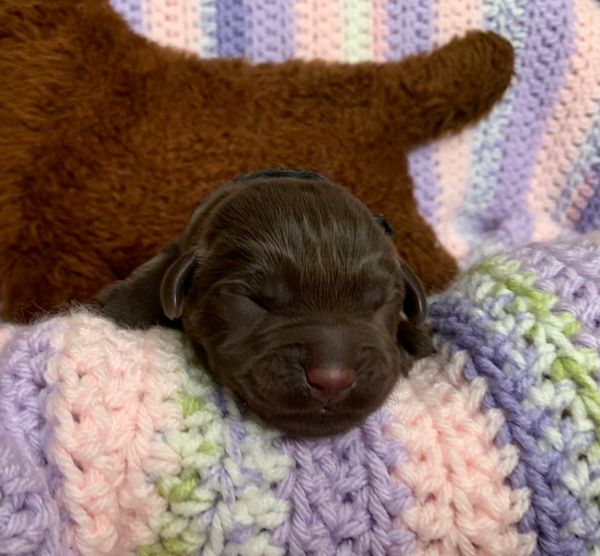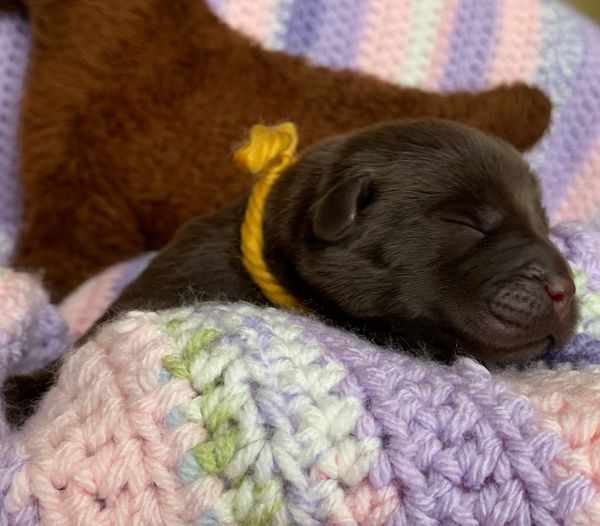 ---